Banff, Alberta fashion blogger winter getaway! Block Kitchen & Bar restaurant menu, Fairmont Banff Springs hotel.
Banff, Alberta! This destination is real, and it's spectacular.
Located in the Rocky Mountains, this adorable Canadian town is about a 1.5 hour drive from Calgary. Like many travelers, I went to Banff to kick back in the natural beauty of this UNESCO World Heritage Site.
I stayed in the supposedly haunted Fairmont Banff Springs… This 19th century chateau hotel is one of Canada's most paranormal places, and the site of terrifying ghost stories!
I dressed in my Gothic best to explore the Fairmont Banff hotel.
Outfit details: Acne snakeskin boots, Strathberry crossbody purse, Chaser Brand square neck black longsleeved top.
See more winter shirt styles from Chaser below:

Fairmont's Banff Springs hotel has a spooky guest: the Ghost Bride. Legend has it that when she was about to meet her groom, she tripped on these very stairs — and tumbled to her death.
Some people claim to see her ghostly figure, still wearing her white wedding dress, haunting the old staircase and ballroom.
Banff's luxurious hotel has friendlier residents too. In the outdoor pool area, I came across a pair of deer, grazing on the bushes! The forest creatures didn't seem to mind taking a photo with me.
From the Fairmont's many viewpoints, you can get ridiculous panoramas of the surrounding mountain ranges and lakes. I'm feeling as tiny as a mouse beneath the strangely-shaped Mount Rundle.
I visited Banff in October, and the first snowfall had just coated the landscape. Although the town is stunning in the wintertime, Banff is also a draw in the summer — when travelers can canoe on the lake, and spot wildlife on hikes.
(Wearing a Sylvain Le Hen hairclip — love their high-end hair accessories).
No matter the time of year, you can always savor a meal at the most outstanding restaurant in Banff: The Block Kitchen + Bar.
I walked into a cozy eatery with eye-catching art on the walls. The Block focuses on fresh, creative interpretations of Asian cuisine, especially Thai and Japanese. Every dish we tried was wonderful, balancing modern Asian flavors in unexpected ways.
We dug into the authentic takoyaki (Japanese octopus balls), and bright beef tataki rolls with julienned vegetables, micro greens, and sesame sauce. The cocktails came with lovely garnishes and many of them incorporated Japanese liqueurs: I loved the Taste of Asia cocktail with sake and yuzu.
Every guest is warmly welcomed by chef Stéphane Prévost, who is married to a Japanese lady and spends significant time in Japan. Drawing from these experiences abroad, The Block feels just like a homey izakaya, with tastes that ring true.
We picked out a selection of items from The Block Banff's tapas-style menu to share. Their calamari was the best I've ever had — unlike the typical greasy preparation, this squid was lightly battered and infused with Asian ingredients like mirin, soy sauce, and sesame seeds.
The menu board offers different specials each day, with a focus on seasonal products. We ordered the chef's selection of Thai green curry, a mouthwatering broth with Prince Edward Island black mussels and a side of kim chi.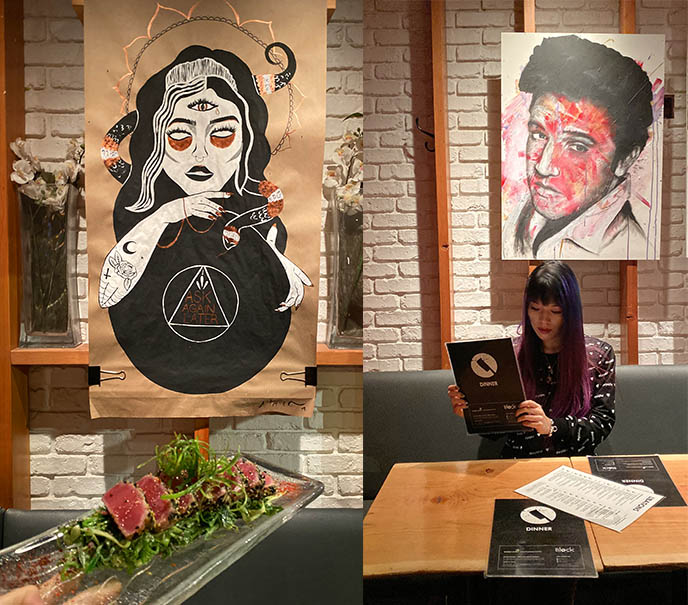 The intimate, wood and brick space is conducive to sitting back and chatting with your neighbors. Banff Block Kitchen + Bar is open at lunch time as well, with offerings like daily-changing sandwiches and duck poutine (a tip of the hat to the chef's Quebecois roots).
Alberta isn't known as a place for great seafood — except at Block Kitchen, it appears! We were wowed by the tasty, sustainable selection of ocean products that rivals that found in Vancouver (to my surprise).
The colors of the salmon tartar, with saffron and seaweed salad, speak for themselves.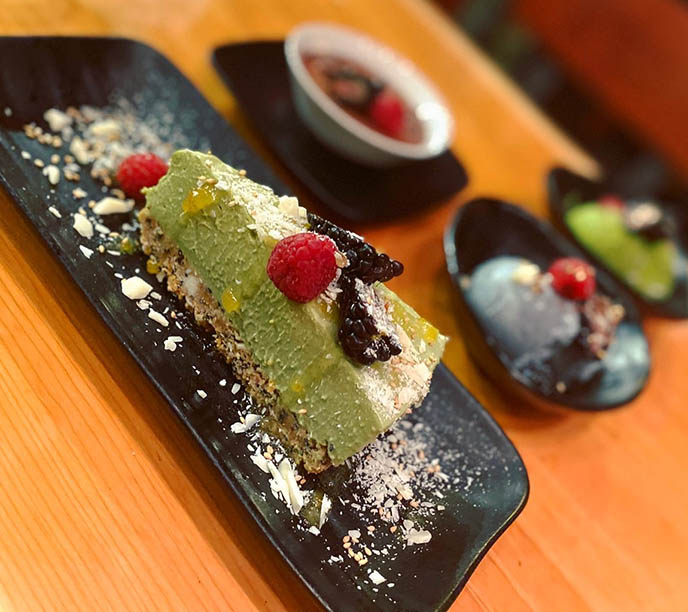 I'm still dreaming of the dessert we shared… an ingenious matcha cheesecake with a sesame crust base, drizzled with yuzu sauce. Made with premium green tea powder, with textures that come together magnificently. We also ate up every last bite of the dark chocolate pot de creme, and black sesame and matcha ice cream.
The Block Restaurant is exceptional Asian fusion: this a restaurant you can't miss out on if you're in Banff. I hope to be back soon to experience the izakaya-style deliciousness.
Banff is a small town, and it's easy to walk here from the Fairmont Springs hotel. Crossing the bridge, I stopped to admire the view of Banff National Park.
Bundled up from the cold in my Anubis knit hat by Cryptic Apparel, and white Snowman New York puffer coat. See more jacket designs from Snowman NY below with a click:

I'm not sure if the infamous hotel is truly haunted… but it sure looks that way.
The Banff Springs was opened in 1888 by the Canadian Pacific Railway, and designed in the aristocratic Châteauesque style typical of these railroad hotels.
The Fairmont Banff hotel is enormous, with plenty of hidden nooks and crannies to explore. We found coffin-shaped doors in winding hallways, and knight uniforms guarding event spaces. There's even a bowling alley and movie room to find.
Love the wide angle photo effect of the new Apple iPhone 11 — so satisfied with the battery life and camera on my new smartphone.
Close-up on my Strathberry East/West leather crossbody bag. Can't get enough of their clean, modern lines and flap with bar closure. This purse comes in a variety of colors, and Strathberry makes tote and clutch styles as well — you can browse below:

I wore my new Acne leather platform boots — the black and white python effect goes with all types of outfits.
You can find similar snakeskin shoes below, including these ankle booties:

I went on a hunt for the Fairmont Banff's mysterious Room 873. In the past, murders and other violent acts apparently took place in this hotel room. Guests that then stayed in #873 reported visits from ghosts.
Since there was too much paranormal activity, the staff sealed up the haunted room. Today, you won't find #873 at the hotel, but you can still see the outline of the door through the wall. (Some claim this was merely boarded to expand the room next door into a suite… but you can believe what you want!)
I took advantage of the free yoga classes for guests at the Fairmont. In the afternoons, I enjoyed walking around the trails near the hotel.
One of the paths follows the river, which turns into rapids and ends at Bow Falls. You can also trek through golf course grounds, and discover sweeping alpine views.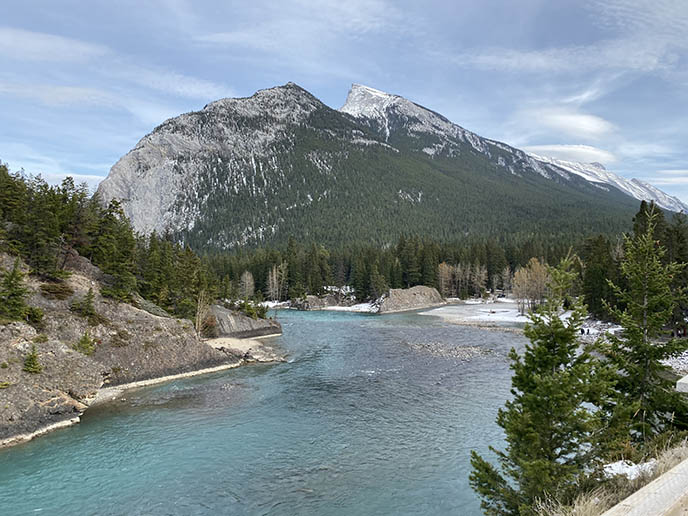 Banff's chilly lakes are a gorgeous shade of turquoise. Travelers tend to visit the nearby Lake Louise as well, which is about a 45 minute drive away. (I've been to all these destinations as a child, and it was lovely to come back after many years.)
No matter where you wander, you'll find picture-perfect backdrops. It's no surprise that Banff, Alberta has become a favorite destination for travel and fashion bloggers / influencers in recent years.
It's also a rather Gothic travel destination.. wouldn't you like to have a spooky stay in an antique ghost hotel, beneath the Rocky Mountains?
Just don't trip on the dramatic staircases… lest you become another ghost bride!
PS: Stories from Salem, Massachusetts and Mexico (Day of the Dead!) are coming up next. I know you're going to love these… For previews of these dark adventures, I invite you to glance at my Instagram @lacarmina.
PPS: If you're getting a head start on holiday shopping, you're welcome to check out my Depop shop (@lacarmina)! I'm letting go of a variety of items from my closet, including rare clothing from Japan.
Please take a peek at my store and let me know if I can send you anything; happy to do bundle discounts and exact shipping. Have fun!