Celebrating Day of the Dead in Merida, Yucatan! Borderline Projects Death in Mexico tour, sugar skull parade makeup.
"Spooky scary skeletons,
Send shivers down your spine!"
That's how the Tik Tok-trending song goes… but my experience with Day of the Dead in Mexico was quite the opposite. I got to observe how locals painted themselves like sugar skulls, and honored their ancestors through joyful, cultural rituals dating back to the ancient Maya.
What an incredible opportunity to travel to Merida and Campeche (Yucatan) with Borderline Projects and Morbid Anatomy! They run an annual "Death in Mexico" trip that anyone can join — you can already add yourself to the email list for next year's journey.
Unlike regular tour companies, Borderline Projects takes you on eye-opening cultural experiences. So far, they've offered tours to different parts of Mexico, focusing on the regional history / culture of death and mourning. 
This year, I was delighted to visit Yucatan with a group of like-minded travelers (many were historians, Goths, or darkly inclined in some way — it was a fascinating and intelligent mix).
Read on to witness our candlelit Dia de los Muertos procession in the cemetery…
… and discover the elegant (and haunted) history of Merida, the capital and largest city in the Mexican state of Yucatán.
Outfit details: White leather sneakers Lola Ramona, Cleopatra occult leggings Cryptic Apparel, grinning Goth skull umbrella Raven Goods, straw hat Tenth Street Hats.
My dress is a huipil, or traditional garment worn by indigenous women in Mexico and Central America. The robe typically features hand embroidery, with styles and colors that differ by region
We'll also creep into Merida's Paranormal Museum to encounter cursed dolls, black magic voodoo, and El Diablo.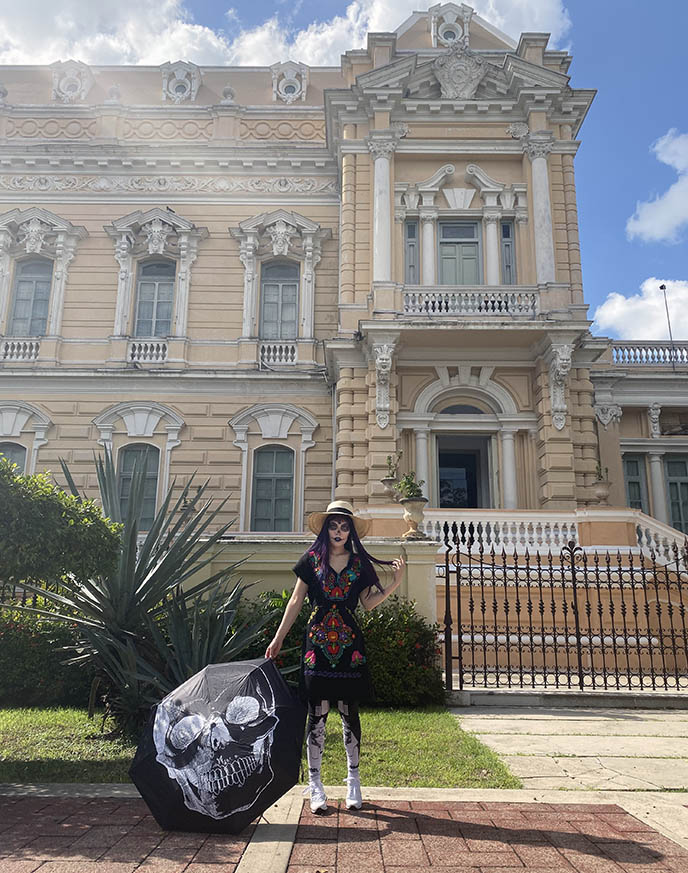 Over the years, I've celebrated Halloween in dark destinations worldwide (such as Romania and Tokyo). I took it up a level this year… by spending October 31st in Mérida, and engaging in Mexican Day of the Dead festivities.
You might be surprised to see such "eleganza" architecture in southeastern Mexico. I'm hanging out on Paseo de Montejo, a classical avenue named after Francisco de Montejo (Spanish conquistador who gave the city its name in 1542).
The expansive Paseo de Montejo, lined by lush trees and aristocratic mansions, was inspired by the Parisian boulevard Champs-Élysées.
In the late 19th century, Merida was a prosperous city and the home of many wealthy Europeans. They gained their fortune through henequen, aka "green gold" — a fiber from the leaves of a local agave, which was used to make rope.
The Camara Brothers' Twin Houses (Las Casas Gemelas) are remnants of this high society era. Built side-by-side in 1911, these palatial mansions are among the finest examples of colonial architecture in the Yucatan.
Today, much of Merida still has a noble feeling. The city is also known as the safest in all of Mexico. 
(I borrowed a huipil, or traditional women's garment, and accessorized with modern Gothic items. My white trainers are by Lola Ramona; see more retro-inspired styles by this designer below…)
My tour with Borderline Projects had a good mix of planned group activities, as well as lots of downtime. I had the afternoon free, so Visit Merida took me to see the city's famous landmark, Monumento a la Patria.
Created by Colombian sculptor Rómulo Rozo in 1956, the patriotic monument tells the story of Mexico throughout the centuries. His signature neo-Maya carvings pay tribute to Tenochtitlán (the powerful 14th century city-state) and the Mayans (jaguars, a ceiba tree, and a chacmool reclining figure with a turned head).
I saw locals meeting up at Monumento a la Patria, and climbing the steps to take in views of the boulevard.
(Can you tell it was extremely hot in Merida, even on Oct 31? I'm shielding myself with four layers of mineral sunscreen, a Raven Goods umbrella, and Tenth Street Hat! Shoes by Lola Ramona, leggings Cryptic Apparel.)
Next, Visit Merida drove me somewhere they knew would tickle my fancy… Villa Maria, nicknamed the Devil Mansion! I was immediately captivated by the spiraling rusting gate, and eaves that appeared to be dripping with blood.
According to local lore, this is a haunted house that now sits empty. People have reported seeing a naughty ghost lady, dressed in a white gown, standing on this balcony and sticking out her tongue…
The family's crest or coat of arms also looks like a scowling devil's face. Can you spot the eyes and sneer of El Diablo? (The decaying black and red paint adds to the evil feel.)
Personally, I wouldn't mind living in a dramatic manor like Villa Maria, with ghosts as my roommates. How about you?
I made a quick stop at Ki' Xocolatl, a premier Merida chocolaterie that produces cheerful sugar skull chocolates at this time of year. (I was hungry, so this treat didn't last long…)
Then, I went to meet my fellow travelers on this Borderline Projects x Morbid Anatomy tour. Borderline arranged for makeup artists to come to the hotel, and transform anyone who was interested into a living skeleton.
Mexico's Day of the Dead is not actually a single day, but a period from Oct 31 to Nov 2 to honor ancestors who are no longer with us. For the evening celebrations, many locals paint their faces in sugar skull or catrina makeup, as a way to connect with the dead and remember that they are always part of us.
I was happy that the tourism board welcomed us to learn and take part in the celebrations, including by wearing sugar skull makeup. Everyone took care to be respectful of the cultural practices, and wear the traditional outfit (Huipil/Terno tunic for women, or Guayabera shirt for men).
The sun left the sky… meaning it was time to head to Merida's Cementerio General, and dance with the dead.
The city's main cemetery was established in 1821. As you can see, some of the graves have borne the ravages of time — hence the bent and crumbling cross.
This adorable three-generation family reminded me of the movie Coco! On October 31, families gather in the cemetery to make offerings (ofrenda) at their loved ones' gravestones, and watch the parade.
Many paint their own faces like sugar skulls for the occasion, or pay someone at the event to do their makeup.
Merida's Cemeterio General is the final resting place of notable locals. These wealthy families built impressive mausoleums in neoclassical, French and Gothic styles.
Representing my people at Colonia China, a mausoleum dedicated to Chinese colonists in Merida. How Goth is the coffin-shaped doorway?
Most of the parade-goers wore the historic Dia de los Muertos makeup and garments (the offering of sugar skulls dates back to the 17th century). A few dress up in their own interpretation of the undead.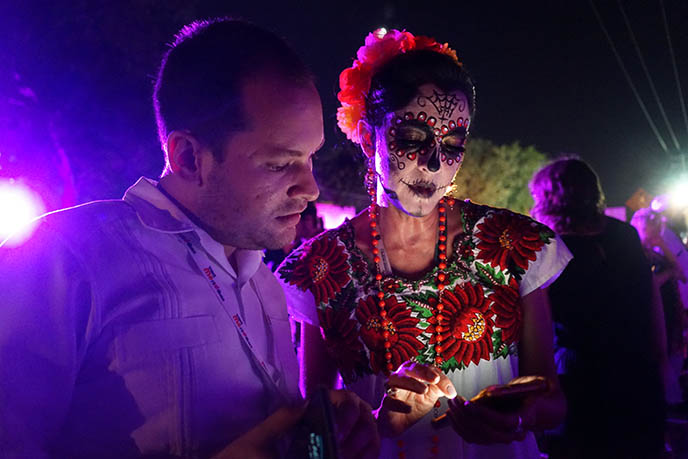 Borderline's tour brought in local guides to help us navigate and understand everything we encountered in the Yucatan. Mauricio of Visit Merida MX and Claudia of La Llama Viajera por Vitatours were always available to give advice.
I enjoyed walking through Merida's cemetery at night, and seeing how the graves were decorated with food, flowers and offerings. Some had larger rainbow skulls made of sugar (to represent adults), while other "calavera" were tiny (for the children).
The living believe that the departed return home during the Day of the Dead period, to enjoy these gifts and be close to loved ones once again.
It was a pleasure to get to know others on the "Death in Mexico" tour, which naturally draws a group of curious, creative individuals.
Merida's Cemetario General has more than 25,000 graves, vaults and ossuaries. Some are well-maintained, while others are over a hundred years old and caving in… so watch your step, in the darkness!
In the Yucatan, Day of the Dead is known by its Mayan name, Hanal Pixán. This translates to "food of souls," as the celebrations center on preparing dishes for the spirits of the returning dead. (I'll show you these delicious dishes in an upcoming story.)
Dia de los Muertos later became associated with the Catholic All Souls' Day. However, these offerings and rituals for the dead date back to pre-Hispanic times.
In addition to the Maya, many indigenous groups had rituals that honored the dead. Today, different regions of Mexico celebrate the event in slightly different ways.
The General Cemetery reflects the mix of Hanal Pixan with Christianity after the Spanish came to Mexico. The Maya continued to practice their rituals even though they were forbidden by the conquerors, by integrating Christian religious icons into their traditions.
Today, Day of the Dead is celebrated worldwide, and visitors from all cultures are welcomed to respectfully take part in the festivities. I was glad we got to see the procession at Merida Cemetery, as it remains a very local event.
At any time of the year, however, it's worth coming to Merida Cemetario to admire the mausoleums. Here's one of the most famous works: an Italian sculpture of a woman, lovingly moving her husband's shroud on his deathbed.
The monuments show a wide range of architectural styles. My favorites were Art Deco or Egyptian-inspired.
So cool to see how celebrants put their individual spin on sugar skull makeup and outfits. Many held or wore orange Aztec marigold flowers, as these are known as cempasuchitl or the flower of the dead.
I think this lady wins the best dressed award! She personifies the elegant skull or dapper skeleton, La Calavera Catrina. This image of an aristocratic undead lady was created by Mexican illustrator José Guadalupe Posada Aguilar in 1910.
At 8pm, the main event began: Paseo de Animas, or the Parade of Souls, which takes place in Merida on Oct. 31 each year.
Magnificent to see thousands of people with faces painted like skulls, walking together while illuminated by candles!
The Parade of Souls stretched for blocks. It truly felt like the dead had risen to join the party.
Anyone could watch the procession from the sidelines, where seats were set up. Others clamored on top of graves to get a good view.
Rather than being a frightful holiday like Halloween, I saw how Day of the Dead was a joyous and meaningful ritual for Mexicans of all ages.
Dream come true to see a Dia de los Muertos parade like this one. (Borderline Projects offers tours every year at this time, to different areas of Mexico, so you can see local takes on the celebrations.)
Merida has other Goth-friendly travel attractions that are open year-round. 
Horror-lovers will be thrilled by Museo Paranormal, an indie museum filled with 500 allegedly haunted objects. The gargoyle mural and spooky dolls nailed to the wall hint at what you'll encounter inside… if you dare come in. 
Merida's Paranormal Museum opened a few years ago, and costs only 50 pesos to enter. A guide will take you through the rooms and answer questions about the spooky artifacts (his or her English may not be fluent, but you can get the gist of it). Most of the items also have explanations written up in Spanish. 
The founder of the museum is Jorge Moreno, Mexican journalist and researcher on paranormal activity. Throughout his years of investigations, he's collected hundreds of terrifying phenomena that may or may not be cursed by evil spirits. 
The Museo Paranormal tour takes about 45 minutes, and lets you see a variety of scary objects from around the world. I was especially intrigued by the local finds, such as the object of power with with horns and a crocodile, symbolizing black magic.
On the right, this scene recreates the haunting scene of a nearby murder. A child was found dead, with this toy boat underneath his body. 
Annabelle, the star of the The Conjuring and her eponymous horror film series, perches on a bench. Inspired by the movie, a local re-created the doll… and to nobody's surprise, she wreaked havoc on their household! 
The entire Museo Paranormal is reminiscent of Ed and Lorraine Warren's Occult Museum in Monroe, Connecticut, which makes it fitting that she's here. (The real Annabelle is a Raggedy Ann doll that sits in a glass case, her demonic powers held back by a crucifix and the sign "Positively do not open!")
However, I was more terrified by the voodoo doll on the right. Found buried in the Yucatan, this Iku is infused with deadly energy, and was used in dark rituals. After the painful pins are inserted, the person you wish to harm would die within 24 hours.
All the items here originals, not recreations, which makes them all the more frightening. Our guide spoke about La Magia Negra (black magic) and how it was used in Mexican Brujeria (witchcraft). This doll, found amidst burnt ruins, was used for such a spell.
Things that go bump in the night… Whether or not you believe in the paranormal, these figures caused people worldwide to feel terror.  
One of the eeriest rooms was dedicated to hundreds of dolls. These included Caty, the first object in the museum: a doll with outstretched hands (hail!) that caused a girl to go mad. 
The bear… I think it moved!
Was it the influence of the altar to Santa Muerte, Our Lady of Holy Death wielding a reaper? (Or maybe it was a current from the air conditioning?) 
I hadn't heard of Italian painter Giovanni Bragolin before coming here. He painted "The Crying Boy" and others in tears. These children went on to live tragic lives, and reproductions of their portraits tended to be found in the ashes of homes that burned down…
Don't stare too long at La Suegra, lest her evil eye burn through your soul. El Nino saw ghosts throughout his short life, and after he died, his photo changed into this uncanny form. 
This is only a tiny selection of Merida's Paranormal Museum, a must-see for supernatural fans. 
Mucho gracias Borderline Projects for having me come and report on the Death in Mexico experience! Their tours focus on interdisciplinary, multicultural topics such as Day of the Dead, giving you special access to local rituals (such as the Brushing of the Bones, which I'll share with you soon).
Head over to Borderline's site to discover more about their cultural projects, and get on the list for next year's Mexican Dia de los Muertos tours. 
Hold on to your hats… Soon, I'll share more stories from this trip in Merida, Campeche and other spooky places in the Yucatan. 
(PS if you're eyeing my white sneakers, they are by Lola Ramona, with more styles below:)