A hip getaway to Parker Palm Springs: mid-century modern design hotel review! Rainbow fashion & best restaurants.
Winter, what's that? At the start of 2020, I made an escape to sunny Palm Springs. What a relief to have a break from the dark and stormy weather.
I was keen to kick back and indulge, so I stayed at the Parker Palm Springs. I'm sure you recognize the luxury hotel's iconic entrance….
… it's one of the most Instagram-ed spots in Palm Springs, a destination known for its mid-century modern architecture and Cali-cool vibe.
Even though I've spent tons of time in LA over the years, I had somehow never gone to Palm Springs until now.
Photographer Joey Wong and I adore modern design, so we were thrilled to shoot photos in this hip hotel. In 2004, the famed Jonathan Adler revitalized the Parker Palm Springs. Read on to see his chic interiors, which include spooky The Shining carpets! 
From Vancouver and other major cities, you can take a fast and inexpensive direct flight to Palm Springs — making it an easy getaway. Alternately, you can fly to LA, and then drive just over 3 hours to get here.
Joey and I had a rental car in Palm Springs, which we recommend. The streets are wide and easy to navigate — and there are a lot of older drivers on the road, so everyone goes slowly!
Don't do drugs, kids… or you might end up like this…
I'm wearing a black hooded wrap-around top and Equaliser rainbow skirt from Cyberdog. This cyber – rave – Goth label is one of my favorites, and everything I own from them is of beautiful quality. (I visited their futuristic shop in Camden, London; pics here.)
My silver purse is an Alexander McQueen skull mini bag.
Jonathan Adler's decor pays tribute to the mid-century vibe of Palm Springs. The Parker Hotel's lounge is a 1970s dream pad. I was tickled to see a wall of macrame owls; my mom made one of these in the late 70s!
My Cyberdog skirt's colorful equalizer scale also fit in with the retro feel. I paired it with bow-tied red sandals from Lola Ramona, a designer inspired by vintage and pin-up.
Feels good to get some vitamin D, poolside at the Parker. I also got some vitamin C, thanks to the fresh lemons on every table next to the lounge chairs.
The Parker Hotel has three pools, including a saline, chlorine-free one for adults. Guests can take a dip, and then cool off in the charming blue and white cabanas.
Only guests of the hotel are allowed into the private grounds, which resemble a Secret Garden. I got happily lost wandering around the maze-like paths, lined with waving pampas grass and fan palms.
The Parker's gardens are a treat for the senses: I loved the vivid colors and fragrances of the flowering hedges, and citrus fruit trees. The weather was perfect in January — sunny but not overly hot, and not a trace of mosquitoes.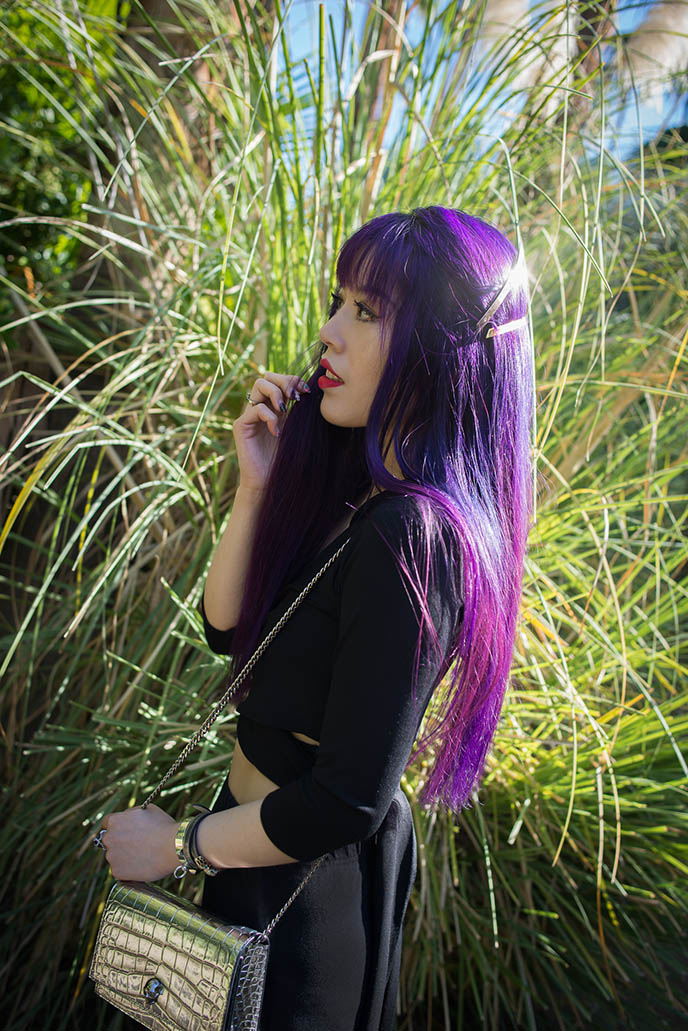 Blending in with nature, purple hair and all. My barrettes are Sylvain Le Hen, and my silver croc skull crossbody purse is Alexander McQueen.
See more of his Gothic bags below:

I felt like Alice in Wonderland, as I explored the labyrinthine gardens of the Parker. I came across a giant chessboard, and a grassy lawn for petanque and croquet. (I don't know how to play, but I can wield a mallet and yell "Off with their heads!")
Be sure to pop into PSYC spa, which stands for Palm Springs Yacht Club, and has a blue nautical design. There's a peaceful indoor pool, and studios for free yoga classes.
We passed our time taking photos — but if you're a sporty type, you can have fun on the tennis courts, or rent bright yellow bicycles.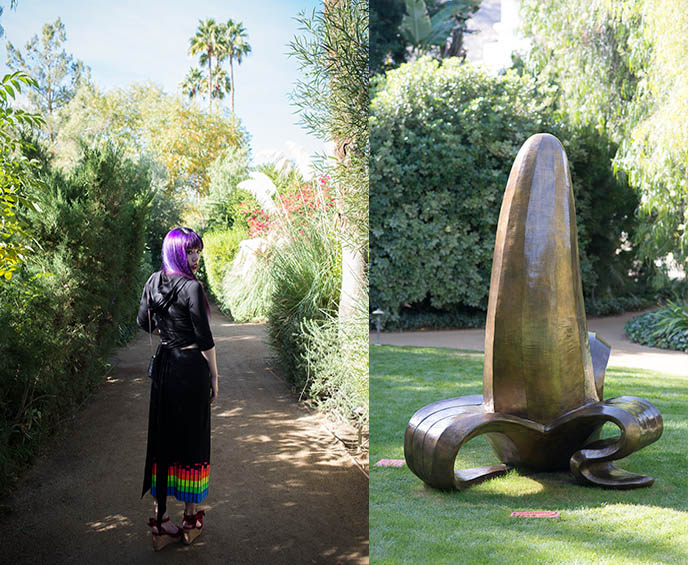 Behold, a banana! I laughed when I saw this 7-foot bronze sculpture, which weighs 900 pounds and rises up from a grassy plain.
Kudos to my brilliant stylist Chad Evans of Kore Salon in Vancouver, for keeping my violet hair so vibrant and healthy. Check out his site for positivity and inspiration.
Jonathan Adler's interiors play with kitsch and psychedelia. I snapped this gigantic macrame owl (it barely fit in the frame) and neon doorway to Mister Parker's restaurant.
This Goth girl was obsessed with the orange and red hexagon carpet — maybe you recognize it from The Shining horror movie! "Darling? Light, of my life. I'm not gonna hurt ya."
"Photog" Joey Wong and I found inspiration in every corner of the Parker Palm Springs.
Found my knight in shining armor, next to a vintage Warren Platner chair (mid-century furniture master) that was reupholstered in an Adler fabric.
What can I say… the quirky retro interior design of the Parker Hotel is a hoot!
The russet tones of the swinging 70s are alive at the Parker.
And then, there's the iconic 23-foot front entrance. Tall tangerine double doors, framed by a white lattice cement "brise soleil."  Love how the palm fronds cast a shadow.
You can't find a better spot for futuristic portraits. Wearing two metallic barrettes by Sylvain Le Hen, and a silver Collier de Chien bracelet by Hermes.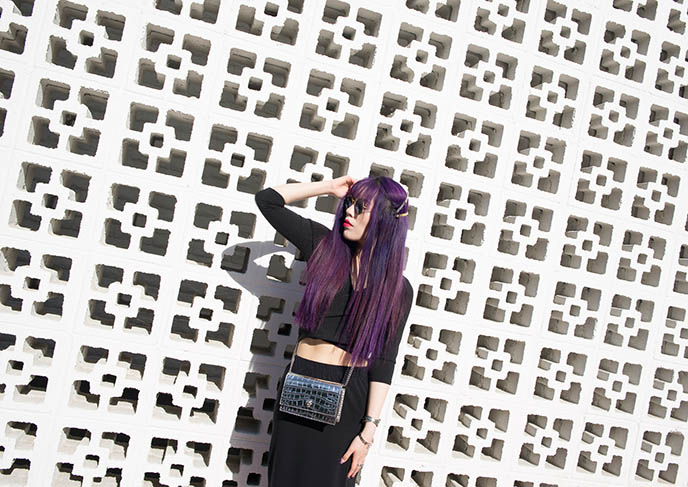 Palm Springs is known for its mid-century desert architecture. I recommend driving around, or taking a tour to see the houses. I want to come back one February for Modernism Week, when you can go inside some of the most famous Case Study homes.
Time for brunch at Norma's, the Parker's open-air terrace restaurant that serves breakfast all day. Even the plates and garnishes match the hotel's orange color scheme.
There's an extensive sweet and savory menu to choose from. Norma's serves many creative varieties of eggs Benedict, from artichoke to glazed short ribs with sweet potato cake (above). I drank two servings of the oat milk latte with house-made vanilla.
You can also get indulgent at Norma's, with specialities such as a lobster macaroni and cheese (the presentation looks like a Jaws shark attack). If you're a high roller, you can get the Zillion Dollar frittata with caviar and lobster… which will set you back $2000!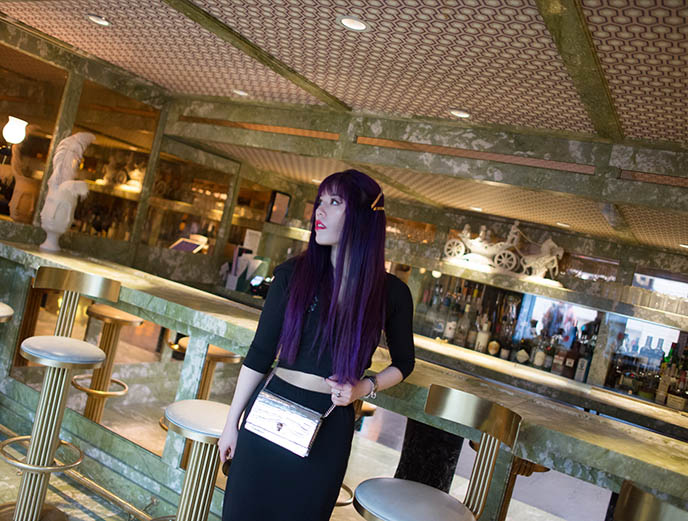 At night, I said welcome to the dollhouse. This little bar at the Parker is designed like an Art Deco jewel box, and is a sweet spot for people-watching. (A lot of stylish people pass through the turquoise velvet doors).
VIP guests get a glass of cordial each night. It's tempting to stay at the Parker 24/7, as there's so much to enjoy… but Joey and I did venture out for other fine dining experiences.
(More from the Parker Palm Springs at the end of this post, so keep reading!)
Palm Springs' hippest restaurants are located in the Uptown Design District, which is also a hip area for strolling and popping into art galleries.
We had a fabulous dinner at Eight4Nine, a lively restaurant decked out in white interiors with Louis IV chairs and hot pink accents. This is an excellent spot to gather with a group of friends before a night out.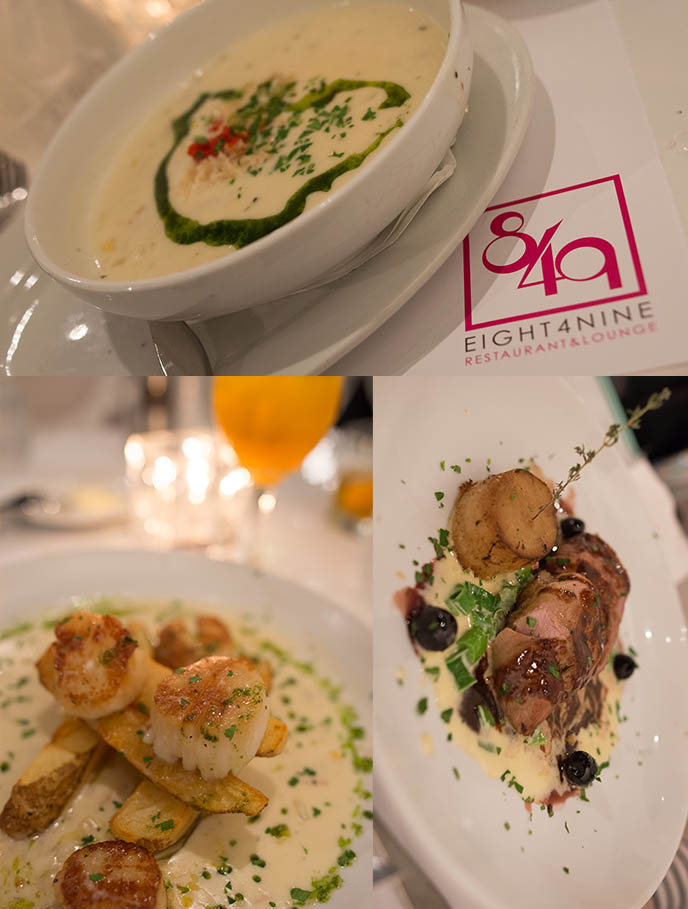 Eight4Nine's menu focuses on modern American cuisine, with bright flavors and presentation. The fresh and well-sourced seafood stood out in the appetizers (Ahi tuna poke and Dungeness crab corn chowder). The scallops and duck with red wine reduction were luxurious yet down to earth, and brought together a variety of culinary influences.
Eight4Nine is known for serving one of the best Sunday brunches in Palm Springs. Every year, they host a Pride Brunch that lets you sip champagne while you watch the parade, with 25% of proceeds benefiting Greater Palm Springs Pride.
On our second evening, we feasted at Evzin — a Mediterranean and Middle Eastern influenced eatery. The friendly staff greeted us warmly, and were wonderful at giving recommendations.
Be sure to start with a spread of dips and pita, including smoky eggplant with garlic, tzatziki Greek yogurt with cucumber, and cilantro jalapeno hummus. Also to die for: halloumi with honey and dates, and Albanian burek (herb, feta and corn meal pie). I paired the shared plates with a rosemary cocktail lit on fire.
For mains, expect a mix of juicy flavors and generous portions. Joey had the tasty Adobo fried chicken, and I bit into a zaatar-roasted chicken with red chard, almond basmati rice, and tahini sauce.
The most outstanding dish at Evzin? The homemade Greek yogurt cheesecake, which is slightly tart and paired with berries. Trust us, this dessert is a must-have — we were stuffed, yet ate it all up!
On Day 3, we dove into local specialities at the cheery and sophisticated Trio Restaurant, housed in what was a mid-century bank. I was a big fan of the ahi tuna tower, and Coachella Valley dates stuffed with blue cheese. Trio's wine list is also outstanding, with selections from nearby Napa Valley, Oakville, Sonoma County, and Alexander Valley.
After a long day of shooting, we were delighted to indulge in a creative menu that combines Midwest comfort with sleek California dining. The space ribs with chipolte rub and sweet potato fries were some of the best we've tried. The delicate Australian sole and Yankee pot roast (with slow roasted carrots) were also winners.
Can't beat sipping on a Cali rose, while taking in the pink sunset.
Back to the Parker Palm Springs, where I gave a "hail" to the outdoor fire pit. A perfect luxury campfire for sitting around with a drink.
Joey and I always joke that the highlight of every trip is getting back to our room and lying in bed. The Parker's rooms were a study in comfort: the carpet is unbelievably lush, and how cute are the Adler bed frames? The custom-made needlepoint pillows and mid-century wall hangings added to the flair.
The staff left us snacks every evening. Still dreaming of this truffle ricotta with sorrel and figs, on Parmesan chips.
We'll miss getting a fix of fresh fruit from the spa: the blood oranges and pink-red pears were our favorites. You can also visit the Parker's lemonade stand to nosh on snacks, and drink spiked lemonade. 
The ghosts of old-time Hollywood celebs are alive at the Parker. The hotel has a decadent history: it was once owned by  "singing cowboy" Gene Autry, and talk show host Merv Griffin (creator of Jeopardy! and Wheel of Fortune).
Today, The Parker Palm Springs remains a favorite amongst stylish travelers and celebrities. We ran into a few fashion photoshoots taking place around the grounds.
As someone who loves modern design and boutique experiences, my stay at the Parker was total enlightenment.
I'm keen to come back for another desert escape soon. If you're planning a Palm Springs trip, go all out — and book a stay at the Parker Palm Springs. You won't regret it.
Much more to come from Palm Springs, including our adventures at the windmills and Joshua Tree! I think you can tell we had a blast here: thanks to the Parker team for welcoming us.
For previews of my photoshoots, take a glance at @lacarmina Instagram (and stay tuned for New York Fashion Week coverage, coming up next).