A travel blogger's reflections on Covid-19. Coronavirus & the future of traveling, blogging, jobs.
There's a new Goth Sheriff in town… And she's making you stay home!
Doesn't it feel like we're living in a Bizarro universe? The world has flipped over within the span of a few weeks.
On March 11, the coronavirus COVID-19 was declared a pandemic. As the numbers rose worldwide, countries increasingly went into lockdown mode. Borders were shut, and people were urged to self-isolate to stop the spread.
Now, the travel industry has essentially come to a halt. For travel bloggers like myself, all campaigns, trips and projects (including a Japan TV show shoot) are on hold… Possibly til the end of 2020, or beyond.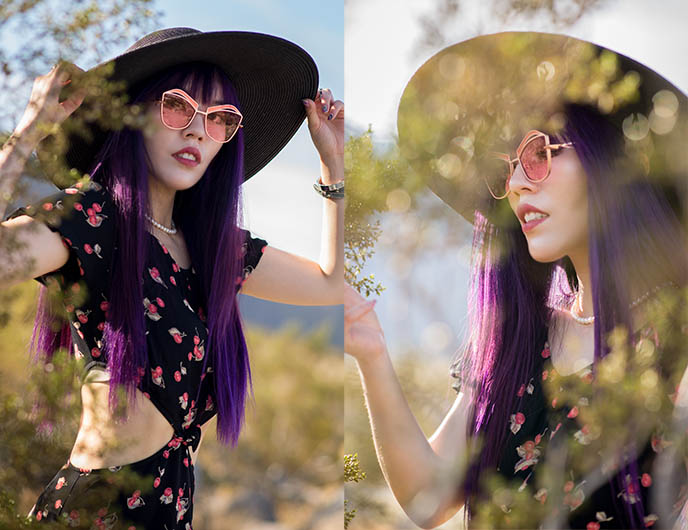 Everything's in flux… but for now, my mind is set on doing all I can to flatten the curve. That means staying in at all times (except to get groceries every two weeks), and being conscious of hand-washing, mask-wearing, and social distancing. 
It's a strange and unprecedented time for all of us. For travel bloggers and others who make their career from traveling, there's a lot of uncertainty about the future. However, there's a lot we can do to halt Covid-19, and make the most of our time at home.
Don't think you want to see my current pajamas look… so I'll also share some of Joey Wong's sunny images from January. I'm grateful we got to relax at the Parker Palm Springs, before it all went down. (If you missed it, here's our colorful photoshoot in the hotel.) 
OOTD: Wearing a For Love and Lemons cut-out dress, similar to their Cherry Twist mini dress. I accessorized with Lola Ramona sandals, sunglasses by Spiltmilk Eyewear, and a sunhat by Tenth Street Hats.
Although I could never have predicted the worldwide shut-downs, I have to confess I had a dire feeling about the coronavirus even in January. When I heard that China was quarantining entire cities inhabited by millions of people, I knew this was something deadly serious.
In January and February 2020, I traveled to several cities in the USA (Los Angeles, Palm Springs, NYC, Portland). These turned out to be my final trips for a long time to come.
I had several major projects lined up for April, including something that would take me to several new countries. I also was planning a Japan television show shoot and campaign. Now, all these are cancelled or delayed.
It's a time of significant stresses for all of us — I can't even begin to address the potential worldwide devastation. In terms of the travel industry: hotels, airlines, tour companies and more have shuttered, some for good. It's unclear how or when things will pick up, and what travel will be like in 2 years or so.
But right now, staying in is the best thing we can do for ourselves and others, to keep the coronavirus from spreading. If we aren't essential workers who must go out, then we can make the biggest positive impact by self-isolating.
I don't go out except for necessary groceries (which I get in bulk, on a single trip). And always with protective practices (social distancing, mask, gloves, hand sanitizer, cleaning my credit card and clothing when back).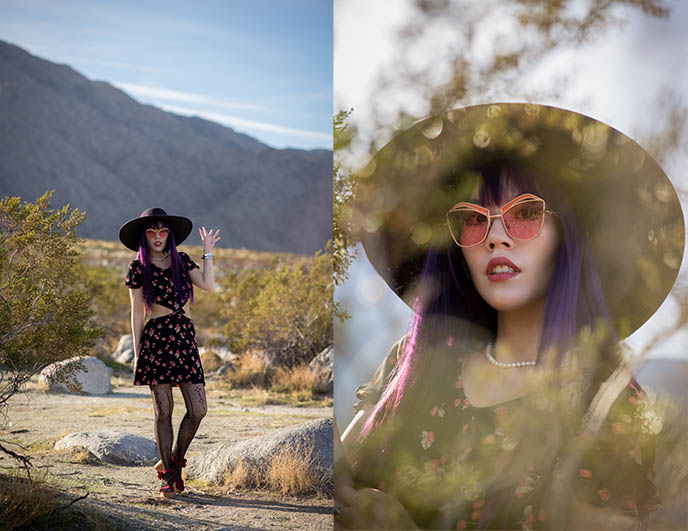 It's quite a change from the travel blogger lifestyle. But I'm focused on the bigger picture, and determined to help in the best way I can.
Until it's safe to move around again, what will I be up to? I recognize I'm fortunate to be a Canadian citizen and have the resources to likely ride out the storm. I've been pivoting to other writing work, as well. (You can see my latest article for Fodor's Travel about animal architecture around the world.)
I've been finding positives in spending time at home. Without the disruptions of traveling, I'm able to focus fully on fitness and healthy eating. I'm enjoying home-cooked, nutritious meals with the occasional baking foray… such as pumpkin and dark chocolate brownies!
It's also a moment to appreciate the small things, like the cherry blossom trees coming into full bloom. (While on short, socially-distanced walks in uncrowded areas. )
(I'm never outdoors without sun protection, of course! In Palm Springs, I shielded my skin with a black sunhat by Tenth Street Hats. My one-of-a-kind St Bart's pink sunglasses are by Spiltmilk Eyewear. Each metallic frame is handcrafted in Japan, and how fabulous are the built-in eyebrows.)
Cactus spikes ahead: I've been railing against the rise of fake news. I see a lot of misleading COVID stories being shared on What's App and social media, and the effects can be dangerous. (Such as spreading false medical info, and encouraging harmful behaviors.)
We need to be more responsible. I urge you to verify sources: Consult the CDC and WHO, and look up keywords on Google News to see if any reputable media has reported on the alleged story. Think critically and don't simply pass alarmist things along.
It's more important than ever to stay healthy, and work out at home. I've been doing yoga workouts almost daily (here's a collection of my favorite free yoga vidoes on YouTube, if you'd like to join me).
Don't forgot mental wellness. I'm a fan of the Sam Harris meditation app Waking Up, and Ten Percent Happier (which has many free podcasts and lessons online).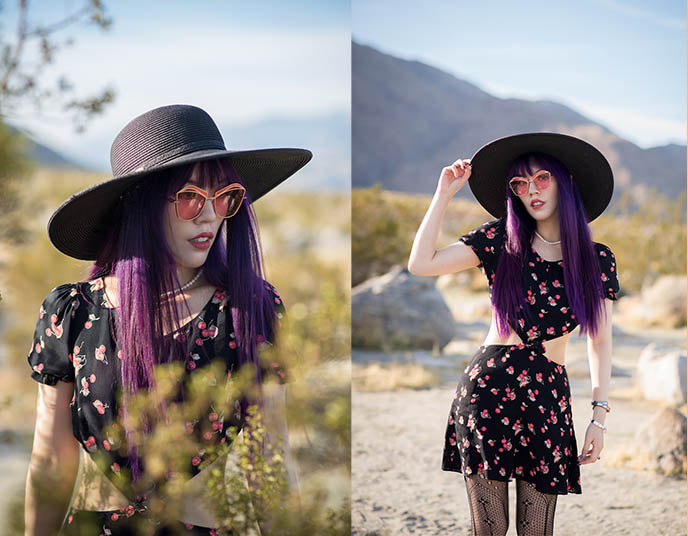 We aren't alone in the wilderness — this is a key time to catch up with friends and family. I've been doing video calls with people around the world, and it's been wonderful to reconnect. I encourage you to reach out; it's simple to use Facebook Messenger, What's App, Zoom, Skype and other apps to do video group calling.  
Warning shot: wash your hands, and keep 2 meters or 6 feet away from each other!
(Feeling grateful to have experienced Palm Springs in Jan… Wearing Spilt Milk St Bart's sunglasses, Lola Ramona sandals and a For Love & Lemons cherry dress (find it here). See more from this romantic label below with a click:)

The world will be here for us, once this is over. (And perhaps in a better state, with less carbon emissions and over-tourism…)
Let's look out for each other, and support our healthcare and essential workers. Let's be kind to ourselves, and keep up-to-date with the latest news without getting overwhelmed.
The future of travel is a big question mark, but I'd love to keep sharing meaningful stories with you. I hope to make 2020 a year of exploring new things, and growing in unexpected ways. 
Please keep in touch any time — I'm here to connect, and help in any way I can! You can find me @lacarmina on Instagram and Twitter, and here on Facebook. Keep safe and healthy, my friends.