Stahl House LA tour: Iconic mid-century modern home! Los Angeles architecture, Beetle House Tim Burton restaurant.
Pinch me… I'm traveling somewhere fun in a few days!
This will be my first trip since Portland in late February… and 100% in accordance with the B.C. government's travel and social distancing guidelines. (I'm forever on the cautious side, when it comes to Covid… and I wish more people were.)
Can you guess where I'm going? Take a peek at my social media —@lacarmina Instagram, Twitter, Facebook — to be part of my journey.
(This Tokyo photo by Said Karlsson is unrelated, but expresses my excitement… and how much I miss Japan. Never thought the country would be cut off from me like this. Can't wait to go back).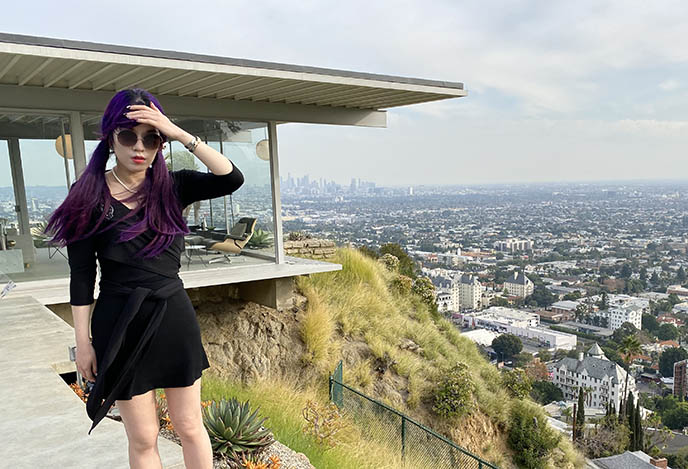 But this eagle's nest wouldn't be a bad spot to spend quarantine, am I right? Seated in an Eames Lounge Chair, overlooking the Hollywood Hills…
Architecture fans, this one's for you. When I was in Los Angeles last January, I got to tour Stahl House —  glass masterpiece of mid-century modern architecture.
To top off this fabulous day, I had dinner at Beetle House: a Gothic Halloween theme restaurant that honors the world of Tim Burton. Read til the end, to see me hanging with Jack Skellington and Edwards Scissorhands!
I couldn't visit Stahl House without re-creating the famous black and white photo, taken by Julius Shulman in 1960 (there's a shot of it further down).  Architect Pierre Koenig's glass house has fascinated me for years, and I jumped at the chance to finally see it in person.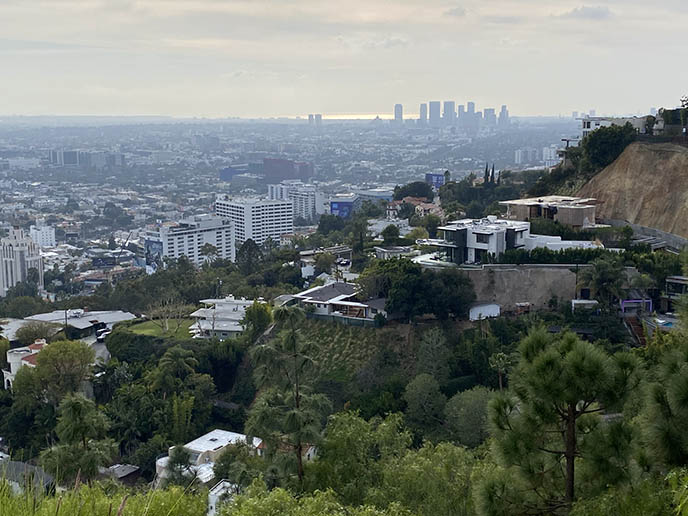 Don't just drive to Stahl House (1635 Woods Drive), as this is a private property and you won't be able to see anything from outside. To properly visit, you must book a guided tour well in advance, through Stahl House's website. (Of course, this isn't possible with Covid right now — but bookmark this for the future.)
Stahl House only offers a limited number of small-group tours, and they sell out extremely quickly (often months in advance). I messaged them to find out when the next month's slots would be released, and got tickets on that exact day.
The narrow, winding streets have limited parking space, so you're encouraged to carpool or ride-share, and arrive early.
I parked in the carport, and waited with anticipation in front of the C.S.H. #22 glass door. (This refers to Case Study House No. 22, one of the experimental residential homes commissioned by Arts & Architecture Magazine from 1945-1966.)
As soon as the guide lets you in, you'll understand why Stahl House is an icon of American mid-century design. 
Built in 1960, this dreamy residence wasn't a party pad for a celebrity. It was the beloved home of an ordinary family with three kids! Imagine spending your childhood waking up to these views, and plunging into the pool.
In 1954, Bruce Stahl (Buck) and his wife Carlotta bought the undeveloped land for $13,500. They brought their vision to young architect Pierre Koenig, and he made this modernist fairytale home come to life. 
Much of the construction was DIY — Buck gathered discarded concrete from around the city, and pieced it together to make the foundation. (It would be impossible to build Stahl House today, as it would violate current zoning and safety laws!)
The afternoon tour lasts an hour. Our guide first let us wander and take photos. Then, we gathered in the living room to hear how Stahl House came to be.
Did I adopt a barefoot lifestyle in LA? Not quite. All guests must take off their shoes to avoid damaging the property. In addition, you can only take photos with a smartphone, so leave your DSLR and video cameras at home. (Good thing I had upgraded to an iPhone 11.)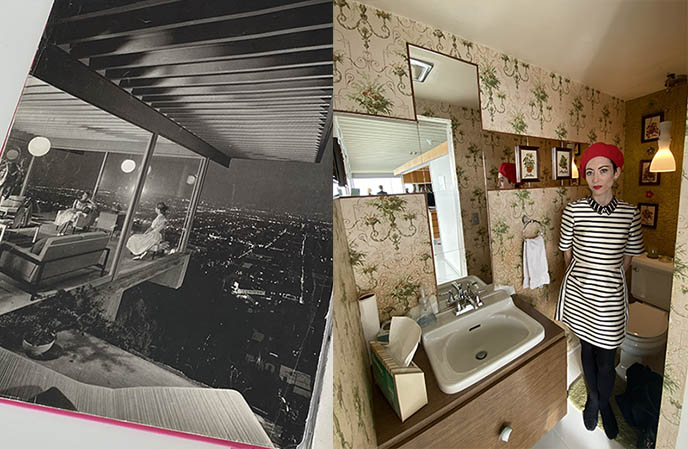 Photographer Julius Shulman visited Stahl House in 1960, and snapped this well-known image of two women chatting in the corner at night.
Lauren and I had fun sitting in the exact spot as these ladies. But we also got a kick out of seeing the parts of Stahl House that are never photographed… like the tiny wallpapered bathroom! 
Here's my tribute to Shulman's Stahl House photo. The angle captures the magic of lounging in the living room, which seems to float over Laurel Canyon. Clean lines and panoramic views… modernist perfection.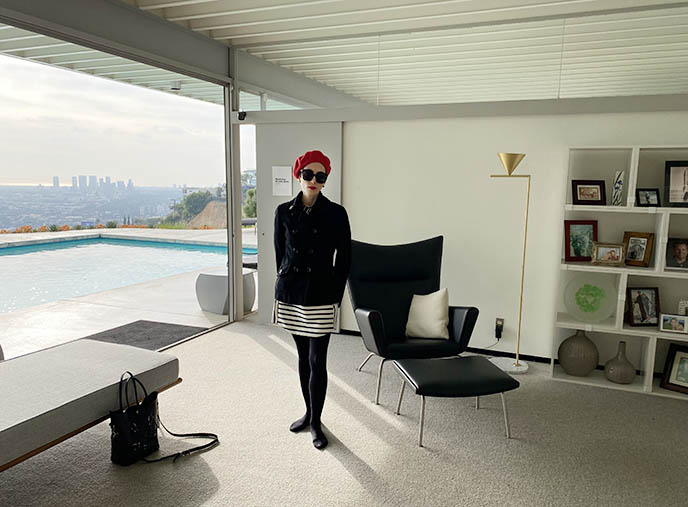 We got to explore most of the 2200 square foot house at our leisure. (One of the two bedrooms was off-limits, as well as one of the bathrooms. But we got full access to the kitchen, dining and living rooms).
Stahl House was furnished in collaboration with Design Within Reach, purveyors of modern furniture. If you've seen photos of my apartment, then you'll know I adore these types of interiors.
Every room has floor-to-ceiling glass windows, for mesmerizing views over Laurel Canyon LA.
We learned there were downsides to living in a"glass house" — the constant UV coming through the windows quickly faded the furniture and finishings. Stahl House had to be constantly maintained by the family to keep it true to its original incarnation. (The property is owned and managed by the three children who grew up here.)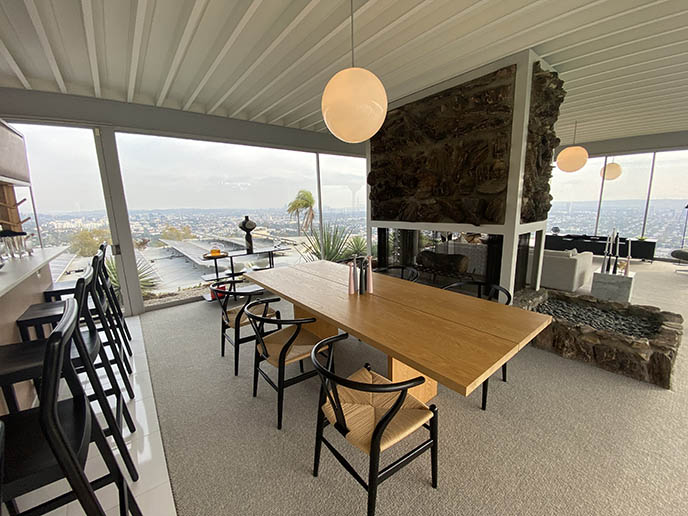 Stahl House was an "open concept" pioneer. The stone fireplace divides the living room from the cooking and dining areas.
This Eames lounge chair and ottoman fits in perfectly with the glass, steel and concrete.
The minimalist furniture from Design Within Reach complements the white-oak kitchen cabinets. Stahl House is photogenic from every perspective; no wonder it has been featured in many movies and fashion shoots.
Watch your step, and don't get distracted by the views… There's a steep drop off the balcony landing, and no safety net.
Talk about "living on the edge!"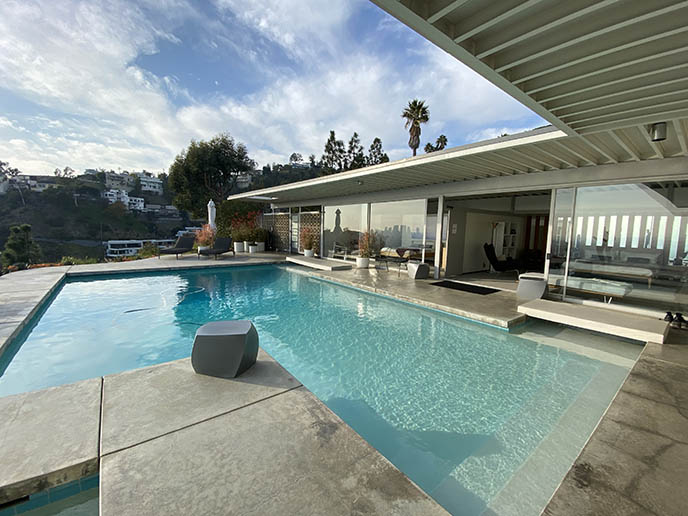 We learned that the Stahl children would roller-skate around the concrete decking, and jump from the rooftop into the pool… Ah, the carefree 1960s and 1970s.
When Stahl House's reservations open up again, be sure to book tickets as far in advance as possible. There are limited time slots and each tour has maximum 20 people.
Our guide wasn't sure how long the family would be running these tours for the public, or if the home may be sold in the future. If you get the chance to see Stahl House, jump at it!
This inspiring day wasn't over yet. We headed to Hollywood for dinner and drinks at Beetle House LA.
This theme restaurant tips its hat to the Beetlejuice movie, Halloween and Tim Burton's cinematic oeuvre (but it's not owned or officially associated with the Gothic director). Beetle House has locations in both Los Angeles and New York, as you can gleam from the grinning pumpkin logo.
For fans of Tim Burton movies, Beetle House is a dream (or should I say nightmare!). A giant Jack Skellington in a Santa hat welcomes you to the neon-lit bar.
At Beetle House LA, every day is Halloween. Prepare yourself for an immersive dinner theater, featuring live performances by this spooky crew.
(Could there be a better haunt to wear my "A Tim Burton Film dress" from Forest Ink?")
Every corner of the themed restaurant is filled with cheeky references to Tim Burton movies.
Here lies Betelgeuse. Dare to mutter his name three times in front of the tombstone, and see what happens!
And here rises Oogie Boogie, and Sally and Jack from The Nightmare Before Christmas. (The purple lights and Gothic windows with bats add to the Burton feeling.)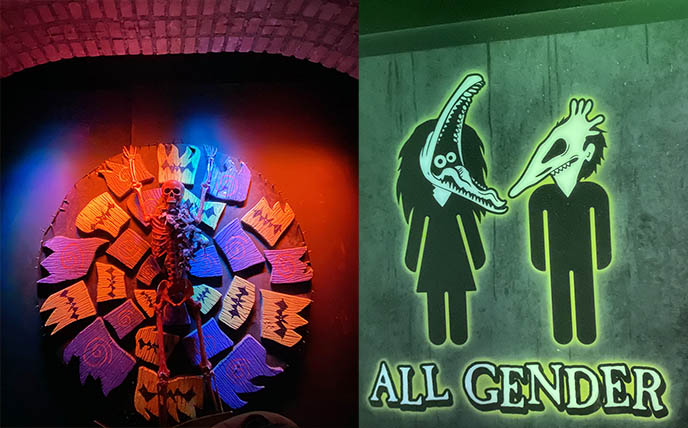 I spot skeletons on the wall, and an All Gender bathroom. Beetle House proclaims, "We are a safe place where every goth, punk, freak, weirdo, artist, and visitor is welcomed and celebrated."
Quite fittingly, your host for the evening… is the devil himself.
Beetle House accepts dinner walk-ins, but tables tend to fill up especially on weekends — so I recommend that you make an advance reservation.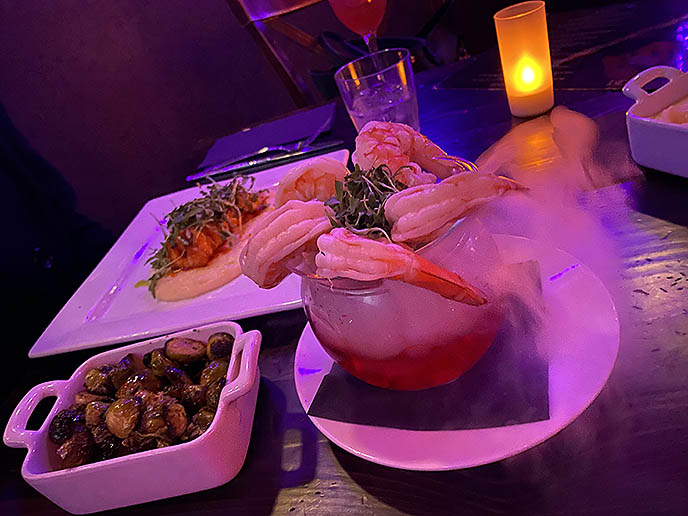 The $50 experience includes a tasty three course meal, and a theater show with rotating acts (who perform while you dine).
The menu includes cocktails with names like This Is Halloween (with pumpkin liquor), The Beetle's Juice, and Alice's Cup O' Tea.
At Beetle House, the food is excellent, and presented with dramatic flair. We dined on Sweeney Beef (steak on a cloud of potatoes, with a drizzle of "blood" and topped with a razor!) The seared salmon with red pepper puree and sweet corn succotash is named Big Fish.
Head to the outdoor patio, and get swallowed by Dante's Inferno Room. (It looks exactly like the Satanic hangout in Beetlejuice, where red-faced devil ladies entice the main character, played by Michael Keaton!)
The bar serves standalone drinks, with a focus on craft cocktails. You can also dare to drink the Hellfire Bowl, or take the 3 From Hell fiery shot challenge.
While we drank and ate, we watched immersive sideshow acts throughout the entire restaurant space. The performances are constantly changing; you may encounter magic tricks, contortionists, impersonators…
That night, we heard a song from Mrs. Lovett (played by Helena Bonham Carter in Sweeney Todd: The Demon Barber of Fleet Street.) Edward Scissorhands appears to be looking on in horror, at the balloon swallower!
'Twas an evening of frightful delights. (This bearded lady hammered nails into her nose, and then stuck scissors inside!)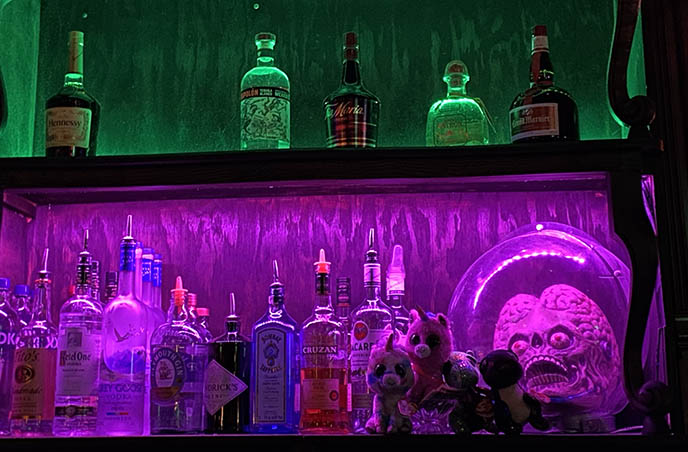 It's been a weird year… I'd welcome the brainy aliens from Mars Attacks will return to Earth, and take matters into their own hands.
A last look at Tim Burton's swirling visual aesthetic. Thanks Beetle House LA for an evening to remember.
Where would you prefer to spend your lockdown — at the modernist Stahl House, or a Halloween themed eatery?
Happy that I get to spread my wings a little, and do some travel this week… Add me on @lacarmina Instagram, Twitter, Facebook to see where I end up!