Goth Gift Guide: Christmas holidays presents! Gothic bikini, leather smartphone case, Papercraft devil horned masks.
I hope you were naughty this year… because Krampus is coming!
As we head into the holiday season, I thought I'd put together some Gothic gift guide ideas for you. If you're searching for Christmas presents for your favorite dark soul, then I hope this gifting list will provide some inspiration. 
I'll start with an overview of my favorites, and then delve into the details. For the Beachy Goth in your life, I recommend a Towers Swimwear skeleton bikini, or other alternative swimsuit! 
For Witchy Goths, conjure up this celestial black and white dress from Too Fast Clothing. 
If you're more of a Disco Goth, then Too Fast also has you covered — with halter tops and spider cobweb bellbottoms.
What if you're a Luxe Goth? Then hail to this customized leather cell phone case from Michael Louis.
And for the Crafty Goths out there… Papercraft World makes Satanic 3D paper masks!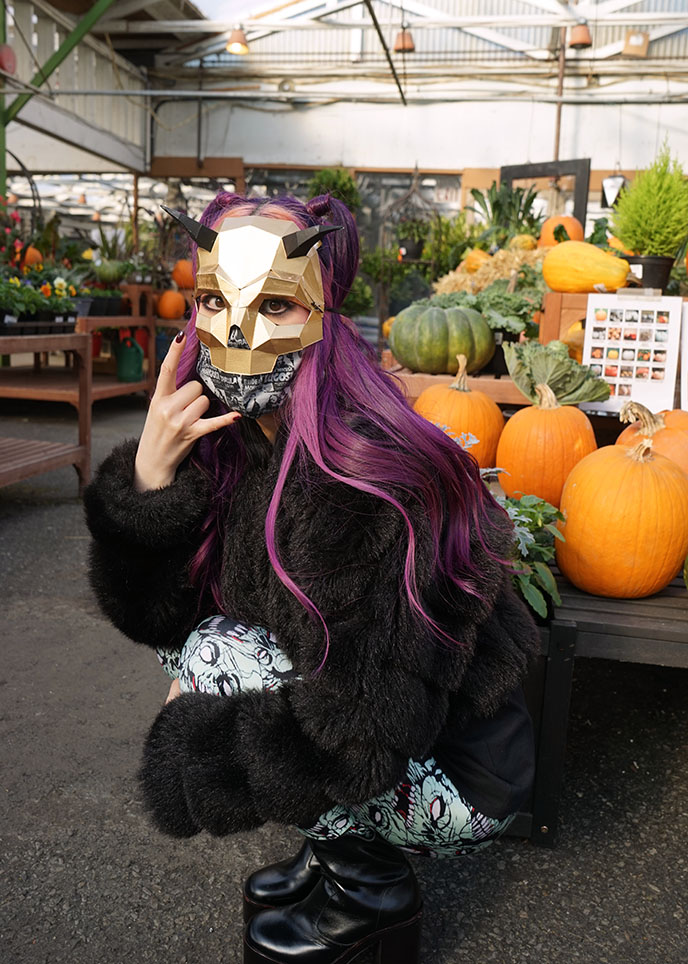 Keep on reading to see photos and reviews for each of these Goth gift suggestions.
(I paired my Paper Craft gold devil mask with zombie tights by Michelle's House of the Strange and Unusual, and black leather platform boots by  Jeffrey Campbell.)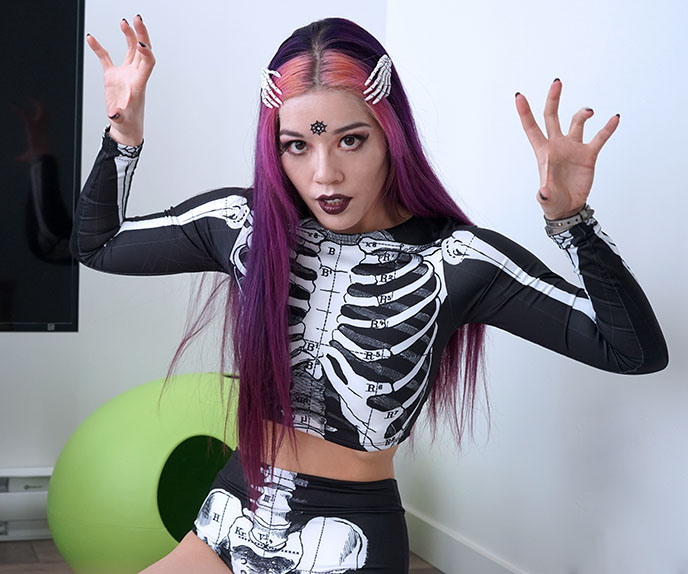 As 2020 comes to a close and the weather grows colder, I'm dreaming of being on the beach… Until then, I can wear my Towers Swimwear skeleton swimsuit at home! The Gothic design is a stand-out, and the long surf sleeves keep you protected from the sun as well.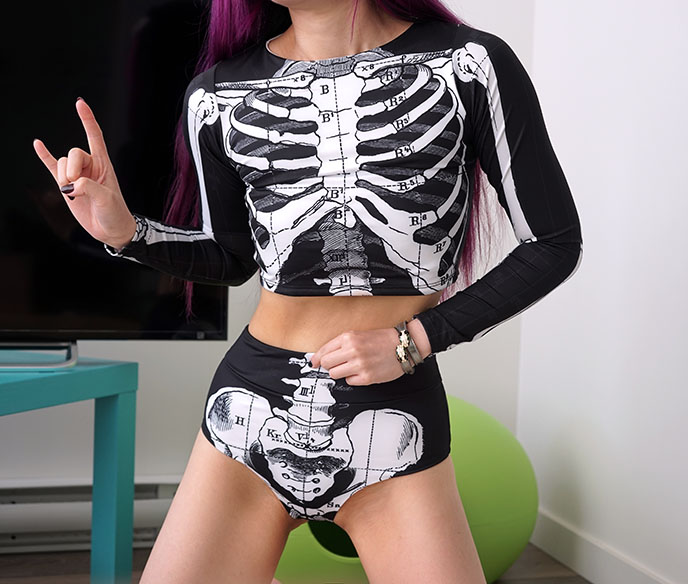 Love the bikini's medical skeleton illustration, which corresponds to the parts of the body. (Can you see my ribs?) Towers Swimwear makes swim designs for men and children as well — using high-quality UV and sea water resistant fabrics.
Towers is an indie company, and their swimwear is 100% made in Colombia. In addition to spooky skull styles, they have other alternative one-piece and bikini designs — I'm eyeing the ones with rainbow tie dye, glow in the dark, and flames. Devil horns to Towers Swimwear — you can see other edgy and rock-inspired swimsuits on their site.
If you're shopping for someone who loves 90s witch vibes, then consider this Gothic babydoll dress by Too Fast Clothing!
Spread a little black magic with their "Xtra Celestial Moon & Suns Lace Slip Dress." Close-up on their enthralling 1990s Goth night sky fabric — featuring constellations, crescent moons, suns with faces, and stars.  
I styled Too Fast's dress with a vintage coat, and Day of the Dead cut-out skull tights by UK Tights. 
The lace trim at the hem, waist and neckline elevate the dress' design. I'm all about playing with different textures.
My two-tone face framing colored hair adds color to the Gothic monochrome. My stylist dyed the front strands on either side of the face with Joico K-Pak Color Intensity. These days, I'm growing out my bangs and doing a middle part.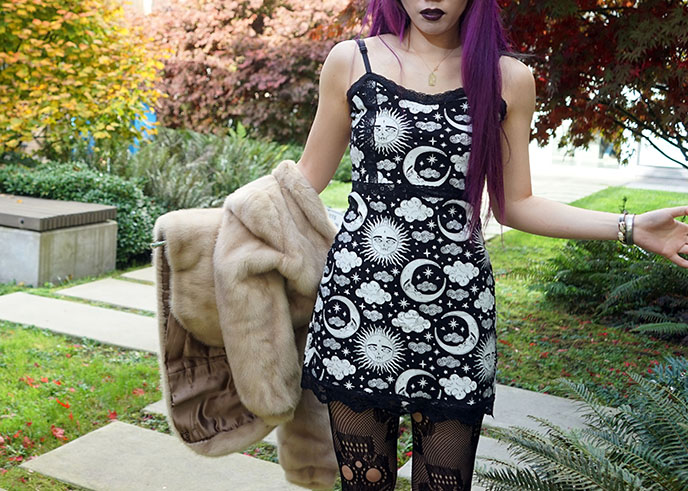 The dress has adjustable spaghetti straps for a perfect fit. Too Fast Clothing carries other devilish designs for men and women — featuring Baphomet, pentagrams, and skulls. 
My hair has grown so much since the last time I cut it (to chin-length) in Feb 2017!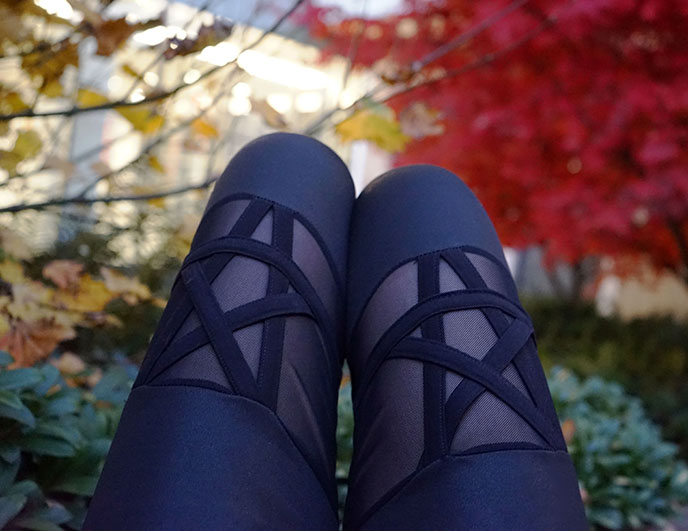 Too Fast Clothing makes pentagram mesh leggings that are easy to wear with oversize shirts and sweaters. Their glitter-infused, stretchy, high-waisted black leggings have a pentagram star at the thighs, with a mesh overly. 
As a disco music fanatic, I've been getting groovy in Too Fast's Bats in the Belfry halter top. It has a flattering white outline, and flying bats and stars on one side of the shirt.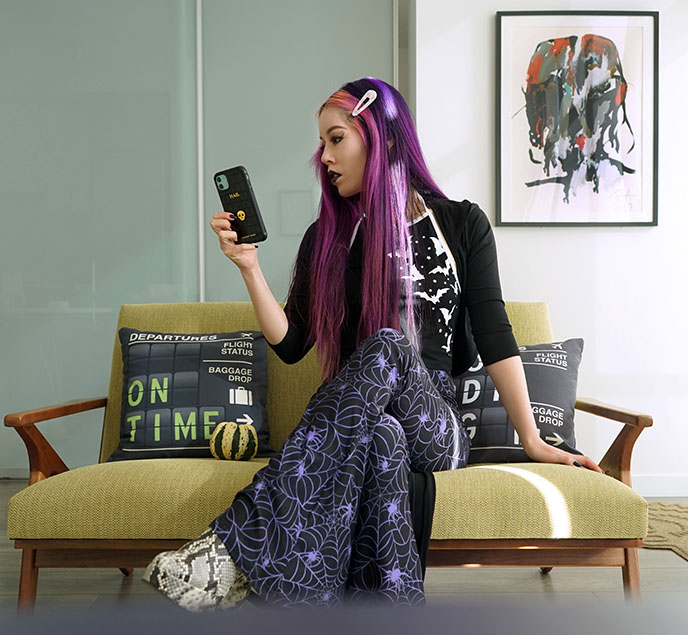 And I'm weaving a tangled web in Too Fast's Hellz Bellz Purple Spider Web Flares. It has a fabulous spiders-in-cobweb print, and wide-legged bell bottom design. 
Ready for a disco party… alone at my apartment. At least I have spooky creatures to keep me company — spot the bats, spiders, skull, and snakeskin (these leather python boots are by Acne).
You can find hundreds of Gothic, Punk and Alternative goods from Too Fast Clothing's site. In addition to clothing for men and women, they carry original dark housewares, shoes, jewelry, bags, you name it. 
Speaking of skulls… Hail to this outstanding smartphone phone case, by Michael Louis!
Each of their protective phone cases are custom-made and fitted, with genuine lambskin leather for a luxurious finish. These slim phone covers keep your phone protected with shock-absorbing material as well.
On Michael Louis New York's site, you can find phone cases of all sizes (Android, Galaxy, iPhone etc). The covers are lightweight and unobtrusive, with perfect cut-outs for the cameras and buttons. I like how you can see a pop of turquoise from my iPhone 11 underneath.  
As you can see, these high-end phone cases are head-turners. Michael Louis NY offers a selection of leather colors and finishes, and you get to customize the words and emoji however you like, at no extra charge.
I chose a gold foil emboss (out of 5 color options), and the cute skull (you can also pick a heart, diamond, star, or other emoji). Then, you can create a custom word or monogram from 6 characters (I went with HAIL). I'm so pleased with the one-of-a-kind result, which suits me to a T.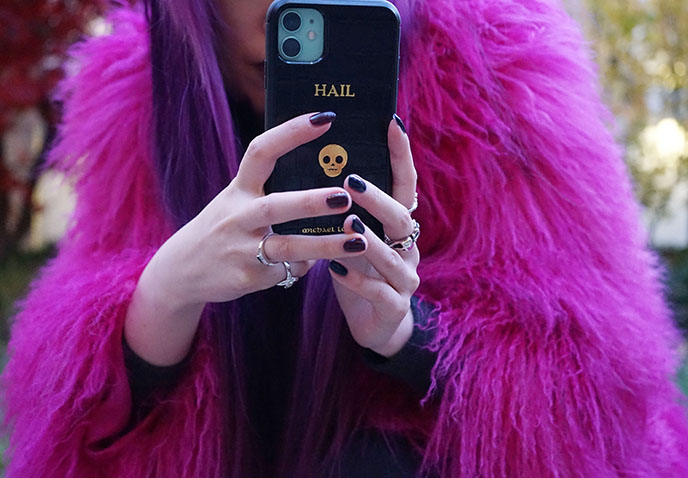 The cases come in various luxury leather finishes (croc, python, pebbled, snake, etc) and colors (pink, green, red, blue, etc).
Michael Louis' designer phone cases are functional as well as beautiful. They're crafted in a shock absorbing rubber/TPU mold, with a raised protective screen edge.
Michael Louis New York sells other leather accessories as well, including wallets and key holders, which can be personalized. 
How would you customize your phone case? On their web shop, you can preview the personalization options before checking out. 
Can't stop staring at my Michael Louis leather smartphone case. Their phone covers and accessories are brilliant and unique gifts for the X-mas season. 
Who's that creeping around and stealing pumpkins?
I spent Halloween raising hell, in my red devil mask by Papercraft World!
I folded and assembled a gold horned skull mask as well, using a Papercraft World 3D kit. Love how these DIY paper masks turned out. 
Papercraft World sells a variety of artistic craft kits, which let you fold and glue together a mask, sculpture, wall art, or other paper item. Their Halloween Masks selection include a number of Satanic designs, like the ones I made above.
Here's how the kits look — you get sheets of hard colored paper, which you punch out, fold, and piece together by numbers. The "map" at the back shows you how to fold the segments (inward or outward). Then you match the numbers, add white liquid glue, and hold the folds together until they stick.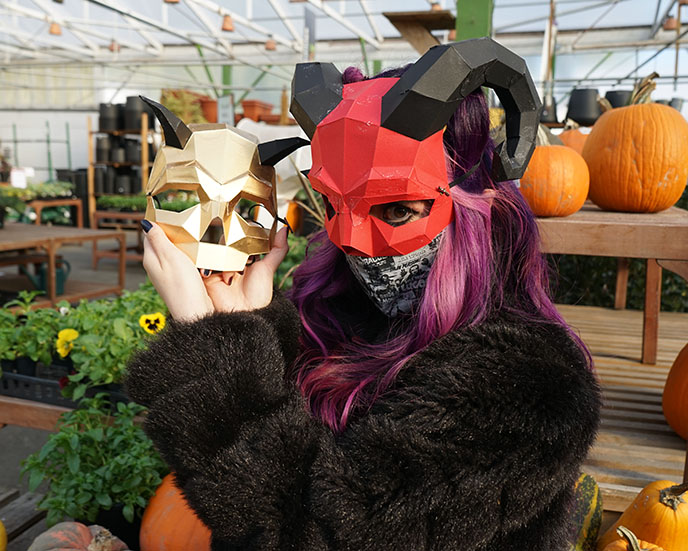 It takes a bit of time and patience, but you soon get the hang of it. I got into the flow of the process, and the result was rewarding — just look at these geometric devilish masks! 
I'm all about natural and eco-friendly Halloween decor — I feel there's too much plastic and waste these days. Papercraft lets you put together a mask using 100% recycled materials, creating a Halloween costume that stands out among the rest. 
Close-up on the round horned skull mask. As you can see, it's made up from strips of paper, which are placed together like a 3-D jigsaw and held together with glue.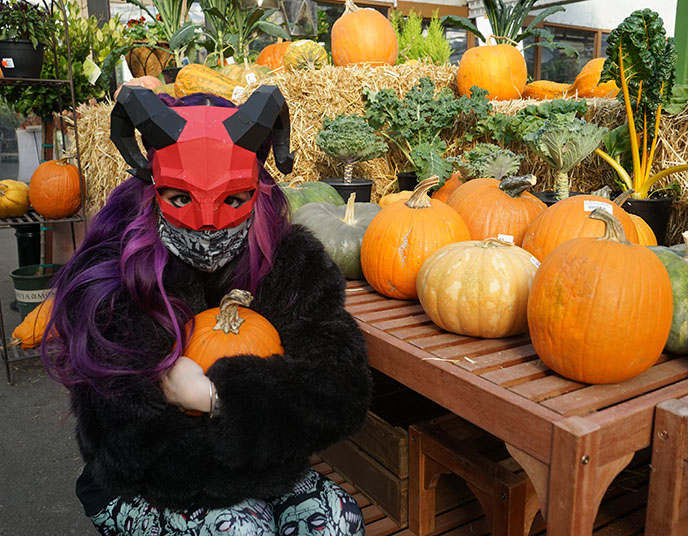 Love the geometric polygonal look of the finished mask. Those black goat horns were the most challenging part.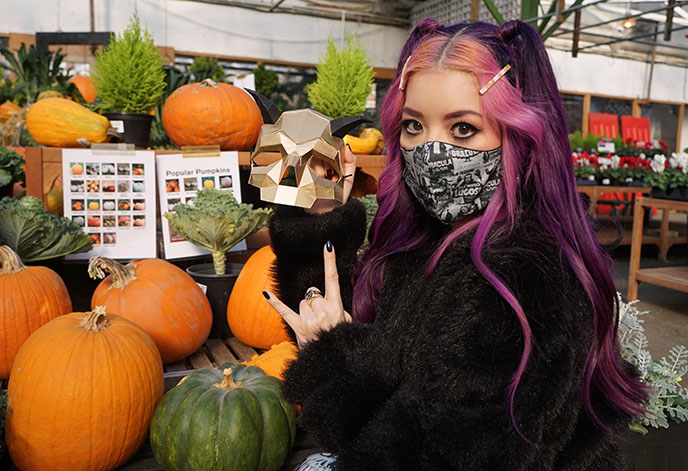 Papercraft has many eye-catching mask designs with cut-outs for the eyes, nose, and mouth. These include a werewolf and pumpkin-head, and cute animals like foxes and panda bears.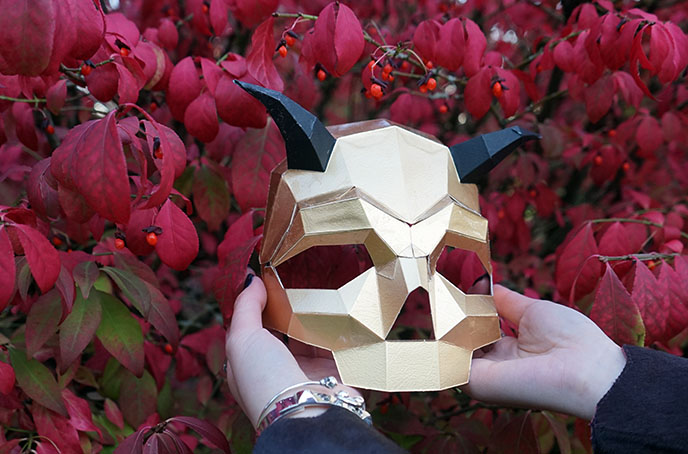 This devil one has a luxurious finish, thanks to the gold heavy paper stock. Each mask includes holes and stretchy string, so you wear it over your face with comfort. 
No need to wait until Halloween — we can wear an occult mask year-round! I styled mine with these exact Jeffrey Campbell Mexique boots. See more styles from this designer below:
In addition to costume masks, PaperCraft has kits that let you create wall art, table or floor sculptures, and other three-dimensional works. 
The kits are fun for families or friends to make together. Patience is key, so set aside at least a few hours, and take your time to make sure everything is properly lined up before gluing. 
A look at my current hairstyle — face-framing front pieces, dyed light pink to contrast with the dark purple in the back, by my Vancouver stylist BlameChad.
OOTD: zombie tights by Michelle's House of the Strange and Unusual, classic monsters fabric face mask by Josie Stevens, and these Jeffrey Campbell Mexique black leather heeled boots.
These photos were taken around Halloween, before there were more restrictions in Vancouver… Looks like we will be wearing masks for quite a while, so we may as well make them stylish. 
If you're looking for an activity to do at home this winter… why not put together a Satanic mask like this? 
Hail Papercraft World — I had fun tapping into my artistic side, thanks to their paper 3D design kits. 
I hope my Goth Christmas gift guide was helpful to anyone looking for original presents (for others, or yourself). 
Last look at my outfit — glad I was able to enjoy Halloween, despite the state of the world. Green zombies tights by Michelle's House of the Strange and Unusual, and these JC Mexique platform shoes.
Shop more Jeffrey Campbell styles below:
I got this BOO shirt in Mexico City last year. The ghosts remind me of the Nintendo Boo character, and also appear to be cracked eggs! (Catch up with my Mexico City stories here.)
I have more Satanic Panic coming your way, in the form of new projects, magazine shoots and articles… including a fashion interview in the New York Times. Stay tuned to @lacarmina on Twitter, Instagram, Facebook and TikTok for updates. 
And remember, you can shop my closet (@lacarmina on Depop) — I'm happy to send you a discounted package from my personal collection.
Stay safe this holiday season… or Krampus will spank you!