Joshua Tree Park's most photographic locations! Best Instagram spots: Skull Rock, Hall of Horrors, Cholla Cactus
Oh Palm Springs… You turned out to be one of my final and happiest trips in the before-times!
I've been saving these Joshua Tree photos from January 2020, as they remind me of how carefree things were before the world locked down. Look at where we are now, coming up on a year of being shut in (for me, the date was March 14)…
It's hard to know what to expect and timelines are always shifting. But I hope we'll soon be able to get back in the saddle again, be together with friends, and embark on new adventures worldwide.
When that time comes, Joshua Tree is a destination that you must consider. To help you prepare, I'll share my Gothic guide to the Californian national park — including how to see Skull Rock (above), and Hall of Horrors!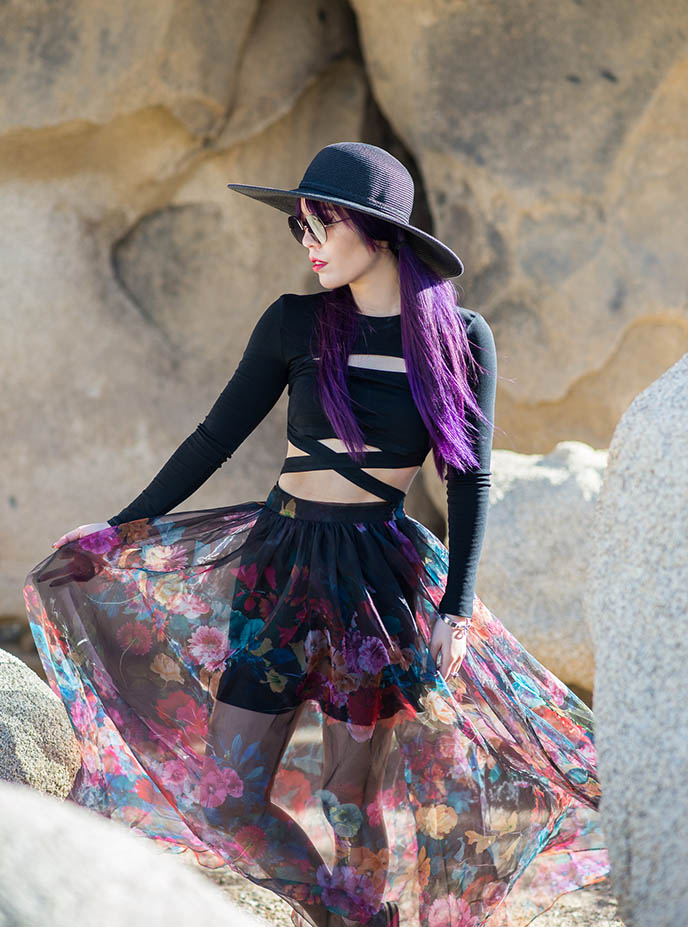 I'm quite pleased with how my outfit turned out for a desert fashion shoot.
My cutaway waist black long-sleeved top is by Forest Ink, and my black hat is from Tenth Street Hats. My sunglasses are by Oliver Goldsmith.
Auxiliary Magazine published these images as well, in a "Flowers in the Desert" fashion editorial. Photography by Joey Wong, hair color by Chad Evans at BlameChad.
From Palm Springs, Joshua Tree is an easy drive — less than an hour northeast, and you're there. We went in January 2020, so the weather was warm yet comfortable. I suggest avoiding Palm Desert in the summer, when temperatures reach boiling levels.
We rented a car from Palm Springs airport, and found it easy to get around — the roads are wide and empty. Our hot tip: be sure to listen to the KGAY 106.5 FM radio station! Known as "the pride of the valley," KGAY provided us with the perfect roadtrip soundtrack of disco, dance and 80s.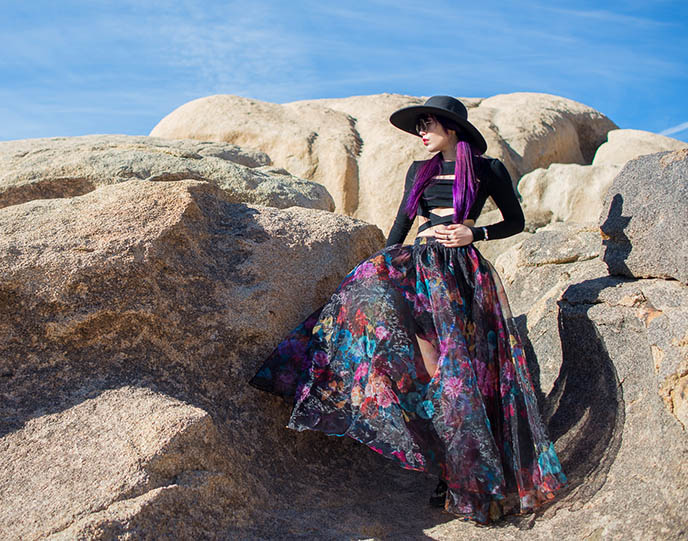 To avoid crowds, I encourage you to visit Joshua Tree park on weekdays, and to arrive early. Start at the visitor center: the staff gave us a map, and circled sites of interest. Here, you can pay the entrance fee of $30 per vehicle, or $15 for individuals.
It's impossible to see all of Joshua Tree's natural attractions, as the national park spans 790,636 acres. As you can see, the desert landscape is out of this world. You'll encounter giant rounded boulders, bizarre rock formations, cacti and desert shrubs…
… and of course, the namesake Joshua trees, also known as the yucca palm. I'm standing next to a large one; the species is easy to spot with its distinctive upturned branches.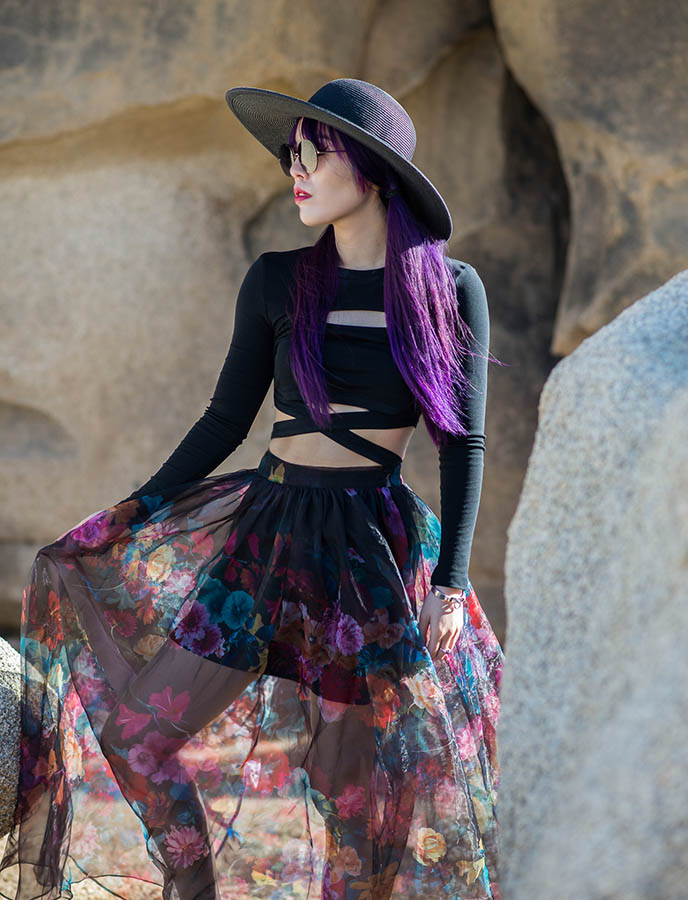 Joey and I were keen to do fashion photography in Joshua Tree. If you're looking to take modeling / portrait photos, I advise you to stay away from the landmarks, which attract lots of visitors. Instead, look for interesting backdrops in obscure spots. (This set was taken at Belle Campground.)
We loved the Flintstones vibe of Joshua Tree. With alien rocks and blue skies like these, it's no wonder the park is popular with Instagrammers and content creators.
You'll be out in the open grasslands, with no shade… so wear a hat, multiple layers of sunscreen, and SPF protective clothing like I did!
I found the sheer floral maxi skirt at Burcu's Angels, my favorite vintage store in Vancouver BC. The sweeping drama of the fabric worked nicely in the shots.
Westworld vibes… Of course, I'd be wearing a black hat.
Next, we had to traverse the Hall of Horrors, based on the name alone! I'm standing in front of what is known as the Exorcist Area.
I'm not sure why this area of Joshua Tree has such a frightful name, but it works for my Gothic style. The Hall of Horrors is a terrific spot for bouldering, and creeping through narrow rock passages
OOTD: Wearing a black cutaway shirt by Forest Ink, black sunhat by Tenth Street Hats, and Oliver Goldsmith sunglasses.
Joey and I focused on enjoying the sights and taking photos during our Joshua Tree day trip. Hardier types might partake in activities like hiking, bouldering, and camping overnight.
"In the name of the Moon, I will punish you!" I adore this shot – you can see the moon next to the precariously perched round boulder.
Then, I had to make a pilgrimage to Skull Rock. Believe it or not, this isn't a skeleton head carved out of stone – it's a natural formation! (Doesn't it remind you of the Citadel in "Mad Max: Fury Road"?)
The granite rock eroded over time, creating what looks like two eye sockets in a cone-shaped skull.
Be sure to visit Skull Rock and give it a Hail! You can also go a little further northeast to Spooky Hollow, which looks like two eyes cut out of a rock are glaring at you.
Although I'm often in LA, I never made it out to Joshua Tree National Park until this trip. It's just over a two hour drive east from Los Angeles.
I'm glad I was able to come here under such perfect conditions, before traveling came to a halt. I think you can sense how inspired and happy we felt in Palm Springs!
Mother Nature is quite the architect. There are endless spots for shooting interesting pictures, whether you're using a DSLR or a smartphone camera.
When travel ramps up again, it's a great idea to start by visiting a national park and spending time outdoors.
I enjoy adapting my Gothic aesthetic to my surroundings. This "dark desert rose" maxi skirt was made for Joshua Tree.
The enormous park includes a variety of ecosystems. The western and northern areas include the Mojave Desert, where Joshua trees are concentrated. The southern end is part of the Sonoran Desert, which is drier and more barren.
Travel Tips: You won't find food stands around the park, so bring lots of water and snacks. Also, use the restrooms at the Visitor Center when you arrive and leave.
We stayed in Palm Springs and made Joshua Tree a day trip. We arrived in the morning, and left as the sun was setting.
I am drawn to places that look like alien planets, and Joshua Tree stirred my imagination.
Look out for the wildlife, which includes birds, lizards, and squirrels. At night, you may come face-to-face with coyotes, lynxes, and jackrabbits.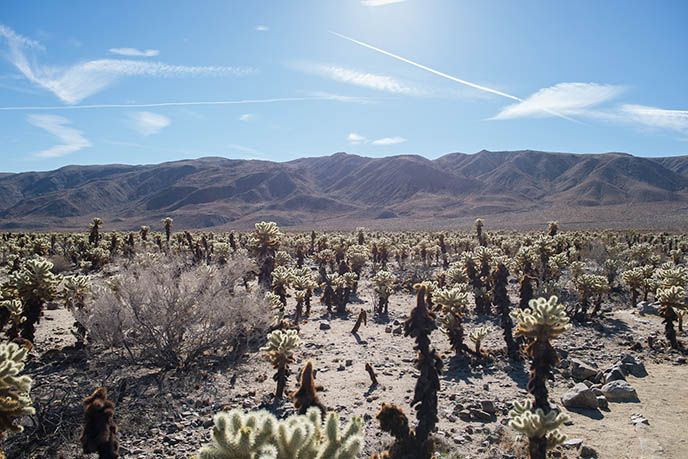 One of the most fascinating areas: Cholla Cactus Garden. Take care as you walk, or you'll get pricked by the sea of cacti!
Bang-bang, I shot you down…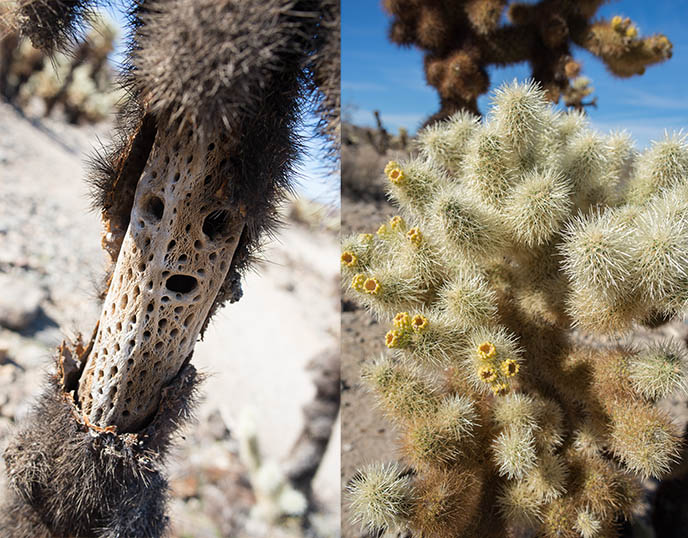 The main species is known as the teddy bear cholla — but you don't want to give these spiked cacti a hug! When the plant dies, it exposes a spooky woody skeleton underneath.
Doing a cactus pose in the Cholla Cactus Garden. (I didn't wear the maxi skirt layer, lest it get caught in the spikes.)
We also saw cacti of all shapes and sizes at the Moorten Botanical Garden in Palm Springs. (See the photos and story here.)
After you leave Joshua Tree Park, it's worth swinging by the Noah Purifoy Outdoor Desert Art Museum, which is a short drive away. This free open-air art space contains a whimsical collection of folk art by the artist.
Noah Purifoy makes assemblage sculptures out of discarded materials such as burnt wood, children's toys, and computer keyboards.
He turns unexpected materials – like pants – into large-scale works, which look especially compelling against the desert horizon.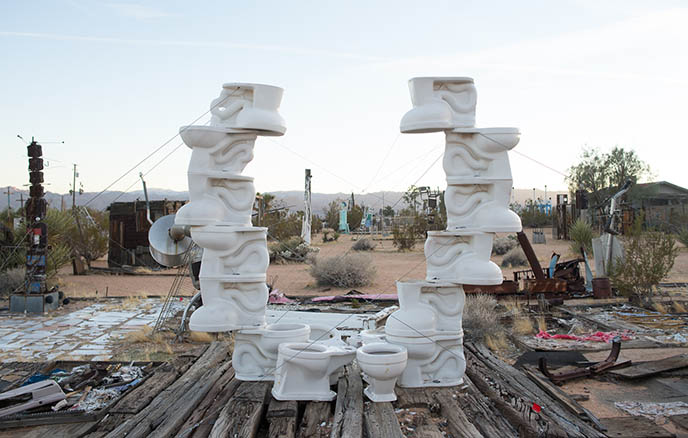 What looks like an elegant abstract sculpture… is actually made out of toilets! Everything was made on-site between 1989 and 2004.
Ah… those were the days, when we could explore freely…
When it's safe again, I hope this post inspires you to visit Joshua Tree's most Gothic and bizarre spots.
When you plan your trip, look back at all my Palm Springs travel articles. These include tips about restaurants, design hotels, and the LGBT nightlife in Palm Springs.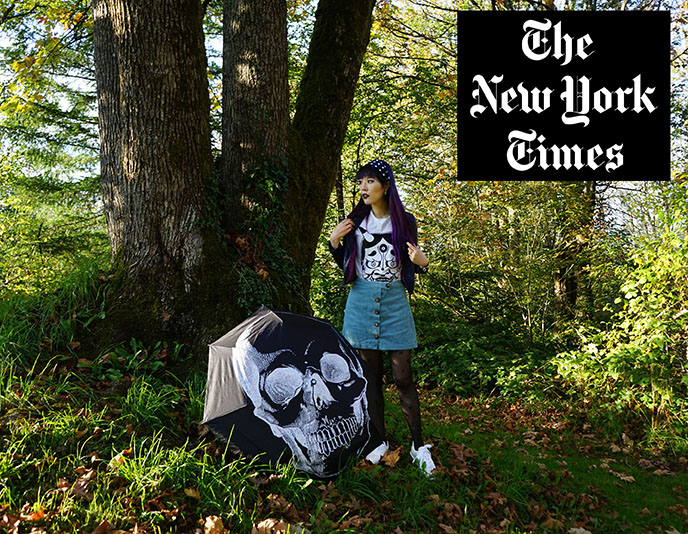 I'll end with a quick press and journalism round-up. The New York Times interviewed me about fashion, for a Wirecutter style story! The NY Times wrote: "I learned about unique ways to style white shoes from La Carmina, an alternative fashion blogger who specializes in subculture styles."
I also took part in a Dark Beauty Magazine interview; I was on the cover of their alternative fashion magazine years ago.
I'm continuing to write for a variety of publications. I'm now a journalist for The Daily Beast! I wrote about Satanic destinations worldwide – including the Baphomet statue at The Satanic Temple, a Devil museum in Lithuania, and a Thai Buddhist Hell park. My aticle about hellish places was also published by Yahoo and MSN.
For Fodor's, I wrote about the world's most bizarre beauty pageants. Did you know there are beauty contests for Barbie dolls, attractive camels, Klingon women, and ugly faces?
More of my writing will be released soon, as well as new photoshoots and local stories. You can keep up with La Carmina on @lacarmina Twitter and Instagram.
One year in… it's challenging, but we'll make it through. Please take care of yourselves, everyone!