Gothic travels in Salem, MA! The Hotel Salem room review, Witch Board Ouija museum, New Age occult witchcraft shops.
Surprise… I'm back on the road! After over a year at home, it feels good to be safely traveling again.
Travel looks very different these days… but as you'll see in this story, the new regulations are manageable, and I had a seamless journey from Canada to the US. (I'm vaxxed, maintain distance, and wear a mask. I also only visited places with low case counts.)
When Destination Salem, MA invited me back, I eagerly hopped on my broomstick for Witch City.
It felt right to make my first flight — since Feb 2020! — to Salem, Massachusetts, one of the most Gothic destinations on the planet. Read on for my stay at The Hotel Salem, a mid century modern design hotel located downtown…
… and my tour of the Salem Witch Board Museum. It's the world's largest museum dedicated to Ouija boards, which includes a few Satanic specimens.
I've been at home in Vancouver, BC since spring last year, and followed local health protocols carefully. With the vaccine in my arm, I felt ready to fly to USA to report on travel with Destination Salem.
Right now, anyone flying to America must take a NAAT (such as PCR) or antigen test less than 72 hours before departure. (Please check official government websites to ensure you have the latest information, as things are constantly changing.)
I had never taken a COVID test before, and the time-frame and regulations were a bit daunting (what if I didn't get the results back in time?). Fortunately, the process was seamless thanks to TravelSafe Immunization Clinic in Vancouver, BC. They're a full service one-stop travel clinic that provides vaccines, prescriptions and health advice in addition to COVID-19 testing for essential travel or work purposes.
I was impressed by TravelSafe Immunization Clinic's efficiency and clear communication — they answered all my questions and prepped me well beforehand, and I could email them at all hours with prompt replies.
I went in for my appointment, and was ushered into a medical room. The health worker wore full PPE (mask, gloves, and face shield), and did the nasal swab for me (it wasn't uncomfortable). The very next day, I received an email with my negative test results, which I showed at airport before checking in to my flight.
If you need a COVID-19 PCR/NAAT test (or other medical tests and pre-travel vaccines) in Vancouver, Canada, I can vouch for TravelSafe's smooth and professional services. (Their clinic is at 2184 W Broadway, Suite 420.)
At this moment, Canadians are subject to around a $2000 hotel quarantine fee (for a 3 day stay) if they fly back to a Canadian city from abroad. However, if you cross over by land (ie, drive across the US-Canada border), you don't have to pay this rate.
(NB: No matter what, returning Canadians must take a PCR test up to 72 hours beforehand, and quarantine at home for 14 days with daily check-ins. Again, this may change so please check the most current regulations.)
To avoid paying 2K and staying in an airport hotel, I flew to Seattle Sea-Tac Airport, and had Evergreen Town Car pick  me up and drive me across the border! This local-owned car service company is based in Bellingham, and experienced in driving travellers from Washington State to British Columbia. They can even take you all the way home to your address in BC.
My friendly Evergreen Town Car driver met me at baggage claim, holding a whiteboard that said "La Carmina." He helped roll my suitcase to the luxurious black car, which had a Plexiglass shield between the front and back seats. I watched the sun rise from the windows, then dozed for the rest of the comfortable 2 hour drive to Peace Arch border crossing.
My driver helped me navigate the US-Canada land border crossing, since he had done it many times — he knew which documents I had to show, and where I had to go for my mandatory COVID test. The cross-border drive worked out brilliantly and saved me stress… as well as the enormous quarantine fee and three days in a hotel!
If you're looking to go from Washington State to anywhere in British Columbia, Evergreen Town Car can take you all the way to your final destination in Canada. They also can do flat rates and take care of special requests, and provide car services within WA. Cheers Evergreen for making the final portion of my trip home a breeze.
Now, let's talk about the first stop on my journey — Salem, Massachusetts! 
After over a year of nothingness, I was ready to relax somewhere stylish and luxurious. With modern interiors inspired by mid century modern design, The Hotel Salem fit the bill. (You may recall that I even decorated my apartment in MCM style.)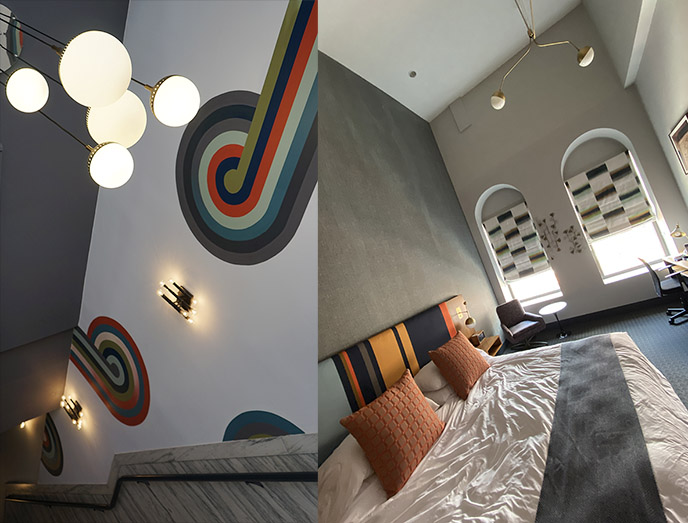 The Hotel Salem is part of Lark Hotels, and opened in 2017. I adored the mid century modern colors, vintage-style furniture and funky lighting. As you can see, the rooms are spacious and have 16 foot ceilings with plenty of light.
The Hotel Salem's cozy bed was one to remember. (Wearing a silk Lemonwood Luxury mask and matching scrunchie. Top from Cyberdog, tights and skirt Ninja Cosmico.)
Details from the gold fixtures found in my room. I'm wearing a Satanic Temple ring from Arcana Obscura; it's the TST Winged Crowned Skull Logo Ring designed and handmade by Kate Hockstein of Arcana Obscura. My alien pinky ring is Alina Abegg.
The Hotel Salem has several in-house dining options, including Counter Kitchen + Bar in the lobby. The midcentury diner-inspired space serves New England flavors and drinks all day. (For summer of 2021, they will convert the space into a Tex Mex pop-up.)
(My Gothic platform sneakers are Anthony Wang Shoes.)
The Hotel Salem's lobby walls are made for photo-taking. The 1950s retro stripes pay homage to the building's former life as a high-end fashion department store.
The lounge area is furnished with mod curving sofas and coffee tables. (The Hotel Salem follows COVID safety protocols to a high standard. They ask anyone who enters to wear a mask, the common areas are frequently cleaned, and staff doesn't come into the rooms unless requested.)
I'll show you more from The Hotel Salem in an upcoming post, including the small plates and cocktails I enjoyed on The Roof — the only open-air rooftop restaurant/bar in Salem. 
The Hotel Salem is right smack in downtown Salem (at 209 Essex St), so you're staying in the midst of Goth, witch and metaphysical boutiques. (Keep reading for a guide the witchiest shops in Salem MA.)

Just a few blocks away is the Salem Witch Board Museum, the only museum on the planet dedicated to the history and mystery of "talking boards." To get here (127 Essex Street), look for this planchette sign. The Ouija board museum is tucked behind a gift shop called Remember Salem.
(Thanks to my friend Thomas O'Brien Vallor for pointing me to the Witch Board Museum. He runs Satanic Salem Walking Tours — I'll do a full review of his The Satanic Temple-associated tour soon; it's the highest rated one on TripAdvisor for all of Salem!)
I got a personal tour of the Salem Witch Board Museum from owner John Kozik. He owns one of the world's largest collections of Oujia boards and related memorabilia. John riveted me with tales of the history of the Ouija Board, its impact on pop culture such as horror movies, and the lore (including Satanic Panic accusations) surrounding the game.
Ouija boards are marked with the letters of the alphabet, the numbers 0–9, the words "Yes," "No," and often "Hello" and "Goodbye" along with other symbols. ("Ouija" is a trademark of Hasbro, but people use the word to refer to talking boards in general).
A group of people each put a finger lightly on the planchette (small heart-shaped piece, as pictured above), and slide it to spell out messages. Some believe the seance invokes spirits that make the planchette move on its own, but in fact, the players push it in unison.
The space includes hundreds of talking boards from all over the world, with a wide variety of colors, designs and materials. It's only a portion of his entire collection.
In the 19th century, spiritualists and mediums started using boards like these to supposedly communicate with the dead. The Ouija we know today was created and named in Baltimore, Maryland in 1890. 
The Salem Witch Board Museum also displays art and historic objects related to talking boards. Here's a 1920 magazine cover of The Saturday Evening Post, with a "Ouija Board" cover by Norman Rockwell. Note that the man is using the game as an excuse to look at his lady-friend's "juggs."
On the right: Rich "Ormortis" Schreck created a witch and Baphomet version, for the museum's art exhibit at The Satanic Temple! 
Ouija boards have long been associated with devil. (A Baphomet on a Spanish talking board makes the connection explicit.) Some parents refuse to let their children play the harmless game, out of fear that they'll summon evil demons or Satan himself.
It made sense for the Talking Board Historical Society to team with The Satanic Temple a few years ago on an exhibit: "From Planchette to Baphomet, Ouija's Deal with the Devil." The society displayed their darkest boards at The Satanic Temple's headquarters, which has rotating exhibits that anyone can visit.
Behind me is a selection of the many movies, books and music that have depicted Ouija boards as the "tool of the Devil."
John Kozik has been fascinated by talking boards and collecting them since he was a lad. Satan lurks beside the oldest boards in his collection, which are made from wood.
The Salem Witch Board Museum also has a selection of clothing for sale… and a rather grabby skeleton!
I was particularly drawn to the Ouija boards from various countries around the globe. Did you know the Japanese had a similar divination game called Kokkuri, which was popular during the Meiji era?
The themes of the witch boards change with the times. Here's a groovy 1979 Psychic Sex Board, which lets the spirits decide how you "get down." (With the lights on or off, strobe lights and mirror, roughly, tenderly, kinky…)
Symbols also take on different meanings throughout the ages. This 1920s Ouija board caught my eye because it has both a swastika and a Jewish Star of David! Before the Third Reich made it the Nazi symbol, swastikas were considered a symbol of good luck. (And it remains so in Asia and India, with the arms pointing to the left.)
Some of the spookiest talking boards were made by musicians. Kirk Hammett of Metallica has his signature board on display, as does the band Ghost. (Love the metal planchette design of their Popestar Spirit Board.)
This is only a tiny glimpse of John Kozik's talking board collection. Visit the Salem Witch Board Museum to see more of his Ouija rarities, and please tell him I say "hello"… and "goodbye!"
If you're visiting Salem for the first time, I encourage you to see the Witch Museum and other historic sites, which I covered in my previous articles. Since this was my second visit and I was doing my best to maintain distance, I mostly walked through the downtown streets and window-shopped.
Salem is home to all things witch-related, from dolls to potions and broomsticks. The town did a great job at relaying the message of wearing masks.
Tattoo stores, eccentric art galleries and other alternative spots abound in inclusive Salem, MA. (Above, Witch City Ink displays a unicursal hexagram and rainbow Pride flag.)
As someone who's drawn to creepy and morbid everything, Salem felt like home.
Salem is linked to witchcraft because it was the site of the 1692 witch trials. The "Bewitched" TV show was also filmed here. (Spells can't keep away the virus, so even the witches are wearing Ouija board face masks.)
However, the stores sell more than just witch-related goods. Items related to myths, the occult, and metaphysics are also popular. Here's a statue of Hercules fighting the Lernaean Hydra.
Ancient Egypt has a strong presence in Salem as well. Above is Bastet the cat-god, and Khnum — the ram-headed horned god of fertility.
You'll also find things on the cute side of darkness. These skull-headed critters reminded me of the Day of the Dead vibe of Mexico City.
As you'd expect, Salem comes alive at Halloween during the annual Haunted Happenings. Nonetheless, you'll find Halloween decor and creatures here year-round.
In 2019, I published a guide to shopping in Salem. I'll end this post with some of the places I missed on my first trip, such as the Gothic / alternative clothing store "Die With Your Boots On."
Die With Your Boots On carries all sorts of dark and subculture fashion. This angel statue must be weeping because he cannot decide which neon boots to buy! (But you don't need to cry — just click the ones you like below):

Some of Salem's shops are on the tourist side. I encourage you to visit authentic witch shops like Enchanted, which sells hand-crafted products by Salem witch Laurie Cabot.
The Wicca and New Age selection includes books and Tarot cards. (I feel The Tower is my guiding card these days…)
If I had unlimited space in my suitcase, I would have filled it with books and candles.
Don't forget to stock up on Goth homewares, such as "You kill me" plates with happy skulls.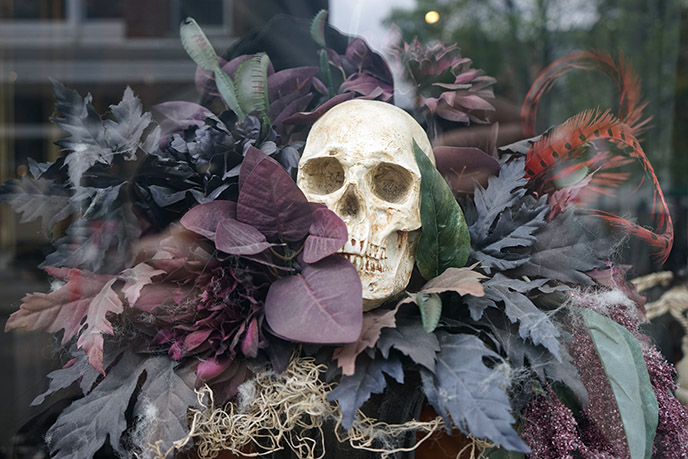 I'm so happy I made the trip back to Salem, Massachusetts. Covid levels are low here and vaccination rates are high, making this a great destination for travellers starting to venture out again.
Everyone wore face masks, as well. I'm a fan of Lemonwood Luxury's silk masks and scrunchies; the soft natural silk is comfortable (with adjustable ear straps) and protective, and the material is great for the skin.
My sneakers are Anthony Wang Shoes. Skirt and spiderweb tights from Ninja Cosmico, top from Cyberdog UK.
I wish I could hop on a broomstick and time-travel back to this bed at The Hotel Salem – loved my stay here!
I have more to share with you from Salem, including my second visit to The Satanic Temple. For more alt travel tips, enjoy my previous posts about Salem and Boston. (These include Count Orlok's Monster Gallery, and the Bewitched Samantha statue.)
On that note…  I have a new article about Satanic Planet out on Audiofemme, a music publication. I interviewed the band's "Collaborators Shiva Honey and Nomi Abadi On The Satanic Temple's Activism for Women." They speak about reproductive rights campaigns, and other causes that champion women — please give it a read.
In early June, I also spoke at NATJA (North American Travel Journalists Association) conference. I was part of a virtual panel — with other travel journalists and destination marketers — that discussed "Media and Press Trips: Asking the Taboo Questions." Thank you NATJA for having me speak about my travel journalism and press / FAM trip experiences.
After Salem, I went to several more destinations… Curious about where I headed next? Then I invite you to check in with me on Instagram and Twitter (@lacarmina). And if you have any questions about traveling as the world begins to open, please comment and I'll do my best to help!