The Cove at Rockport beach condos: Vacation rentals review! Massachusetts, New England oceanfront getaway.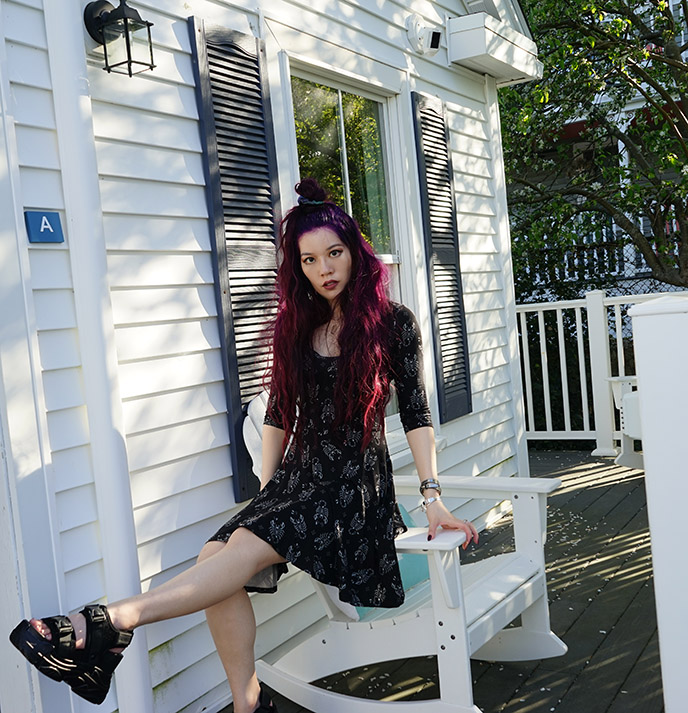 In this era of travel restrictions, I'm grateful whenever I have the chance to enjoy "pockets of devilish fun." This summer, I took a 35 minute drive north from Salem, MA — to kick it at The Cove at Rockport beachfront hotel!
(My platform 90s-style sandals are by Anthony Wang Shoes.)
Here's the picture-perfect view of the Atlantic Ocean, which you get from The Cove's vacation condos. Now I get why vacationers love to spend time in New England in the summer, indulging in seafood and beach time.
With fishing boats under blue skies, the harbor town of Rockport, Massachusetts is the definition of charming. You may recognize the red fishing shack known as "Motif No. 1," as it's featured in many scenic American paintings.
The Cove at Rockport is right across from the beach, and a 5-minute walk to the downtown filled with art galleries, cafes and restaurants. I found the best apparel, accessories and gift stores in Rockport, MA through Weefty. This location-based shopping guide lets travelers discover the most unique indie businesses all over Massachusetts.
All Cove guests have access to the common areas and clubroom, which are decorated with these mod pod basket chairs. (I felt like I was in a 1990s music video, especially with these Anthony Wang platforms.)
You can also hang out with a cocktail at the "On the Rocks" Oceanfront Deck, and watch the sunset over the water.
Address: 1 King Street, Rockport, MA, 01966.
I was pleased to find white Adirondack rocking chairs on my sunlit patio.
(Outfit details: Gothic platform shoes by Anthony Wang Shoes and dress by Sourpuss Clothing)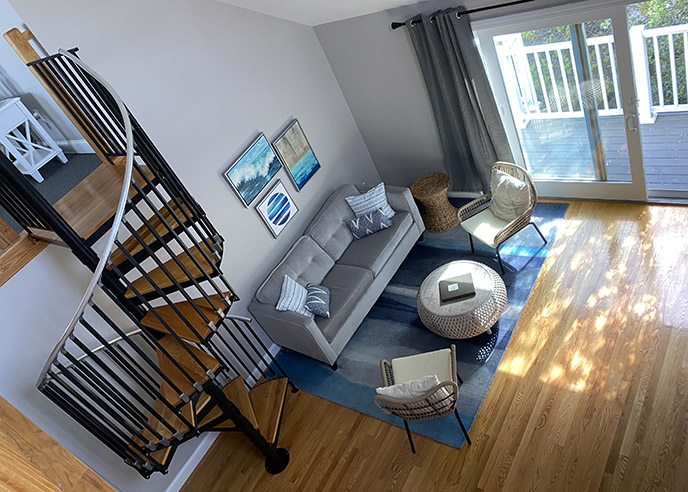 My condo, "Milbrook A," had a spacious living room and full kitchen. A twisting modern staircase took me to the bedroom in the upstairs loft.
The Cove's condos and suites have a classic seaside design, but are equipped with modern amenities. The purple planter of flowers at the front entrance were a sweet touch.
Inside, the decor is all about casual beach comfort. The Cove at Rockport's accommodations are well-suited to family or friends traveling together, or a romantic getaway.
I was hungry when I checked in… Fortunately, The Cove left me a generous basket of local treats. The snacks included wine, white lavender chocolates, and tea. The rosemary salt crackers and cheeses are not pictured, as I devoured them immediately!
The Cove's spaces retain historic elements, such as restored woodwork pieces and flooring. They blended in new furniture and bright paint, for a modern refresh.
The condos were surrounded by trees and flowers of all types.
Close-up on my Alex Streeter Ouroboros ring, and Hermes Collier de Chien bracelet. I'm wearing a Bvlgari Serpenti bracelet, see more Bulgari accessories below:
Summertime, and the living is easy…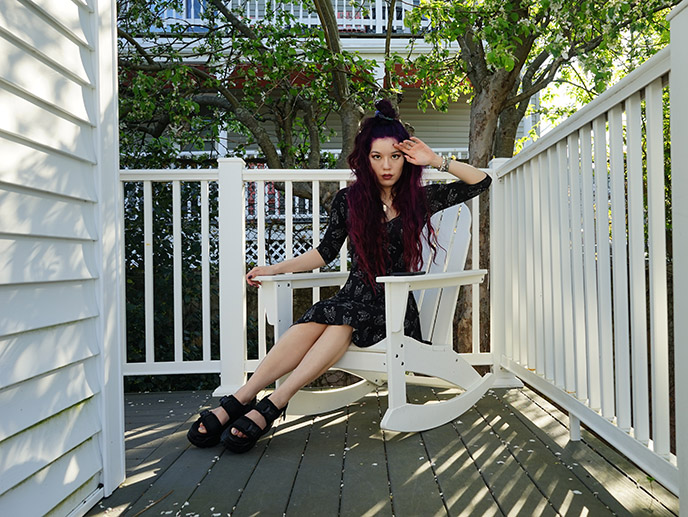 Rockport, MA was historically a colony of artists and fishermen. The creative, maritime feeling comes across at The Cove at Rockport.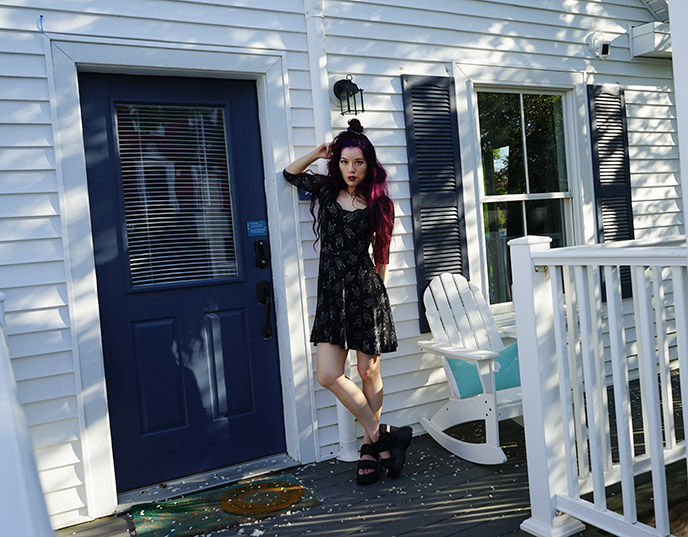 The classic architecture has a high-tech keyless entry, with a digital touch code unique to each guest.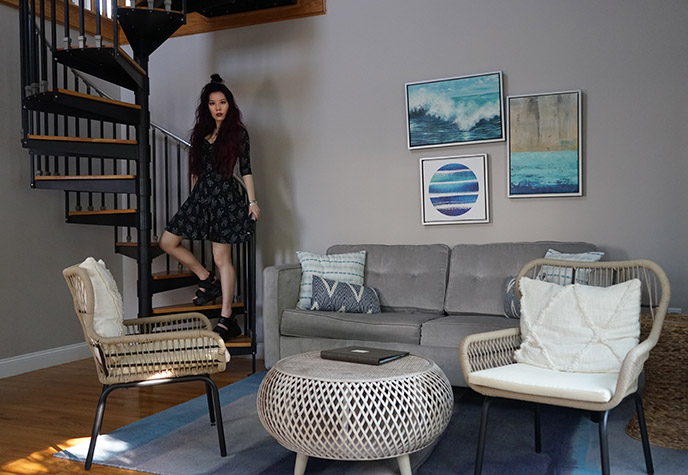 If you're in Boston or Salem, it's an easy and short drive up the coast to Rockport, MA. I encourage you to come to the Cove for a few days, to relax by the ocean.
Guests have access to the mixed-use common areas, which contains tea and coffee pods, game tables, a giant TV, and lounge seating.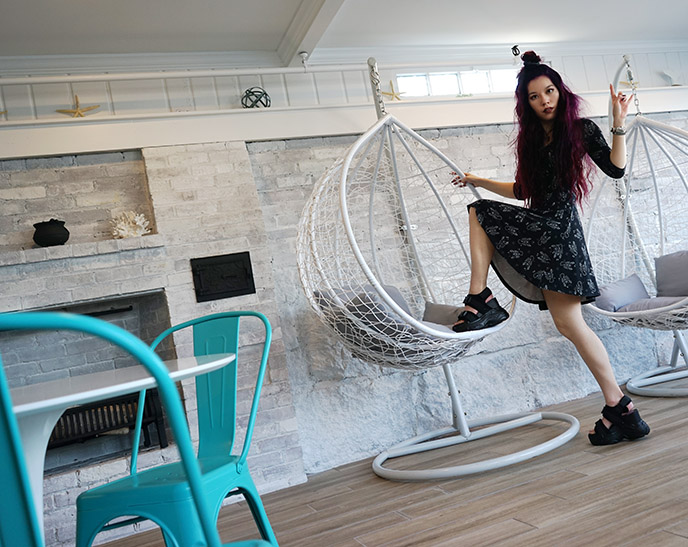 Scorpions dress by Sourpuss, and shoes by Anthony Wang.
The hotel was formerly the Peg Leg Inn, hence the pirate statue with a telescope haunting the exterior!
Time to explore. I went across the street to Front Beach, which has a mix of sand and rocks. Then, I took the quick walk to downtown Rockport village.
Along the way, I came across a friendly whale and an old cemetery overlooking the water.
The red Motif Number One fishing hut was first built in 1840; this is a replica of the original. It's known as "the most often-painted building in America," as it's found on many canvases.
I ate very well while in Rockport. Try the avocado egg toast from Brothers Brew, the fish sandwiches and salads from Roy Moore's Fish Shack Restaurant And Bar, and the oat milk lattes and snacks from Two Little Birds Eatery (right next door to The Cove hotel).
For a sweet treat, stop at Helmut's Strudel (fresh baked German apple pastry, topped with vanilla ice cream).
The town is tiny, and filled with quaint ports.
You can also peer in to indie art galleries, and take in a show at the Shalin Liu performing arts center.
For those focusing on outdoor activities, go for a walk and look for animals at Millbrook Meadow and Mill Pond. The park is straight out of a storybook (frog pond, stone bridge, playground), and right next to The Cove at Rockport.
Details of New England architecture. I thought those were flying bats, but they appear to be sea birds.
With sunsets like this, no wonder Rockport, Massachusetts attracts artists from all over.
Next time, I'd love to do some sailing along the coast.
Make a booking at The Cove at Rockport, for a luxurious and laid-back stay like mine.
Have you spent time vacationing in the New England seaside? This was my first time, and I'm keen to come back and see more of its charm.