New York indie art museums & galleries! The Noguchi museum, Oscar Oiwa Japanese art studio, Vessel NY.
This purple devil is about to board a flight… to Spain! 
Excited to share that I'm off to Valencia on a food / travel press trip — it'll be my first time outside North America since you-know-what! I will also touch down in Seville, Cordoba and Madrid. Please stay tuned to @LaCarmina on Instagram / Twitter / Facebook to see my Spanish travels and outfit shoots, and let me know if you have tips.
Before I fly, I wanted to share more from my summer trip to New York City. I love catching up on art in NYC, so I went to the outdoor sculpture/installation Vessel (right before it closed down)…  
… and got a Zen minimalist fix at the Isamu Noguchi museum, dedicated to the Japanese-American sculpture artist.
And I was delighted to visit artist Oscar Oiwa in his studio. Read on for an exclusive peek at his latest large-scale works, as well as his quarantine drawing series (detailing his experiences and musings in lockdown). 
All things in life are fleeting, so take the time to see them while you can… Vessel NY is yet another example of this. Photographer Joey Wong and I managed to visit the honeycomb-metal structure days before it unexpected closed (possibly for good).
Located at Hudson Yards, Vessel is a geometric open-air structure that stands 16 stories high, and contains 2500 steps over 154 flights of stairs. I first went to Vessel in Feb 2019 but was keen to return, as the experience changes unexpectedly with the seasons and time of day. 
Architect Thomas Heatherwick unveiled this gigantic sculpture / public installation in 2019. Vessel has garnered both praise and criticism for its Escher-esque design made from steel.
I personally think the concept is brilliant: it's a joy to wander through the beehive, and take in the sunlit panes and patterns. (I'm wearing a celestial Gothic dress by Too Fast Clothing.)
Unfortunately, Vessel is closed for the foreseeable future due to tragedies that took place here…
The 360 degree design lets you take in views of the Hudson River and surrounding mid-town buildings, from all levels. 
Vessel is a photographer's dream — we had fun taking images from a variety of perspectives. 
The view from the top is a dizzying one. A curved elevator runs up one side of Vessel, making it accessible (although it only stops on certain floors).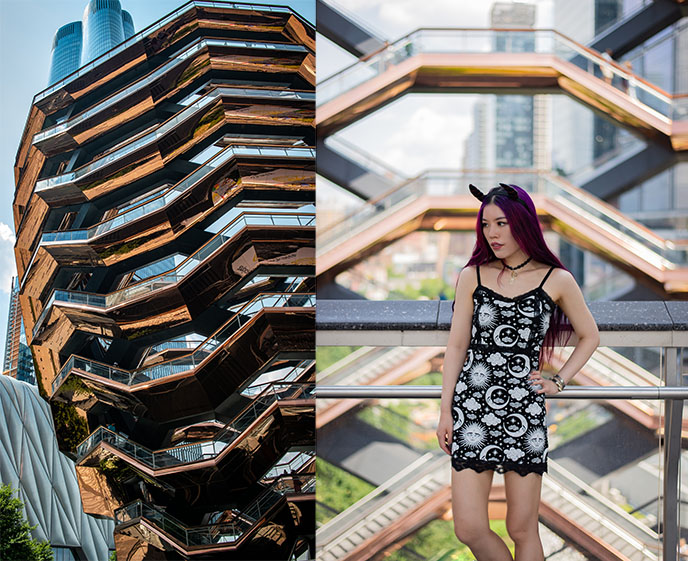 The fate of Vessel at Hudson Yards remains to be seen… (It is now closed, with no concrete plans to re-open).
After years of visiting and living in NYC, I finally got around to visiting the Noguchi Museum, located in the Long Island City section of Queens. The space is designed by the artist himself, Isamu Noguchi (1904–1988), to mirror his Zen-like artistic vision. 
The Noguchi museum feels like a slice of Japan in NYC. The rock garden is particularly lovely: it contains a few of his abstract sculptures and a stone fountain, as well as transparent wind chimes that add a ghostly flutter to the greenery. (This was the sound installation Animitas by artist Christian Boltanski, which was on view at the time.)
Isamu Noguchi is a Japanese-American artist best known for his stone sculptures, which contain both rough and smooth panes, and are more complex than first meets the eye. This museum contains the largest collection of his works, which include architectural models and drawings.  
Enter into the void…. Noguchi made this perfect circle from segments of marble. This modern sculpture references the ancient Japanese enso, or circular symbol of enlightenment.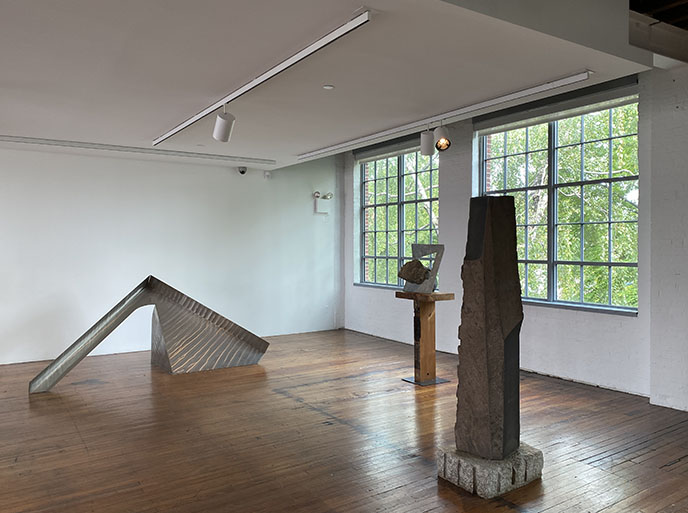 Noguchi is also known for his interlocking sculptures, and works made from wood and metal. I'm particularly fond of his mid-century interior designs, such as the stone-like Noguchi sofa and glass coffee table.  
And I've long coveted a Noguchi lantern. In 1951, Isamu Noguchi visited the town of Gifu in Japan, and was inspired by the lanterns made by local artisans. Using natural materials, he created his own Akari range of lights in a variety of forms, which radiate peace and weightlessness.
As Noguchi put it, "All that you require to start a home are a room, a tatami, and Akari." (And perhaps a metal cage or two?)
Many of Noguchi's works have a touch of the surreal. Here are a few that juxtapose positive and negative space, and geometric and organic forms.
The top floor focused on Noguchi's "Useless Architecture." These designs served no specific function, but were merely for aesthetic purpose — like this step-terrace. The terrace is based on one of Noguchi's models for an unrealized playscape (c. 1961–65) for Riverside Park in Manhattan.
Noguchi's vision was inspired by the stairway to nowhere at Jantar Mantar, which I saw for myself when I was in India.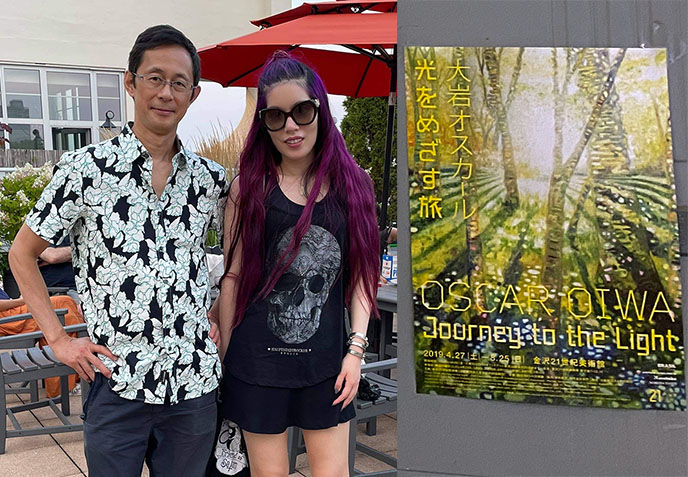 I also made a journey to the Queens studio of Oscar Oiwa (大岩オスカール)! When I was in São Paulo, Brazil, my friend Elizabeth Wurtzel and I saw his Paradise installation in an inflatable dome. We were mesmerised by his 360 degree swirling vortex of dark forests, pathways and skies. Since then, Oscar and I have been corresponding online. 
At long last, I got to visit Oscar Oiwa's studio, and get an inside look at his creative process. Oscar is a Brazilian-American-Japanese visual artist whose distinctive works have been exhibited worldwide.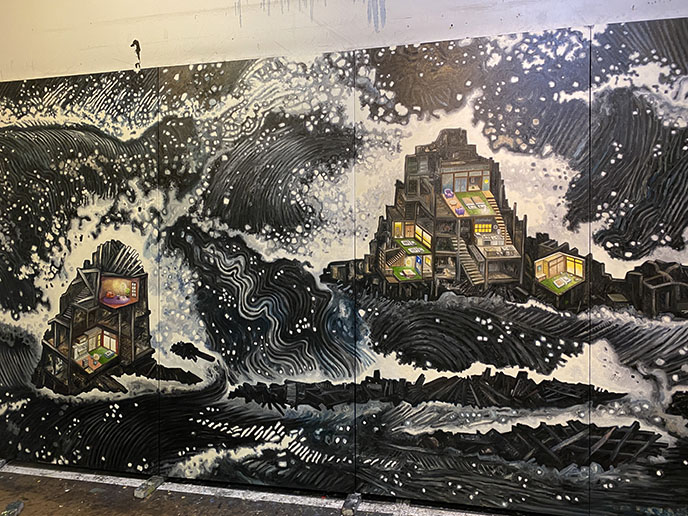 Oscar's gigantic canvases feel like a portal to dream world. He details everyday scenes in these Japanese-style houses, which are tossed about by dark and mysterious waves. 
During the pandemic, Oscar was confined to his apartment in NYC. The experience inspired him to create a series of drawings that reflected his thoughts and experiences. He describes them as "an imaginary trip in the midst of life under quarantine. The result is like a diary of insights about my past, my present daily life, and the future."
Oscar's quarantine art included depictions of an empty Times Square NY, and this surreal and whimsical portrait of Osaka's Dotonbori food district. (He showcases the famous giant crab and fills a boat with takoyaki (octopus balls), the beloved street food.)
Oscar Oiwa is currently in Japan, where he is presenting a number of art exhibitions (details here). These include displays at the Tokyo Museum of Contemporary Art. Hopefully I can return to Japan sooner rather than later, to see his latest artworks for myself.
Until that day, you can look back at my Japan blog posts from over the years. You can also search my site (see Search box on the right sidebar) for specific topics or destinations. I hope you'll find these resources useful as you plan your next trips abroad. And please keep in touch via @lacarmina social media, as I'll be sharing my journey in Spain!