Studio Allston: Boston art & design boutique hotel review! The Hourly Oyster House, Cambridge seafood restaurant.
I'll admit it feels good to be back in my element this summer: traveling, seeing friends, and experiencing creative food and art wherever I go.
I got to do all of the above during my colorful stay at Studio Allston Hotel in Boston, MA — as well as while dining outdoors at The Hourly Oyster House in nearby Cambridge!
Located in the Allston neighborhood of Boston (west of downtown / the harbor), Studio Allston is a hotel and visual experience rolled into one. The property partnered with 22 local and national artists to fill the spaces with giant murals, modern furniture, and other funky decorative elements.
Each of the 117 guest rooms is filled with energetic art, but 10 of these are signature suites designed by a different artist. These luxurious rooms have themes that include gaming, runway chic, and cosmos / space.
I was thrilled to have the movie screening themed suite, which is set up with colorful Ligne Roset Togo couches, and a retro-style fridge for drinks and snacks!
The marvelous Studio Allston staff surprised me with wine, postcards, and eco-friendly boxed water in my room.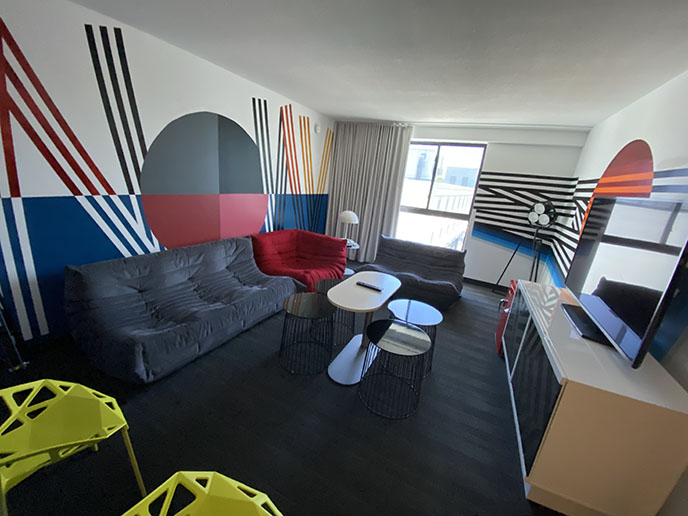 I couldn't have imagined a cooler place to stay in: the "Reel Countdown Movie Suite" designed by Cyrille Conan. The 500+ square foot suite includes a king bedroom and separate living area, and industrial film lights that add to the theme.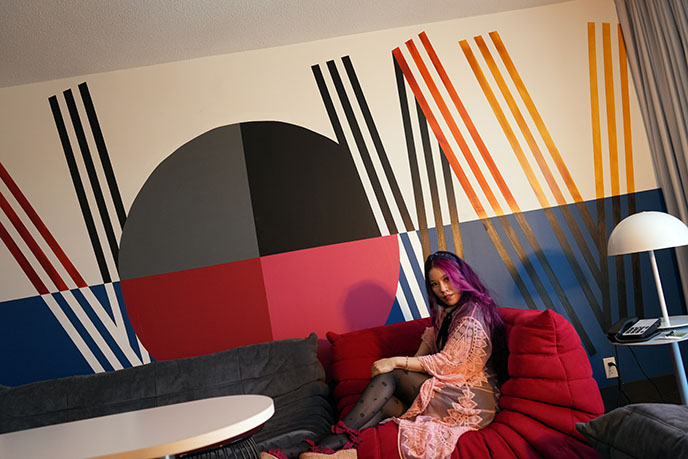 The room's large-screen TV has tons of channels, or you can easily connect your device via Google Chromecast to stream shows.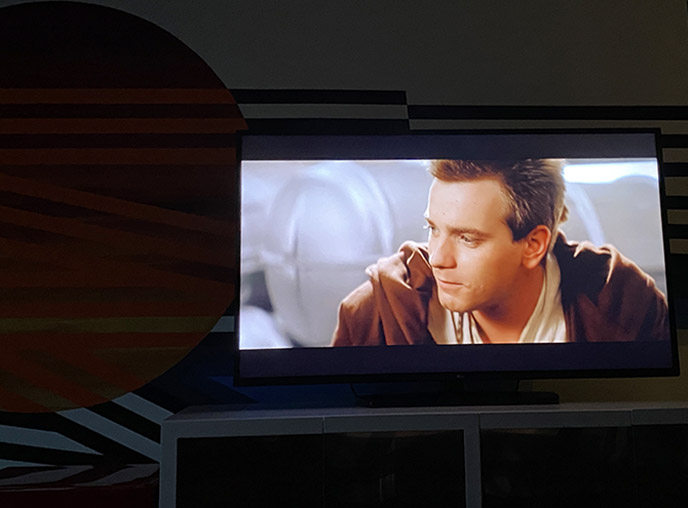 I got cozy in the corner seat, and dove into the first three episodes of Obi-Wan Kenobi on Disney+.
As you can see, the separate bedroom is also huge and filled with inspiration. 
The "art head boards" add a lively touch to the modern amenities. My room at Studio Allston had everything I needed for a luxurious stay, including a full-sized bathtub.
The floor-to-ceiling art immersion begins as soon as you enter Studio Allston's lobby.
Like the rooms, the lobby is gargantuan (one of the benefits of staying outside the compact downtown area). I was into the vaporwave 90s pastel throwback vibe of this lounge area.
Boston's edgy Allston neighborhood is filled with contemporary galleries and public art installations, much like this inventive hotel. Studio Allston is also right by Charles River (you can stroll across the bridge to the Harvard Cambridge district), and walking distance from Trader Joe's (I went several times to stock up! Try the canned dolmades, oven-baked cheese bites, and hard kombucha).
Studio Allston's playful spaces encourage you to take part in the fun. There are Instagrammable spots such as these picture frames, and a ping pong table for impromptu games.
Now that's a disco elevator if I've ever seen one.
No space is left un-glammed. Studio Allston lights up its elevator with pink neon, letters and numbers.
Every morning, Studio Allston serves free breakfast, which you can eat indoors or outside on the deck. There's also a table of free coffee and tea available at all times for guests.
Studio Allston's ground level Gallery Space also hosts rotating exhibits. At the time of my stay, there was a long hallway lined with photographer Jay Lamour's flamboyant portraits.
Can you tell that I felt inspired to #StayOutsideTheFrame, at Studio Allston?
Notice the painted van outside… that's yet another art piece!
Cheers to Studio Allston Hotel (Boston, Massachusetts) for the hip stay. I especially dug the boutique hotel's themed suites, groovy decor and location — and I think you would too.
From Allston, you can take a quick Uber or walk across Charles Bridge to Cambridge, MA. I had the best time moseying around Harvard Square and taking in the ivy-and-brick atmosphere, such as at the Harvard Faculty Club. Stop for an iced tea at Tatte and pop into the Harvard Book Store, Leavitt & Peirce cigar and oddities shop, and Cardullo's Gourmet Shoppe.
After a few hours of walking around Cambridge, MA, I was ready for dinner at The Hourly Oyster House in the heart of Harvard Square. The restaurant sits in a classic building and is named after the "hourlies," or horse-drawn wagons that used to roll past its location on 15 Dunster Street.
The Hourly Oyster House invites diners to enjoy thoughtfully sourced and playfully prepared seafood and oysters from New England and beyond. The welcoming staff is terrific at explaining the daily catch and shellfish, which can include a tray of freshly-shucked oysters from Massachusetts, Maine, New Brunswick, and Prince Edward Island.
I was charmed by the old-school ambiance of The Hourly, including a long bar and stools where you can sit and choose oysters.
The old-school bar serves wine and craft cocktails based on traditional recipes, but with modern touches. I'm still savoring my blood orange negroni with gin, Campari and vermouth — and the "Interrobang" with bourbon, apricot, and honey.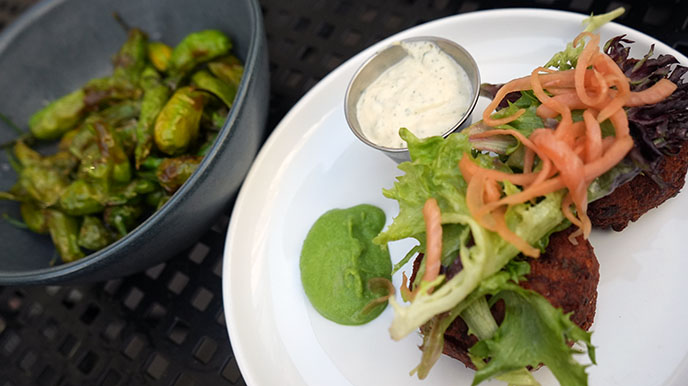 I love to eat fish and seafood, and had a hard time choosing from the list of tantalizing appetizers! I pondered the calamari, lobster bisque, clam chowder, grilled octopus, tuna or fluke crudo… In the end, we went with the blistered shishito peppers, and New England cod cakes (with pickled onion, greens, and remoulade).
When it came to the main courses, you couldn't go wrong with any of the ocean options. Here's the grilled swordfish with arugula, fingerling potatoes, tomato conserva, and Parmesan. You can taste the high quality of each ingredient, and the fish's subtle flavors.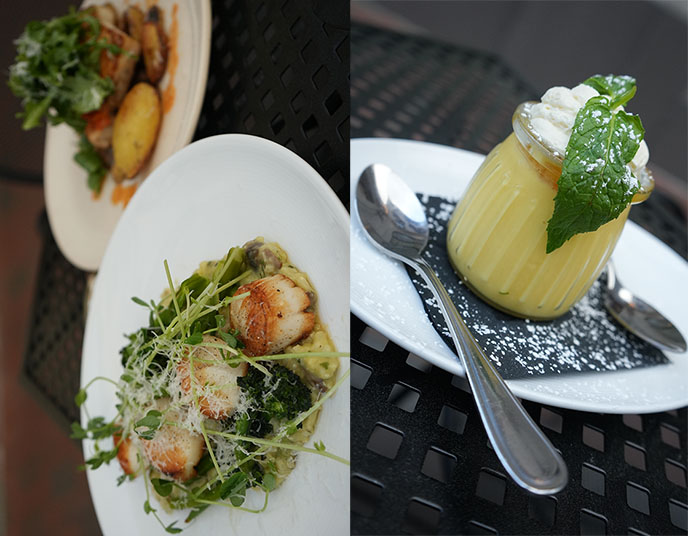 The juicy scallops were perfectly seared and came with mushroom risotto, broccolini, parmesan, and lemon for tang. For dessert, go for the mango panna cotta with a superb passionfruit whipped cream.
The Hourly Oyster House is the place to be, if you're a fish and seafood aficionado like me. Thank you to the staff for the friendly welcome and meal to remember.
While at Harvard Square, I also stopped by The Hong Kong restaurant for a photo. This is where The Satanic Temple's 2014 Black Mass ended up taking place, as TST was not allowed to enact it at Harvard due to Catholic protestors. (The campus-adjacent Chinese restaurant, however, welcomes all religions!)
Speaking of the Devil… There's another new episode of our show, "Satanic Show + Tell," on The Satanic Temple TV. Dr John and I interview Carl Abrahamsson — notorious filmmaker, musician and author in the Satanic tradition. Watch our latest episode to learn about Carl's friendship with Genesis P-Orridge, how he received a letter from Anton LaVey and was invited to the Black House, and other hellish tales tied to his rare collectibles. (See the trailer here, and watch our show here.)
And in case you're wondering, my tote bag is from the Maje x Sailor Moon collection. My pink round oversized sunglasses are by Emilio Pucci. Find more Pucci eyewear below:

mura