I'm traveling to Tokyo, Japan on a business visa! Vincent Castiglia Gallery & tattoo studio Florida, Audain Museum.
In the dog days of The Collapse, I have some unusually happy news… I'm going to be in Japan for a month, on a business visa! I was invited on a journalism project with the Japanese Embassy, and am delighted to be exploring Tokyo and Tohoku.
As you may know, Japan has essentially returned to "sakoku" (isolationism) since spring 2020. While most countries have re-opened to tourism, the Japanese government is still keeping its doors closed. (Some tourists are technically now allowed in, but there are enormous costs and hurdles: monitor tours, set itineraries, expensive and limited flights, and other restrictions.)
I used be in Japan every year on average for work, and never imagined that I'd be shut out of the country for several years. I'm thankful for the opportunity to visit on a business / work visa, and will soak up every moment of being back in Tokyo with friends.
And this means… I'll be back to reporting firsthand on Japanese subcultures and fashion for your pain and pleasure! Please stay tuned to the blog and @LaCarmina on Instagram / Twitter / Facebook to see my 2022 Japan adventures. And please let me know if you have tips for things to see, do and eat in Tokyo — I'll do my best to check them out for you. (Above two photos by Said Karlsson, hair Lulu K.)
Rules are changing all the time but as of this post, Japan requires all inbound travelers to have a negative PCR or NAAT test, within 72 hours before flying. The rules are rather complex, as the Japanese government asks for a particular certification to be issued, and only allows certain types of tests.
I was relieved to be in the good hands of Iridia Medical in Vancouver, as they are experts in the process and knew exactly what was needed to enter Japan. I got a Rapid NAAT NEAR Molecular Test, which involved a shallow nasal swab (no discomfort). It only took 15-20 minutes for me to get my result, as the testing is done right there and isn't sent to a lab. Iridia also provided me with a "Negative Test Result Certificate" as required by the Japanese government. Iridia Medical makes pre-travel testing as easy as can be — thank you for the kind and professional care!
And a thank you to all of you for your support for my upcoming book! If you missed the news: The Little Book of Satanism: A Guide to Satanic History, Culture & Wisdom will be out right before Halloween, published by Simon & Schuster!
My Satanic guidebook is a historical-cultural look at the development of Satanism through the ages to today. With a foreword by Lucien Greaves of The Satanic Temple, "The Little Book of Satanism" covers the debut of the Devil in Biblical texts and legends, precursor Satanic groups, modern Satanist religions, the Devil in film and music, the Satanic Panic, rituals and holidays, and much more.
My fourth book is now available for preorder via: Amazon | Barnes and Noble |  Chapters/Indigo | Bookshop | other retailers worldwide.
See the book cover, interior, and more info HERE — and thank you for sharing and preordering!
Before I board my flight to Japan, let me wrap up some of my 2022 photoshoots and travels. I am wearing a Satanic Planet band t-shirt from Shirtkiller — this is the musical group of Lucien Greaves (The Satanic Temple co-founder and spokesperson), Luke Henshaw (Planet B, Sonido de la Frontera), Dave Lombardo (Slayer, Misfits, Suicidal Tendencies, Dead Cross), and Justin Pearson (The Locust, Dead Cross, Swing Kids, Deaf Club).
The struggle for justice is ongoing… 100% of band royalty from all Satanic Planet merchandise / clothing at Shirtkiller goes to The Satanic Temple's Religious Reproductive Rights campaigns.
Speaking of dark matters… I still have a story from my Florida trip to share. While I was in Miami last March, I swung by Ft Lauderdale to visit Vincent Castiglia Gallery and Custom Tattoo! (Address: 2227 S Federal Hwy, Fort Lauderdale, FL 33316)
I've long admired Vincent's art, and was delighted to visit him shortly after the opening of his Florida gallery and studio.
Vincent Castiglia paints entirely in human blood… which is why his powerful, figurative surrealist works are in this signature red rust color! Vincent literally bleeds for his art — he uses his own lifeblood as his medium, sometime mixing it with blood volunteered by clients.
Visitors to Vincent Castiglia's gallery can also book an appointment at his tattoo studio. With over 22 years of experience, Vincent is renown tattoo artist who works in black and grey — the detailed examples on his walls speak for themselves. He can create a custom tattoo for you in a variety of styles, from realistic to biomechanical.
Perhaps Vincent Castiglia's paintings might make you think of the visions of H. R. Giger. In fact, Vincent was the first American artist to have a solo exhibition at the H. R. Giger Museum, and formed a bond with the Alien visionary himself. (You may remember my pilgrimage to the HR Giger Museum and Bar in Gruyeres a few years.)
Rather fittingly, Vincent's iron oxide artwork is beloved by heavy metal musicians. His work is seen seen on albums, guitars, and other commissions by bands such as Slayer.
What a treat to be able to see Vincent's blood-works up close. Many of his pieces touch upon death, transience, and humanity's mortal coil (note the caduceus, neurons, and surgical tools in the one above).
Vincent had a show at The Satanic Temple headquarters in Salem a few years ago, and he has exhibited works at top galleries worldwide. You can purchase striking prints (like "Feeding," above) and original artwork on Vincent Castiglia's site.
Vincent designed the interior of his Fort Lauderdale gallery / tattoo studio himself, and it features high ceilings and cathedral arch cut outs.
You've got to see his blood paintings in person for the full effect — so the next time you're in Florida, I encourage you to visit Vincent Castiglia Gallery and Tattoo. 
You're going to be inundated with Japan photos soon… but before I jet to Tokyo, let me share some recent Vancouver shoots.
Does this outfit remind you of Liv Tyler in the 1990s? It's inspired by the movie Empire Records! Her record store character wears a similar cropped baby blue sweater and plaid skirt combo, with boots.
My Empire Records ensemble is also from Kpop / Kdrama fashion company Fashion Chingu.
I accessorized with an Inle Heritage Silk headband from Thread Tales Company. Their handwoven ikat design matches my hair and has a vintage vibe. Thread Tales' accessories are zero waste (they use off-cuts from their cushion production) and support local artisans.
I also had an art adventure at Audain Museum in Whistler, BC. How marvelous is the West Coast modern building, by Patkau Architects?
Audain's architecture uses wood and glass to let in light, and highlight Whistler's mountainous surroundings. (Whistler is the famous ski and nature destination, about a 1.5 hour drive north from Vancouver.)
Audain Art Museum's dramatic exterior and walkway are excellent for outfit shots. (My new split dye purple-pink hair is by Katya at Kore Salon in Vancouver. BC.)
I'm holding a Pretty Guardian Sailor Moon tote from the Maje Paris x Sailor Moon collection. As a fan of the Sailor Scouts since childhood, I was pleased to find a designer book bag with a kawaii / anime element.
"In the name of The Moon, I'll punish you!" Here is an Instagram @LaCarmina video of my Sailor Moon x Maje large blue tote bag, which has a Usagi / Serena print and can fit many items (including a bouquet of pink flowers).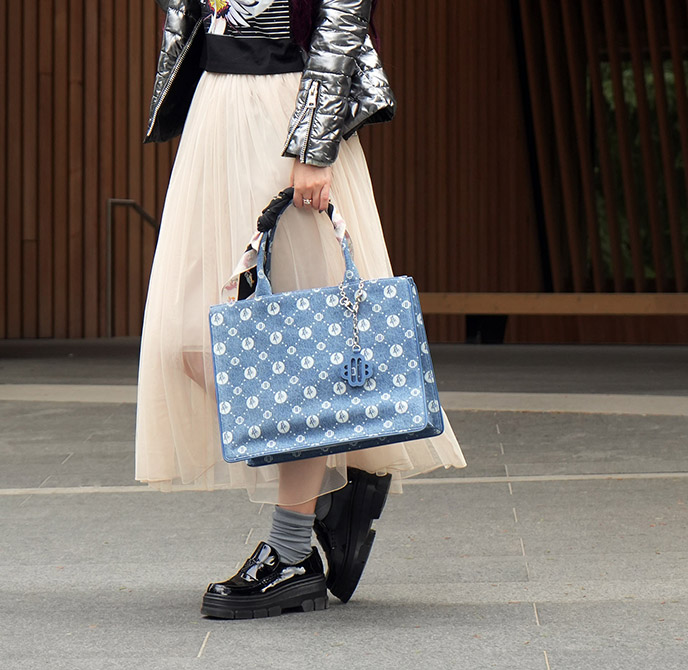 I paired my Maje Sailor Moon bag with chunky black leather loafers, and scrunch socks by We Love Colors,
Shop the Maje Paris x Sailor Moon clothing line below:

The carvings in the column hint at Audain Art Museum's goal: to showcase art from British Columbia, particularly from Indigenous creators.
I was impressed by the displays of intricately carved masks inside. Doesn't the one on the right look like Michael Jackson?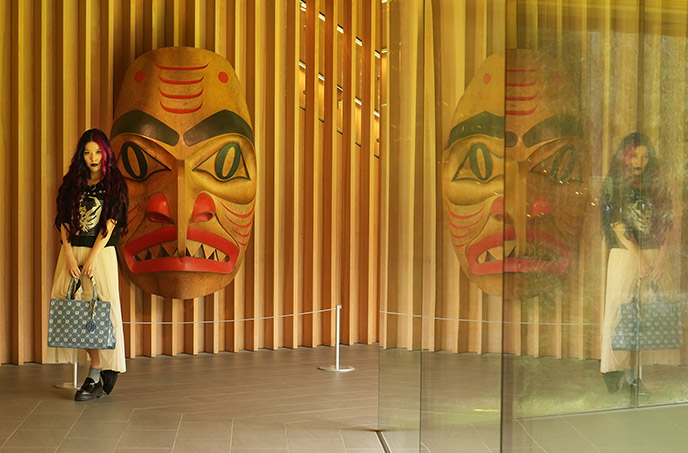 At the end of the long hallway, I met the Dogfish — an enormous mask by Haida artist Robert Davidson.
Don't let a rainy day keep you from exploring. (Images taken on my new Sony a7 IV mirrorless camera.)
The native masks and statues at Audain were fascinating — I enjoyed reading about the legends behind the spirits depicted.
A last look at my new half-and-half split colored hairstyle. More from the Maje x Sailor Moon fashion capsule collection below: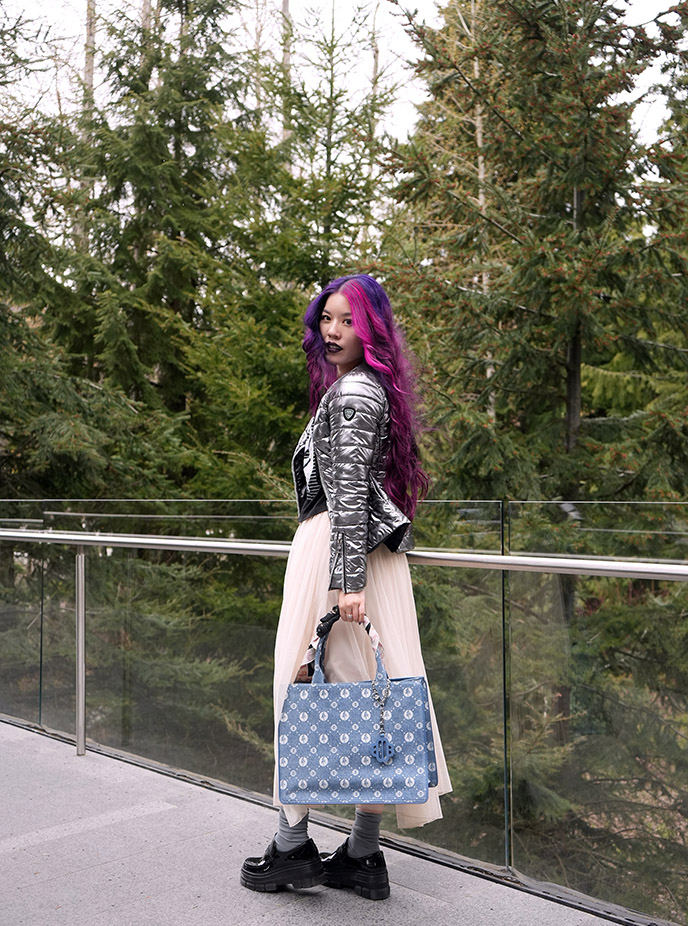 And now, I must finish packing my business visa and documents… as I'm off to Japan! If you have questions about visiting Japan under the current restrictions, or suggestions for things to do in Tokyo, please leave me a note. Add @LaCarmina on Instagram / Twitter / Facebook for a deluge of Japan updates.
And thank you again for supporting / sharing / preordering my upcoming book! Details about The Little Book of Satanism can be found here.