Tokyo Family Stays review: Japan short-term apartment & home rentals! Japanese Halloween food, costumes, decor.
It's time to dance… because as of October 11, Japan will fully open to tourism! That means travelers will be able to visit Japan without a required visa, tests (if they're 3x vax), or mandatory tours/bookings. Simply show your passport, and you're in.
I was in fortunate to be in Japan in August / September on a business visa. working on a Tohoku journalism project. It was my first time back in three years, and I have so much to share with you…
Let's start with two ways to get the best possible travel experience in Japan: book a Tokyo Family Stays rental apartment / house, and rent a pocket WiFi from eConnect Japan!
And since it's October, I'll show you photos of the cute Halloween goods I found in Tokyo. Read on for a lot of spooky-cuteness, like Hello Kitty and Cinnamonroll dressed as witches and ghosts.
Since I was traveling for a month with photographer Joey Wong, we wanted to share a larger apartment or home rental rather than a tiny hotel. We're delighted to have discovered Tokyo Family Stays, as they have a number of well-maintained properties geared for long-term stays.
We stayed at Pencil House, located in Hatsudai (one stop from Shinjuku station). Although the facade measures only 2.5 m wide (!!), the sleek black Pencil spans three floors, and is ingeniously designed for comfort.
Believe it or not, the Japanese compact home contains three bedrooms, a bathroom, kitchen, laundry, living and dining room, and balcony! Here's what the ground floor looks like: the hallway is tiny but there's a bedroom in the back, and laundry / bath facilities on the sides.
The Pencil House was in a quiet and photogenic neighborhood, but only a few minutes walk away from convenience stores, Hatsudai Station, and Coco Ichiban Curry (we went several times… trust us, this Japanese curry is addictive!)
Tokyo Family Stays stood out for their personalized hospitality and excellent communication. Our host Trace Northcott welcomed us herself when we arrived, and made sure we had everything we needed.
You can tell that I felt right at home, in the cozy and modern space… (Wearing a Cruella black and white pearl necklace by Lily Streeter Jewelry.)
Each of their rental properties includes elements of Japanese decor, for a localized feeling. (Loved the kimono on the wall, and traditional dolls in the spiral stairway.) And the rooms are well-equipped with AC, including all the bedrooms… a must during the hot summers!
Tokyo Family Stays is a great choice for families or remote workers. We had fast WiFi, and plenty of space for laptop work. As Joey put it: "Staying in a house was much more suitable for me, especially as I needed to have space to work remotely and necessities like a laundry machine due to my longer stay."
The house is professionally cleaned after each guest, and well-stocked with every amenity you can think of. The hosts put much more care and attention into details than regular Airbnbs that I've experienced.
Tokyo Family Stays has multiple properties of different sizes, including studio apartments and homes for large groups. The locations are terrific — there's even a rental in Harajuku, which is where I got these cyber-samurai pants (at AC DC Rag)!
We enjoyed the neighborhood feel of the Hatsudai house, and conveniences such as a 24-hour supermarket down the street. (My purple-pink cyber Goth hair by Katya at Kore Salon in downtown Vancouver, BC.)
Japanese hotels are notoriously cramped, and not ideal for remote work or long-term stays. Tokyo Family Stays is the way to go, especially if you're traveling with friends or relatives.
Now that Japan will re-open for tourism on Oct 11, we encourage you to keep TokyoFamilyStays.com in mind as your home away from home.
Here's another travel tip for you. Your cell phone and data plan likely won't work in Japan, so you'll need access to reliable Internet while you're on the go, or working remotely.
My recommendation: get a pocket WiFi from eConnect Japan! This compact, portable WiFi router works as a mobile hotspot and lets you access high-speed internet with up to 10 devices simultaneously. Simply turn it on and connect your device, and you're good to go.
eConnect's pocket WiFi made my Japan trip so much easier — I could instant message friends to meet up, and use Google Maps to figure out trains and directions.
eConnect can mail the portable WiFi to your address in Japan — so you'll have it as soon as you check into your accommodations. The lightweight device delivers safe and high-speed 4G/LTE, and the battery charge lasts all day.
The rental came with a free extra mobile battery, as well as a wall / USB charger and protective case.
eConnect sells prepaid SIM cards as well, and offers both pick up and delivery options to airports, hotels, residences and post offices in Japan. They included a handy prepaid envelope for returns: all I had to do was put in the items, seal the envelope, and drop it off at a postbox (or ask your hotel front desk to mail it for you).
Their pocket WiFi packages include various amounts of GB depending on your needs (we had the Monster: 100 GB!), and prices start at ¥237/day.
If you're looking for a reliable and trusted pocket WiFi service in Tokyo or other Japanese cities, we recommend connecting with eConnect Japan.
It felt so good to be back in Japan… being here always inspires me to take photos. I got to try out my Art Tributes camera strap for the first time.
The design features Japanese cranes in a classic print, and has my custom-embroidered initials in gold!
The camera strap fits any camera, and is beautifully constructed as you can see from the fabric and stitching. Art Tributes also makes customizable guitar and bag straps in a variety of fetching colors and patterns.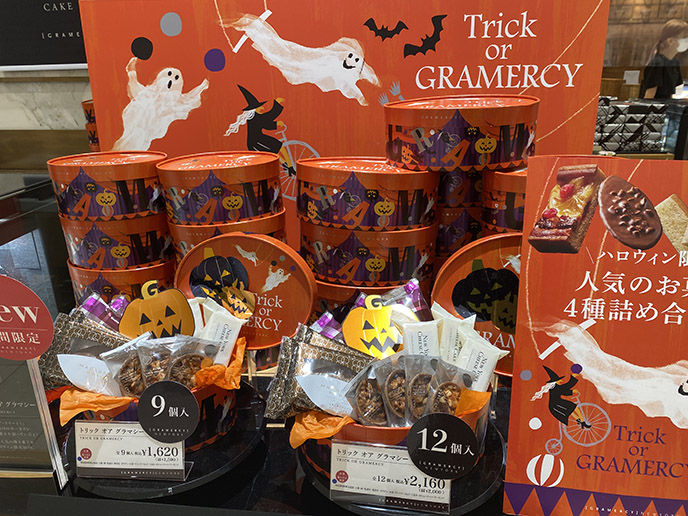 Since it's spooky season, I thought I'd wrap up with photos of cute Halloween items now found throughout Japan. The illustrations and packaging are always hauntingly adorable.
You can find almost anything Halloween-themed in Tokyo right now… including these smiling pumpkin obi, or kimono belts!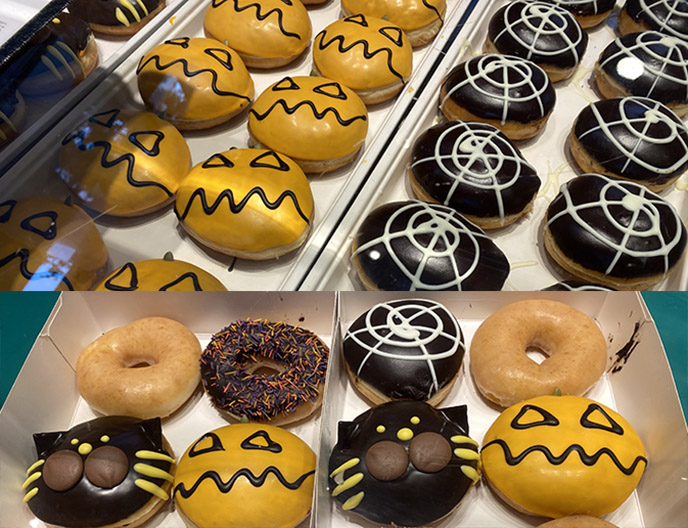 Krispy Kreme puts out a Halloween donut collection each year. This time around, the donuts include a black cat with whiskers, pumpkin, spiderweb, and eyeball.
In Japan, you don't get a ghost… you get a geist. And this is not a pumpkin, it's a kabocha! I found these funny inflatables at the infamous Don Quixote (the Don Don Don Don theme song is still stuck in my head).
Donki's food section includes a number of Halloween sweets and treats. I was tempted to get these vampiric onigiri seasonings. (Don Quixote offers tax free shopping, so bring your passport and pay at the special counter.)
I love to browse the food halls of department stores, as they are loaded with Halloween-themed snacks like these at this time of year.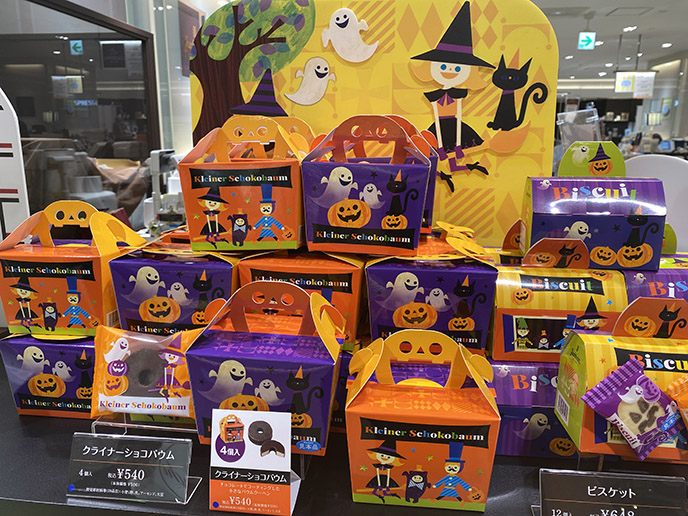 A quintessentially Japanese "kawaii" interpretation of witches, ghost, pumpkins and black cats.
How creative: an advent calendar for Halloween, with themed chocolates in every window.
I was drawn to the dark purple witchery of these cigar biscuits with moon and bats.
Halloween sweets from department store food halls are a great fit for your Japanese Goth friends.
I was tempted to get a tin of Hello Kitty nori chips, in the sour plum flavor.
The store Loft also stocks decorations, candies and snacks for All Hallows Eve.
And you can't miss out on the 100 yen (hyaku-en) dollar stores such as Daiso, Seria, and Can Do.
Each contains racks of Halloween decor, stickers, masks, cat outfits, you name it… at low, low prices.
How "fun fun" is the meh-face on the emo pumpkin!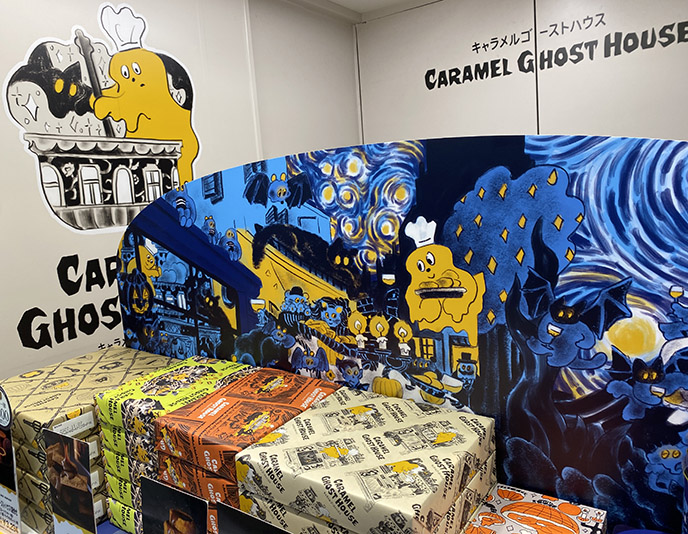 The Caramel Ghost House sells boxes of sweet that are oozing with caramelization (or ectoplasm?)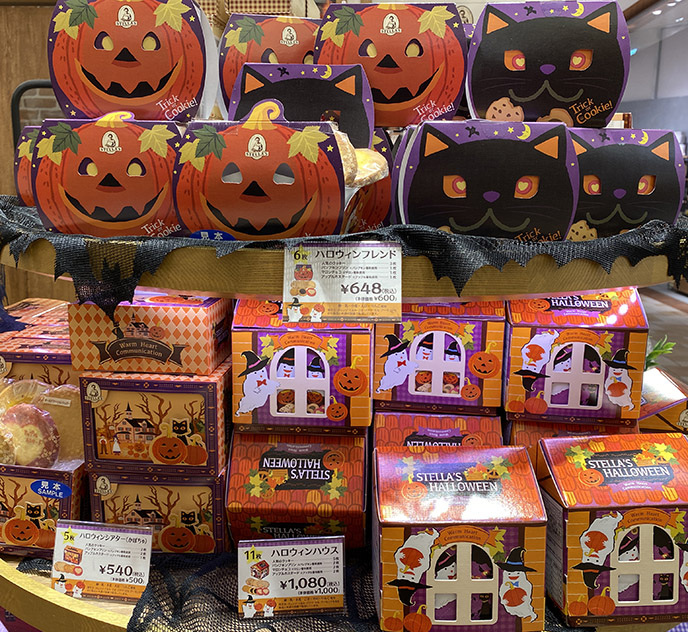 I'm always impressed by the creative Halloween designs in Japan, such as the haunted house windows cut-outs.
And there are plenty of devilish things to be found, such as these red horns and pitchfork from Claire's.
Speaking of the devil… my new book, The Little Book of Satanism (order here), comes out on Oct 25 — right before Halloween!
Description: "La Carmina's guidebook explains how Satanism developed in the context of social history, while debunking lurid conspiracy theories about serial killers and ritual abuse. Discover the fascinating history and culture of Satanism through the ages, and learn why many Satanists today stand up for free inquiry and personal liberty."
I've been busy doing tons of press for the book. Here's a sampling of interviews and book reviews so far:
La Carmina on "The Little Book of Satanism" for USA Wire
OnlySky article on Satanism in Japan
Book review of The Little Book of Satanism
Podcast with Stephen Bradford Long, Sacred Tension: The Ancient Roots of Modern Satanism
The Little Book of Satanism is available worldwide, and can be pre-ordered now. You can Google the book title and your country to find it nearby — or check out the links to order it here, from a variety of retailers.
My Satanic guidebook comes out in both paperback and digital on 10.25. Thank you for the support, and happy Halloween!