Visiting the Sailor Moon Museum in Roppongi, Tokyo, Japan! Pretty Guardian manga anime exhibition, fashion, tickets.
My purple evil queen and I were reunited at last in Japan… and sashayed our way through the Sailor Moon Museum in Roppongi, Tokyo! 
Let Yukiro Dravarious and LC show you around the Pretty Guardian Sailor Moon 30th anniversary exhibition, which is the largest one in history. The magic is taking place at Tokyo's Roppongi Museum until December 30: get tickets here while it remains open.
Three decades ago, Japanese manga artist Naoko Takeuchi created the Sailor Moon comic series — and it took off with anime adaptations, merchandise and millions of fans worldwide. To commemorate "Pretty Guardian Sailor Moon," Roppongi Museum put together the largest ever retrospective with a variety of colorful exhibits.
Yukiro and I grew up watching the 1990s Sailor Moon cartoons, and of course, we love the evil characters the most!
My visit to Japan's Sailor Moon museum inspired me to dress as Wicked Lady (also known as "Black Lady") for Halloween. The pink haired mistress of the dark is the grown up bad girl version of Chibiusa, Usagi and Mamoru's daughter. (I had all the cosplay fashion items in my closet already, and put my hair into space buns with an upside-down black crescent moon on the forehead!)
Located in Roppongi Museum, Japan's biggest ever Sailor Moon exhibition debuted earlier this year. It is only running til Dec 30, 2022, so be sure to get advance tickets from the Sailor Moon museum site.
"Moon Crystal Power Make Up!" Yukiro and I practiced our sailor scout poses beneath the banner of Sailor Moon and her main posse: Sailors Mercury, Mars, Jupiter, and Venus. (Photos by Joey Wong)
The museum tickets have timed entry, so be sure to arrive before your slot. When you walk into the first hall, you'll encounter a large immersive screen, as well as recreations of the wands used by the characters.
The famous theme song plays, and the characters display their planetary powers on-screen. You know how it goes… "Fighting evil by Moonlight! … Sailor Mars! Sailor Jupiter!"
Looks like Serena / Usagi is about to get her moon crystal snatched by a fabulous purple villain! (For the occasion, I wore a princess dress from Manon Tokyo boutique in Shibuya 109, and put my hair in Sailor Moon "space buns" — aka dumpling or meatball head "odango.")
Super-fans will recognize the pink wand as an exquisite recreation of the Spiral Heart Moon Rod from season 3.
The Sailor Prism Theater used moving images and laser effects on the big screen to bring the universe of Pretty Guardian Sailor Moon to life.
Then, we entered a room that displayed original drawings from the manga series — using a shimmering holographic effect! As we walked through, these famous scenes took on a different light.
The silver creates a rainbow refraction above the evil Koan, the youngest Spectre Sister of the Black Moon Clan.
The holographic manga panels were a unique way to tell the 30-year-long history of Sailor Moon.
The next room was as fabulously decorated in rainbow gradients. The walls show original drawings as well as video clips from the various Sailor Moon movies.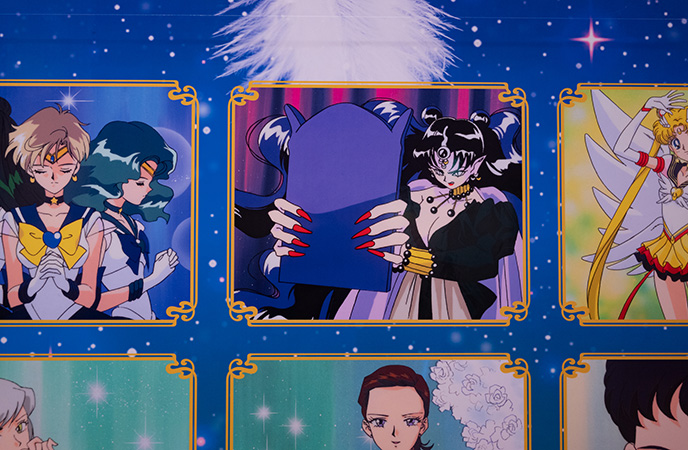 There have been many Sailor Moon anime and films, and it was fascinating to see the evolution of the character design over the decades.
Isn't it obvious why we love the evil lady characters the most?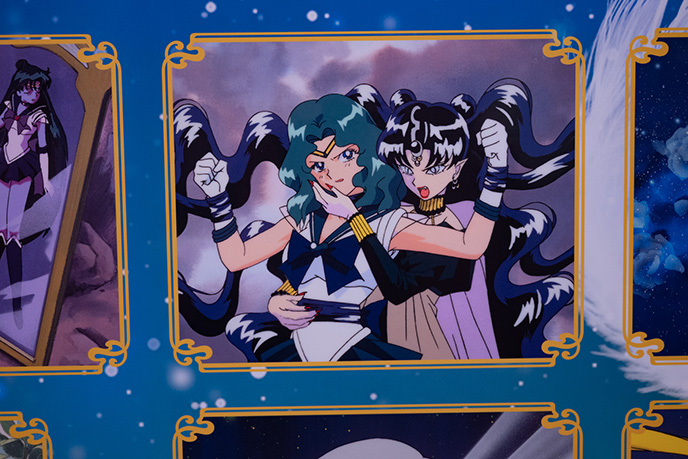 I want to dress up as Koan as well, maybe next Halloween…
Riveted by the original storyboards and sketches for the TV shows and movies.
Sailor Moon and her friends / enemies are known for their transcendent outfits, so of course there were fashion displays at the Tokyo museum. Here's a wedding dress and suit for the Silver Millennium, worn by Princess Serenity and Prince Endymion (the previous incarnations of Usagi and Mamoru / Tuxedo Mask).
Designers created ballgowns inspired by Pretty Guardian Sailor Moon. Love the rainbow gown with moon symbols, and the prom version of her seifuku sailor school uniform.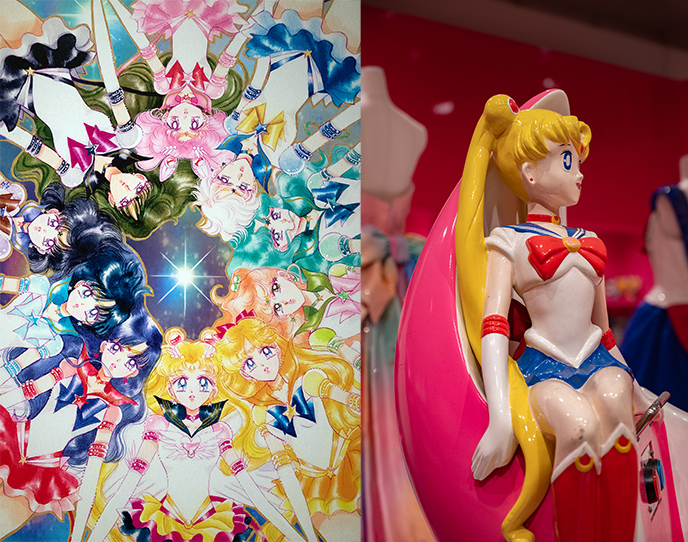 Naoko Takeuchi said she created the series to celebrate strong women and their close friendships — which is certainly part of what draws so many fans to the manga and anime.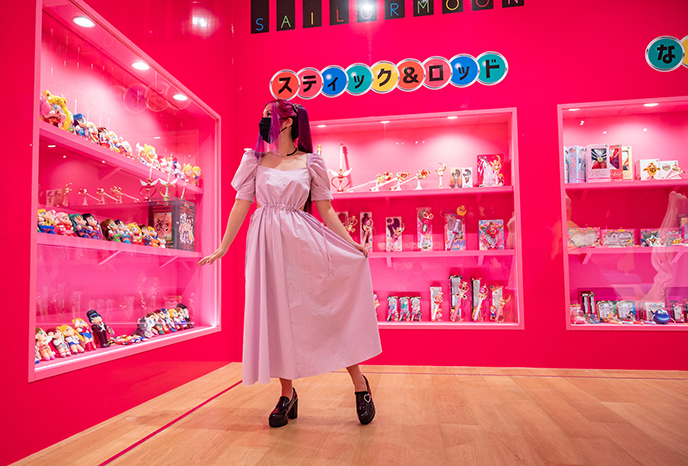 These glass cases showed rare SM collections including Bandai figurines, game consoles, and plush toys.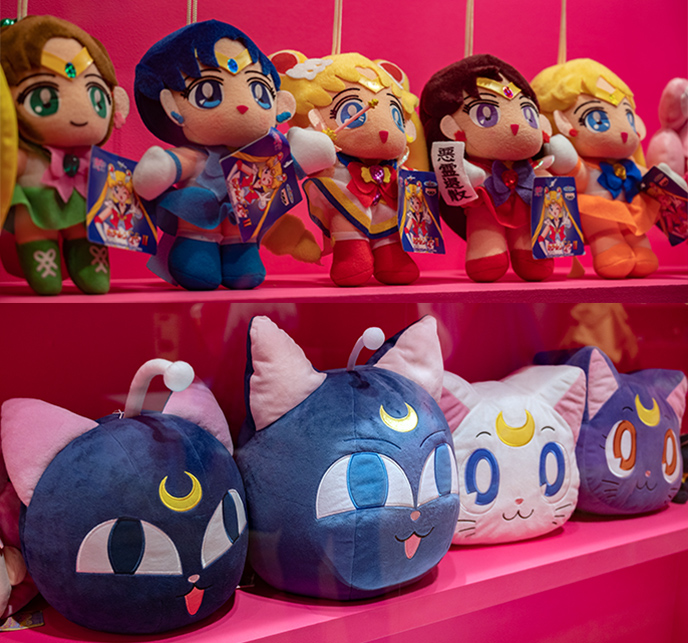 There are endless collectibles based on Sailor Moon, like Luna and Artemis cat pillows… I have some clothing items myself.
Did you watch or read Sailor Moon growing up? And do you own any collectibles?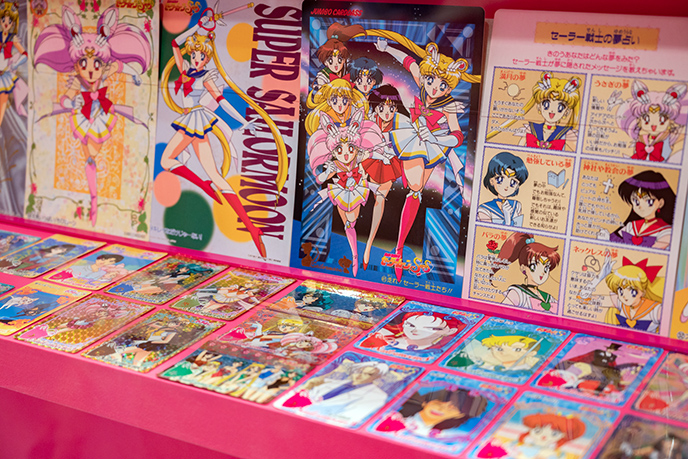 Love how the museum design makes you feel as if you're part of the series.
In the next room, we fawned over tiny costumes used in the various theatrical musicals inspired by Sailor Moon over the years.
Some of the outfits were from a Sailor Moon Takarazuka, or performance by an all-female musical theatre troupe. The costumes are intricately designed, using real feathers…
… and fine materials, as you can see from this choker detail.
Another room showed how various artists depicted Sailor Moon characters and scenes in their own style. Many have been greatly inspired by the storylines.
Luxury shoe designer Jimmy Choo did a version of Sailor Moon's red high-heeled boots.
Fittingly, the experience ends by exiting the Door of Space and Time (no need for a space-time key to get past the hanging fringe). I wore a dress from Shibuya 109's Manon Tokyo store and styled my hair in a tribute to Serena / Usagi.
But you can't leave without browsing the exclusive Sailor Moon merchandise at the museum gift shop!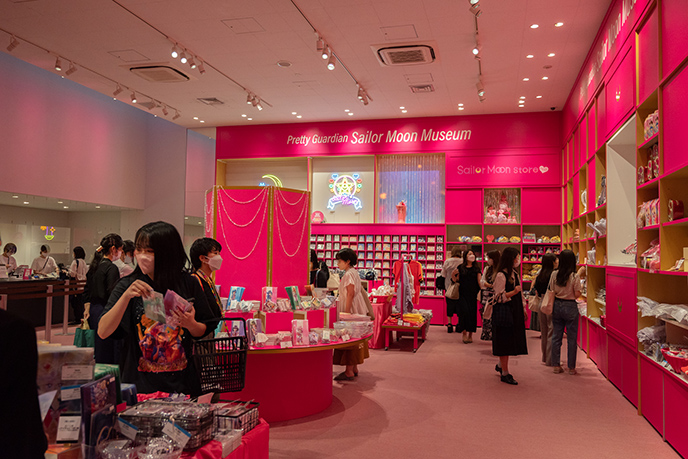 While you can find Sailor Moon merch all over Japan, the Roppongi Museum sells limited edition items only available here.
From buttons to cookies and stationery, there's something for every fan.
How about a chibi plush toy to remember the occasion?
Luna is one of the most popular characters, so there were many items with the black cat on it.
Even the restroom signs match the theme of the temporary exhibit.
Finally, we stepped into the Sailor Moon Museum café for a themed meal. This pink cake is decorated to look like the Cosmic Heart Compact.
The theme restaurant dishes include omelette rice with an image of Sailor Moon on the side.
Of course, there's a lot of pink and cuteness, including on the lattes.
Sailor Moon burger slider, anyone? (The pop up cafe and museum are only running til Dec 30, but there are often other SM theme restaurants or food items available in Japan. And there's a permanent Sailor Moon boutique at LaForet Harajuku; photos soon.)
I've been dreaming of visiting the Sailor Moon Museum since it opened earlier in 2022 — thank you to the press team for inviting us! Be sure to get tickets and check it out before it closes at the very end of the year. (Address: Roppongi Museum, 5 Chome-6-20 Roppongi, Tokyo.)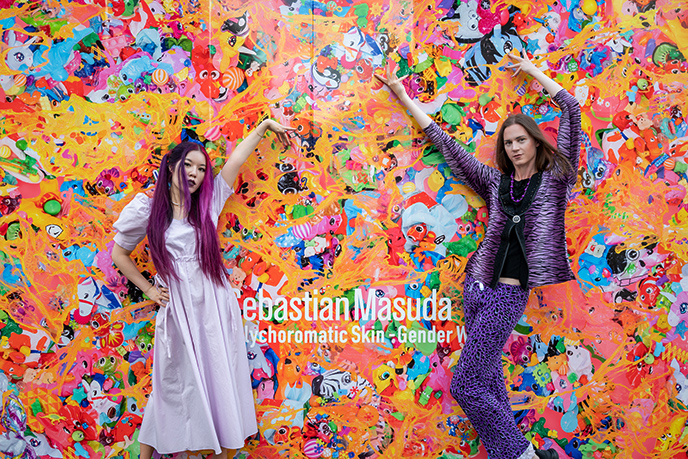 It was a cosmic injustice for Yukiro and I to be separated over the past few years due to The Collapse… We made the most of my time in Tokyo, and have much more to share from our subculture adventures.
(Voguing in front of "Polychromatic Skin – Gender Wall," a Roppongi mural by Sebastian Masuda of Kawaii Monster Cafe fame. This work expresses gender in many colors through a diverse range of materials.)
Til then, you can see a feature about us in Tokyo Cheapo's article about the Goth Scene (Then and Now), as well as my Metropolis Magazine guide to Japan Halloween spots. And add us on socials @lacarmina and @dravarious for more of our evil shenanigans.