Shinjuku, Tokyo Gothic Lolita kawaii shopping guide! Marui Annex 0101, Sanrio Hello Kitty stores, Don Quixote.
Hello, it's been a minute! I was MIA because I flew somewhere for a major TV appearance… I can't talk about it yet, but I'm thrilled to be back to the land of television, and will share the details with you once I can.
Thank you again for the love for "The Little Book of Satanism!" Pleased to share that my book is now available from The Satanic Temple's web shop, as well as in the physical store at The Satanic Temple's Salem headquarters.
Featured in Forbes | Publisher's Weekly | Dazed – The Little Book of Satanism is an accessible guide to Satanic culture, history and ideas with a foreword by Lucien Greaves. Little Baphomet seems to like it…
See more details about my latest book here, as well as links to many retailers (it's available worldwide in paperback and digital, and published by Simon and Schuster). Thanks to everyone who read it and reached out — it's amazing to see my book on the shelves of Barnes and Noble, Powells, and other bookstores!
And more good news… a Spanish version of "The Little Book of Satanism" will be out soon! Some of you asked about translations of my book, and Ulysses Press made it happen.
"A thoughtful, concise examination of the history of the devil [that] cuts through the Satanic Panic myths that are still prevalent today." – Forbes Magazine. See more info about my book here.
I'm also happy to see that many of you are traveling to Japan once again, now that the country is open to tourism. I was in Tokyo and other areas last August/September, and still have tons to share.
I'll begin with a cute / Goth / alt shopping guide to Shinjuku, as I hope this might be useful to you when you travel to Tokyo! Read on for a tour of Marui Annex, Studio Alta, Don Quixote, Sanrio stores, and more. 
Everyone knows Harajuku is the center of youth / alternative fashion, but Shinjuku has tons of pop culture boutiques as well. Whenever I'm in Shinjuku, I stop by 0101 Marui Annex department store to peruse the latest funky shops — like the Godzilla boutique!
The ground floor pop-up is dedicated to all things "Gojira" and his fellow dai kaiju. Find Mothra t-shirts, Godzilla head statues and other monstrous delights.
The bottom floor of Marui Annex also holds the Cinnamonroll Cafe. It's a theme cafe dedicated to the cute bunny Sanrio character with long floppy ears.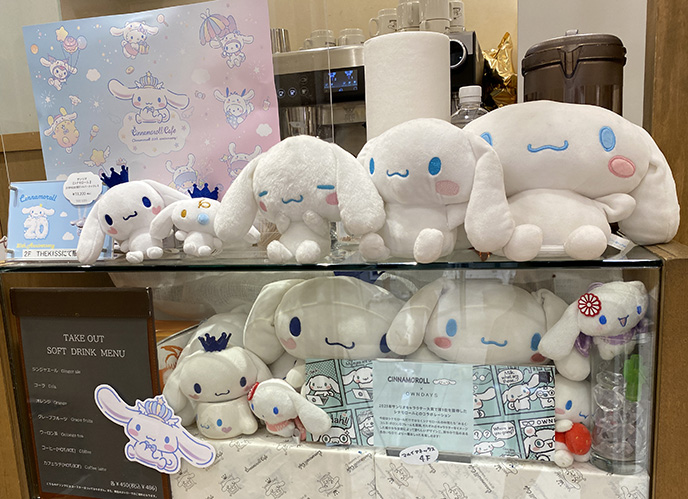 You can dine on ice cream parfaits and curries shaped like Cinnamonroll's face, and sit at a table with one of the large plush toys.
The old Marui One Shinjuku was a treasure trove of Gothic and Lolita fashion. Today, this style is less popular and many labels dissolved — but Marui Annex still has a good number of kawaii and Loli boutiques in a single location, such as Milk.
I found a pentagram, Satan silhouette and "Vampires" shirt at Milk Boy. Equally scary is the rack of Miffy socks from the bunny-themed boutique in Marui Annex!
Walk around the multi-floored Marui Annex, and you'll come across lots of cute mascot goods like these.
An entire store contains merch from lesser-known kawaii characters.
Marui has art displays as well, such as these cardboard anime devil ladies.
You know you're in Shinjuku when there's cuteness everywhere you look.
The seventh floor of Marui 0101 Annex is home to multiple boutiques that represent Harajuku, Jpop and Kawaii culture. 
These include Emily Temple Cute, which has been around for ages…
… and my personal favorite, Kera Shop. The racks carry a variety of designers, and the fashion leans towards the darker side (Goth, punk, metal).
Even if the subculture is smaller now, the alternative handmade fashion remains inspiring — case in point above.
Mana's Moi-meme-moitie brand has a presence at Kera Shop on the 7th fl of Marui Annex.
As you can see, the old school Kera Magazine / Gothic Lolita Bible styles are still alive (or undead).
Angelic Pretty is as pink and candyland-frilly as ever.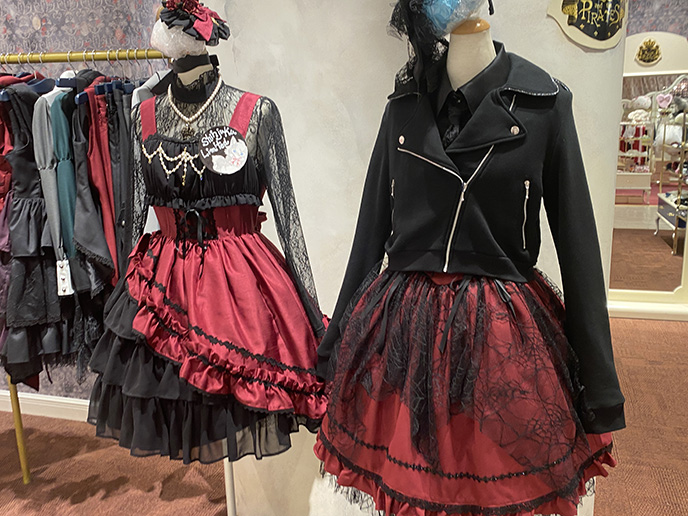 Alice in the Pirates still brings the fierceness with black and red rock asymmetry.
Jirai Kei is currently all the rage — you'll see a lot of young Japanese wearing dark girly styles like Amavel.
But there's something for every type of alternative dresser at Marui, including urban and rave garments.
Speaking of undead vampires… I ran into an exhibition by Hyde, J-rock lead vocalist of L'Arc-en-Ciel in the 1990s.
"Fantasmagorie: The Ghost Show 1799" displays gentleman-meets-Jrocker outfits and videos made in collaboration with Hyde.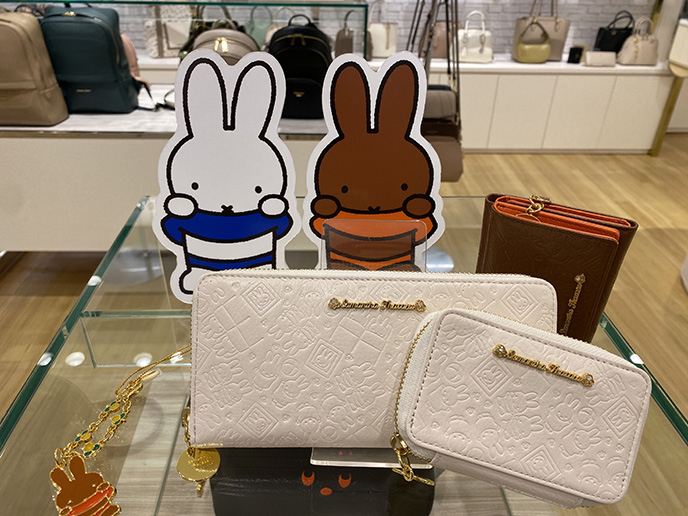 Marui Annex is the best one-stop shop for alt fashion in Shinjuku. However, there are many other department stores in the area worth perusing — including Lumine, Keio, and others near the station.
I ran into a Miffy × Samantha Thavasa wallet / bag collaboration…
… and a Samantha Vega x Sanrio characters collab! I was tempted to get this studded black Kuromi tote purse.
Happy to report that Kuromi is dominating Tokyo. You can find her memorabilia everywhere, including in Don Quixote.
Donki is, of course, the giant Japanese "general store" packed with everything from mascot socks to snacks and adult toys.
I always stock up on skincare and other necessities at Don Quixote. The Shinjuku location is rather packed, but has everything including Keroppy face masks. (Go to the Shibuya Donki for a more peaceful shopping experience).
Shinjuku has multiple Sanrio stores. Yukiro and I were a bit puzzled by the Sanrio x Sailor Moon collaboration… they did Sailor Jupiter dirty!
Of course, Sailor Mercury got the Kuromi Goth treatment.
From Shinjuku, you can also easily hop over to Ikebukuro to check out additional kawaii stores in/around Sunshine City. I had to stop by Flower Miffy.
The name says it all. Miffy flower bouquets and other home goods.
I always stay in Shinjuku, as there's so much to see, eat and do here.
The Kabukicho red light district never fails to please… Who wants to see the BJ Group BJ boys?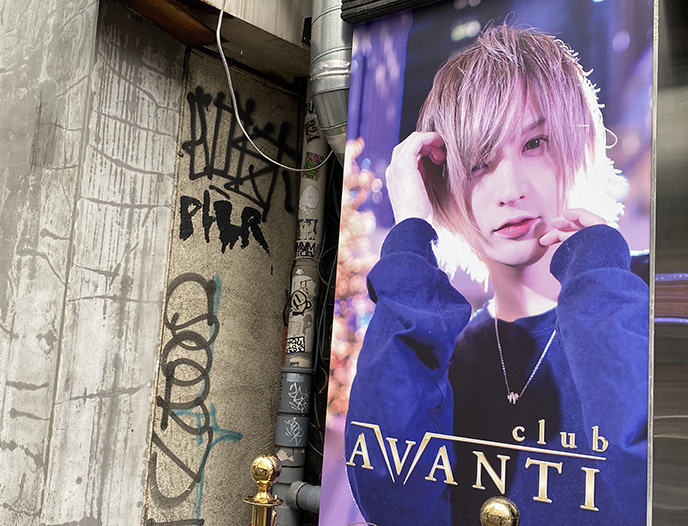 This is the area for host clubs and silly host boys like the fellow above.
Studio Alta (across from Shinjuku station east exit) isn't as funky as it used to be. There are only a few alt stores now, like the one above.
I'm digging this Hello Kitty skirt, beanie and sweater combo.
Oversized sailor shirt with Kuromi in purple, yes please.
And here's a Satanic bunny with a pentagram and caduceus.
The Hello Kitty store "Gift Gate: Elegant Shinjuku" is another classic stop. Snap a photo with the big Kitty statue outside.
Inside, there are all sorts of Sanrio goods and displays like Hello Kitty in a wedding dress.
I was in Japan right before Halloween, so I got to see slightly odd spooky designs like the above. (Of course, Hello Kitty is the devil while Kuromi is a maid.)
As for food… Shinjuku has it all. The Baskin Robbins next door to Gift Gate has smiling Pikachu cakes, as well as other Pokemon characters.
I'm fond of Coco Ichiban curry, conveyer belt sushi, and takoyaki (there's a stand near the Godzilla Hotel in Kabukicho).
And don't forget the many dollar stores and game centers! Wander around and pop into a few arcades — I came across Miffy in this UFO gaming machine.
I hope you enjoyed this updated Shinjuku shopping guide. Let me know if you make it to Japan this year, and what else you'd like to see on my blog! And you can always reach me at @lacarmina social media.
PS – I'm honored to be featured by the Tokyo Metropolitan Government! In this interview, they highlight my work in Japan pop culture and underground journalism.