Medellin, Colombia hip travel guide! Colombian street art, Elcielo restaurant & luxe hotel, Chef Juan Manuel Barrientos.
That feeling when you finally make it to Medellin, Colombia!
For years, I'd heard fabulous tales of Medellin's vibrant street art and restaurants. In November, I was honored to be invited to spend time in the City of Eternal Spring, and experience the best of its food and culture.
I wrote a foodie's guide to Medellin, Colombia in my debut for TravelAgeWest Magazine — and here's an extended diary of everything that inspired me during my stay!
As I wrote in my Travel Age West magazine piece: "Ask a food blogger or chef about the world's best cities for dining out, and chances are that Medellin, Colombia, is at the top of their list. Over the past decade, the South American metropolis has developed an energetic food and drink culture in which the U.S. dollar goes a long way."
Photos by me and DC-based photographer Albert Ting (@pootie_ting on Instagram), who was on the trip with me.
Can you tell I loved staying at the luxurious and chic ElCielo Hotel? I love my baths, and this freestanding bathtub with lights was an Instagrammable dream.
You've got to stay at El Cielo hotel in El Poblado (the nightlife/hip/upscale area) if you come to Medellin (I recommended it as one of my fav hotel rooms ever, in this interview with Alibi Zine.)
Elcielo Hospitality is known for its diverse range of restaurants in Colombia and the US — so of course, the hotel's room service was delectable. I'm still reminiscing about the omelet with indigenous microgreens, and a generous side of Colombian avocado!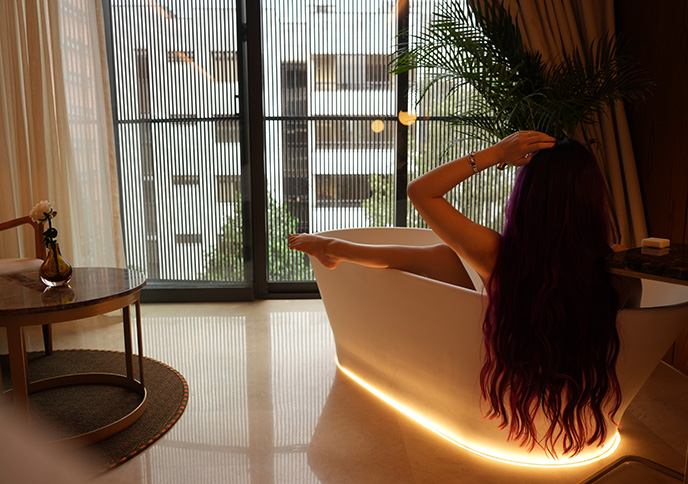 Every space made the most of Medellin's native plant life — one of the elements I loved most about this green South American city in the mountains.
Love the clean and natural aesthetics at Elcielo hotel, such as the spiral staircase from the upper level lobby to the rooftop bar…
This was my happy place during my Medellin stay, surrounded by greenery.
I came up to Elcielo's gorgeous rooftop pool multiple times to dip my legs in the water, and sip on an iced Colombian coffee with almond milk (and later, a pisco sour).
It was a delight to meet Juan Manuel Barrientos, or Juanma – the young Michelin-starred chef and entrepreneur behind Elcielo Hospitality. (It's a family run business; his dad is responsible for operations.)
Chef Barrientos has a rock star presence that carries over to his visually arresting dishes at Elcielo, his much-lauded fine dining restaurant in Medellin. (There are locations in Bogota, Miami and DC as well.)
The appetizers included Colombian corn crisps topped with edible flowers, gold foil and a cheese emulsion from the town of Paipa — and small bites like tapioca cubes, served with animal heads!
We sat down to 17  "experiences" with playful visuals, including a beet rose salad, and a demo of fresh corn tortillas made right at the table.
As I wrote: "Chef Barrientos loves to put an imaginative spin on native products, such as by molding yucca bread into what looks like a Tree of Life from the Amazon. Between plates, El Cielo offers eye- opening sensory "moments" such as washing one's hands in warm chocolate and coffee grounds: guests are encouraged to play with the sweet liquid and lick it from their fingers."
Feeling tropical amidst the living green wall and plants in Elcielo.
I continued to eat my way around Medellin, which has become a hub for inventive plant-based cuisine. I was knocked off my feet by Kaime Restaurant run by Sara Barrientos and her mother, who have been plant-based for decades.
The women have channeled their years of personal experience into creative dishes like this ridiculously tasty pesto vegetable pasta, as well as vegan burgers and cocktails. Kaime's Colombian-vegan dishes are such a hit that they are opening a US location soon.
More of my writing: "Colombia is famous for its coffee, which is the country's third-largest export and has a distinct citrus, chocolate and nut flavor. Trek to Hacienda Santa Isabel farm in Fredonia, about a 1.5-hour drive from Medellin, to see how coffee is produced at high altitudes with the help of donkeys."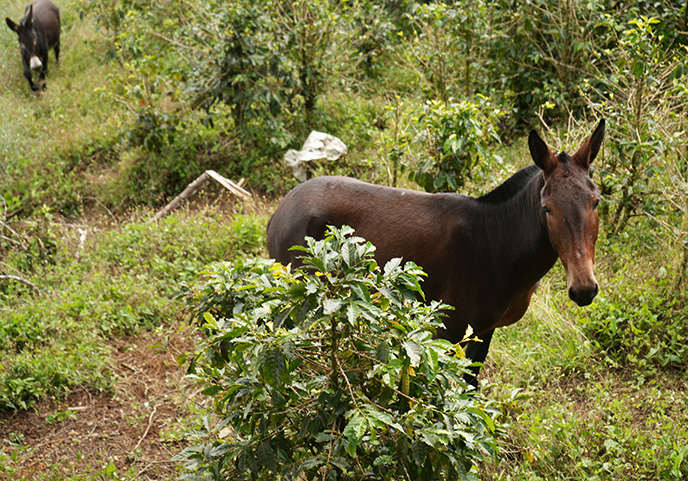 The views from the coffee farm were unforgettable… and the polite resident donkeys followed us to say goodbye!
At Cuon restaurant, chef Juanma puts a spin on Asian cuisine such as sushi rolls and sake cocktails.
The cocktail menu features Asian flavors like lemongrass and passionfruit, with cool presentations that involve dry ice and flames.
Impressed by Chef Barrientos' range… His Elcielo Hospitality Group has several restaurants within walking distance in El Poblado, the best dining area of Medellin. Here's La Serenissima, which focuses on Italian favorites. (His sister is behind the chic restaurant/hotel interior designs.)
Can't get enough of Colombian coffee… it lives up to its global reputation.
Happy to indulge in burrata pizza and prawns with handmade pasta.
After all that eating, I was excited to get to know the artsy side of the city through a walking tour.
I joined a Comuna 13 graffiti tour, in which a local shows you around the formerly dangerous neighborhood (now transformed into a street art living canvas).
Comuna 13 is filled with art galleries and murals in all styles. Here are two of my Gothic favorites.
The rainbow-painted houses on the side of the mountain are a sight to behold.
My Dutch braided hair matches the colors of this Comuna 13 art wall.
I felt safe during my Medellin travels — just be aware of your surroundings, and you'll have no trouble in places like Comuna 13 and El Poblado / Parque Lleras where travelers tend to go.
Much of the artwork reflects on Comuna 13's revitalization, and themes of local history and politics.
Nothing like the eclectic skyline of Medellin, with the jungle and Andes Mountains in the distance.
And I had to see the "thicc" sculptures of 20th century Colombian artist Fernando Botero! 
At Plaza Botero in the old quarter, you can walk around dozens of giant bronze statues made in his signature "plump" style. (The area is a tad seedy, so watch out for your belongings.)
Botero aimed to emphasize volume and form in his works, which are a delight to behold.
The cute, rotund animals were my favorites.
Then, pop into the Museum of Antioquia to see more of Botero's works including devilish paintings.
There are elements of surrealism and humor in Botero's art, especially the religious paintings. I'm a fan after seeing his works at Museo de Antioquia in Medellin!
The city has a vivacious nightlife and late-night dining culture. Here's the spooky decor at Agua Fresca Taqueria y Mezcaleria, a Tulum-style Mexican restaurant.
Be sure to order the dishes with "avo" —  like the guacamole topped with local microgreens, with tortilla chips and a plethora of house-made sauces. The local Lorena avocado is round and creamy, and I could eat it by the bucket.
The modern Mexican restaurant also serves fresh-milled corn tostadas and tacos piled with generous portions of creamy avocado. Goes down great with a paloma or margarita.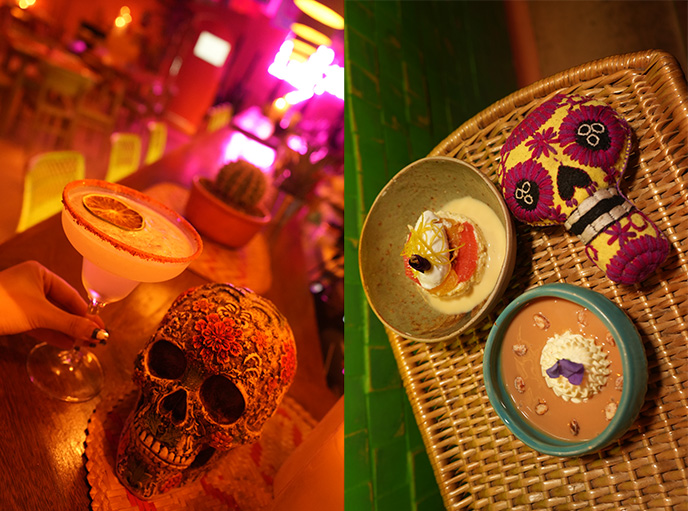 Cheers to the day of the dead skulls found throughout. Photos by me and Albert Ting (@pootie_ting). 
We packed a lot into our Medellin journey — including a drive to El Peñón de Guatapé. The giant granite rock looks like an alien monolith, and you can go up 649 stairs to get to the top.
Instead of doing the "Stairmaster" to El Penon, we took in the surrounding views and snacked on Colombian street food.
You can't help but be inspired by Medellin, with rooftop views like these.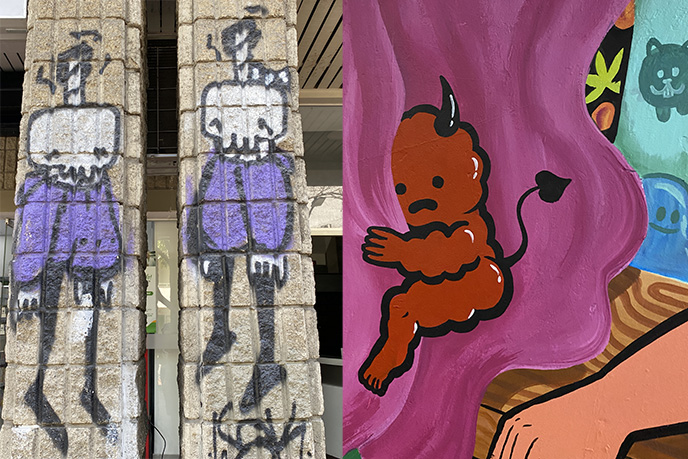 And there's street art everywhere you turn. Here are some Satanic and Gothic favorites… how sweet is the baby devil?
Be sure to do some shopping as well — Oviedo mall is my favorite, and is known for its emerald jewelry stores.
At the "Kinky" store, I couldn't resist getting this kawaii Baphomet amigurumi (crocheted plush).
Satan is indeed everywhere… The houses in Guatape are decorated with bright friezes, including this occult alien pentagram pyramid wall.
Speaking of Goth matters… I did an interview with Cherry Chu magazine about the Japan Gothic subculture, favorite clubs, clothing lines and more.
Hail Medellin! Such an energetic and warm city.
I will always think back to my lazy early afternoons at the Elcielo Hotel rooftop pool…
Relaxing poolside with fresh avocado and these views.
Must come back here… ahh!
What do you think of my offbeat, artsy and foodie travels in Medellin? Leave a comment if you have any questions about coming to Colombia.