Department H Tokyo: Drag queens fetish nightlife! Keroppy Maeda Jomon ancient tattoos & body modifications exhibit.
No-Face rides again! When I was last in Japan, I only had 15 minute to get ready for Department H (Tokyo's seminal alt/drag/fetish party) — so I did quick look inspired by the mysterious spirit in the Ghibli film, Spirited Away.
Spirited Away is probably my favorite Hayao Miyazaki anime, and this scene of Chihiro and No Face riding the train is unforgettable. They pass through water and the mystical Japanese countryside… you'll have to see the film yourself to understand the magic.
The outfit was fitting, as Tokyo's Department H club night feels like being in a fantasy movie. Let me show you around the all-night party that features drag queen shows and eccentric outfits. Get ready for tons of photos by Joey Wong…
… and I'll also give you a tour of Keroppy Maeda and Taku Oshima's Jomon tattoo / photography exhibit, which took place at Shinjuku Beams.
(By the way, I'm now on the Threads app. Who knows what will come of it, but you can add me @lacarmina on Threads as well as Instagram.)
If you're a longtime reader, you'll know that my friends and I have long been attending Department H. The fetish night takes place on the first Saturday of every month, and has been running since the 1980s!
Dept H is held in a somewhat random venue: Tokyo Kinema Club (東京キネマ倶楽部) in Uguisudani (鶯谷). Vincent joined me outside — our purple/blue hair had matching vibes.
It's a Department H tradition to get canned alcohol at the Family Mart convenience store next door. There are no bars or food/drink available inside, so you're encouraged to BYOB.
I got a yuzu Strong Zero for old time's sake (I do not have the strength for these any more!)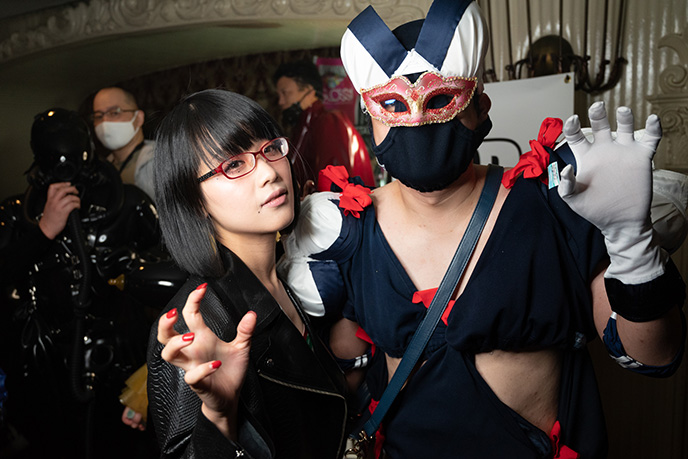 At Department H, you can be who you want to be without judgment. (Please make sure you ask guests if they're ok with being photographed, before taking any pictures.)
This is the place to wear hentai, fetish and latex gear. Lockers are available if you want to come in wearing normcore clothes, and then change into your finery.
Anyone is welcome here, and the partiers are extremely friendly (don't let the spookier looks fool you!) Department H draws a mixed crowd — LGBTQ, fetish, alt fashion, you name it.
The event features a glitzy drag queen parade, followed by all sorts of performances from dance to aerial silks…
… and racy wrestling with peen-monsters! Remember the time Naomi and I shot a German TV show with Mr Peen, at Department H?
This Japanese purple drag queen was giving Yukiro energy.
Can't beat the creative costumes and makeup at Japanese club nights like Department H.
Photojournalist Ryoichi Keroppy Maeda always has a booth at Department H, where he shares his passion for extreme body modifications. He signed a copy of his Modcon book that chronicles these body mods and the people behind them.
You may remember Keroppy Maeda from our Japan bagel head adventures — there's a photo of Dr John inside, from our National Geographic TV shoot where he got a bagelhead!
At the time, Keroppy had a Jomon Tribe exhibit at Beams Shinjuku, which showcases his photography and collaborations with tattoo artist Taku Oshima.
Keroppy and Taku have researched and revived the tattoos worn by the indigenous hunter-gatherers that lived in Japan thousands of years ago.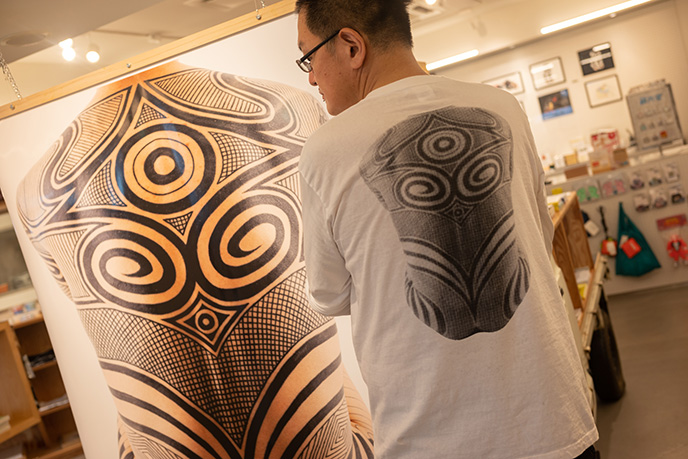 Archeological evidence shows the Jomon people adorned their bodies with geometric lines and swirls, which Taku has adapted into modern tattoo designs.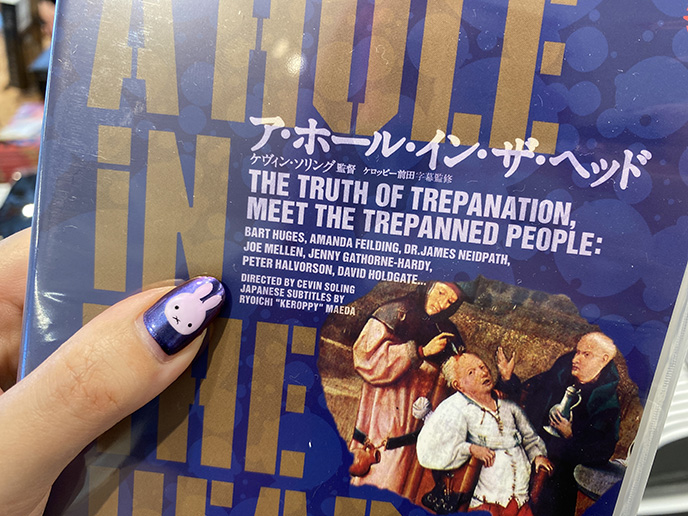 At the exhibit, you could see their Jomon body art and photos in large-scale, and shop Keroppy's books and DVDs. (He did the Japanese subtitles for "A Hole in the Head," a documentary about trepannation or drilling a hole in one's skull.)
Fascinating to learn how Japan's earliest inhabitants engaged in bold tattooing, and how Keroppy and Taku have revived it using today's techniques (in a country where tattoos remain taboo).
Taku Oshima shows tools like the ones used in Jomon body modifications, thousands of years ago. They've uncovered evidence of dental mods and piercings made by the ancient Jomon tribes as well.
Research suggests that the Jomon may have had facial markings, much like the ones he wears. Tattooing has long been practiced among the indigenous people of Hokkaido and Okinawa, until it was banned in the Meiji Period.
Researchers are still uncovering artifacts about Jomon culture and practices, which bring new insight into the history of tattooing in prehistoric times.
These tribal influenced tattoos are stunning, and a departure from the full-body yakuza style that most people equate with Japanese body art.
Can't wait to see what Keroppy and Taku do next with their modern primitive tattoo endeavors! Here's their artistic statement in Japanese and English:
縄文族』とは、タトゥーアーティストの大島托とフォトグラファーのケロッピー前田によるアートプロジェクトである。このプロジェクトは縄文の文様を抽出し現代的なタトゥーデザインとして身体に刻むことで、人類の原始的な精神が21世紀を生き抜くためのアイデンティティとなり得ることを示している。これは日本における「モダン・プリミティブズ(現代の原始人)」 の実践である。
"JOMON TRIBE" is a collaborative art project between tattoo artist Taku Oshima and photographer Ryoichi Keroppy Maeda, in which the patterns of Japan's Jomon period (14,000 – 300 BCE) are inscribed upon real human bodies as modern tattoo designs to show how the primitive spirit of humankind will become a new identity to survive the postmodern life of the 21st century. This project is the practice of "modern primitives" in Japan today.
And on that note… back to the fabulous personal expressions at Department H nightclub.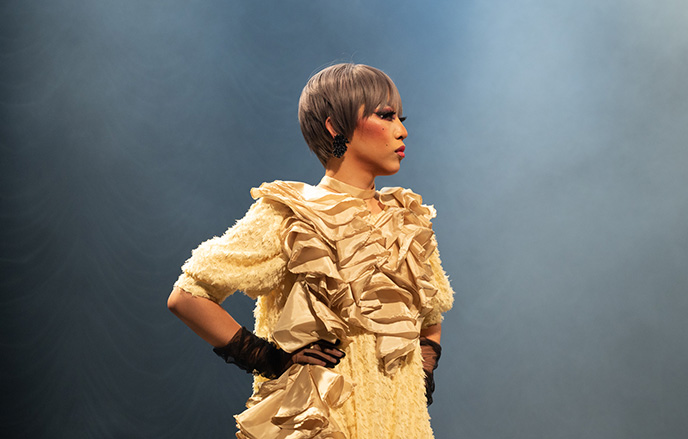 Kinema Club takes up two floors: you can walk around to admire the outfits, visit various vendor booths, and clap along to the performances such as the drag queen strut-fest.
Of course, we found Miffy among the latex fetish bunnies…
Would you give your confession to this priest?
Such talented alt performers, like this aerial silks artist wearing horns.
At Department H, you can observe or take part in shibari / kinbaku (Japanese rope bondage).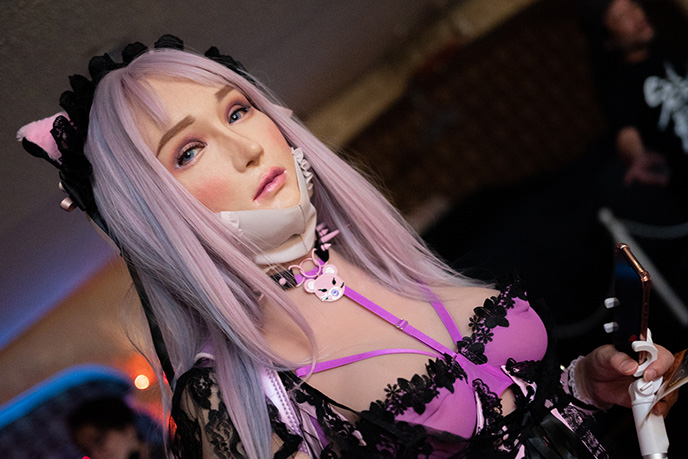 Always some kawaii and cosplay inspired looks in the mix at Japanese events.
The party spills over outside to the convenience store next door, where guests went for snacks and drinks.
Admission to Department H is 5000 yen, but 10% off with an event flyer and 40% off with a costume — so put on your best pentagram, and party here until dawn (as the trains stop running between about midnight at 5am).
Department H remains one of Tokyo's best alt night clubs — may it remain this way for decades to come. Thanks to organizer Gogh-san for always welcoming me.
If you're keen to travel to Japan, I have some new resources for you. I wrote four travel guides to Tokyo for Going.com (formerly Scott's Cheap Flights), geared towards new travelers!
My articles are about Tokyo itinerary suggestions (for 3-7 days), the best day trips from Tokyo, 15 best things to do in the capitol, and where to stay from high-end to budget and family options. Let me know if you find them helpful, and feel free to share them.
And add me @lacarmina on Threads — I've been around since MySpace so who knows if Threads will last, but I'll give it a go.