Gabriola Island, British Columbia travel tips! Malaspina Galleries beach, Gulf Island Seaplanes, Surf Lodge hotel.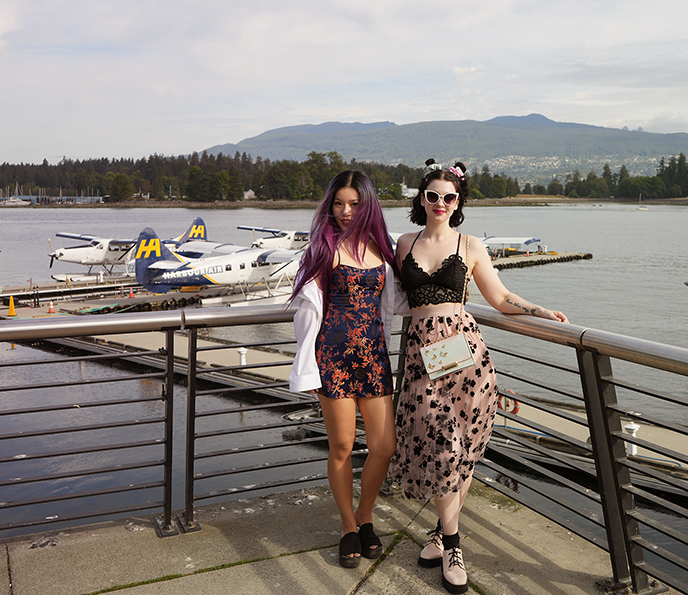 Girls getaway time! Bindi and I wanted a relaxing overnight vacation, so we flew on Gulf Island Seaplanes to Gabriola Island, British Columbia.
Gabriola is a quiet isle in BC's Strait of Georgia with stunning natural features, like this sandstone beach at Malaspina Galleries. Read on for our travel guide to Gabriola Island — including where we stayed and ate, and our cute encounter with farm animals!
From Vancouver, the fastest and most fabulous way to reach Gabriola Island is by floatplane (the ride is only 25 minutes long). We were excited to take our first seaplane ride ever with Gulf Island Seaplanes, which has routes from downtown Vancouver's waterfront harbour to Gabriola and Hornby Island.
Gulf Island Seaplanes is an indigenous-owned company, and the staff feels like a family. They walked us through the safety features, and made sure we were all good throughout the flight.
The floatplane only holds 5 people and the pilot — it felt as if were boarding a private jet! Since the flight is local, we only had to arrive 30 minutes before departure to check in at Vancouver's downtown harbour terminal (no customs or bag scanning required).
My OOTD: DMY by DMY Billy sunglasses, Realisation Par dress, Steve Madden Slinky shoes, Maison de Fleur bag.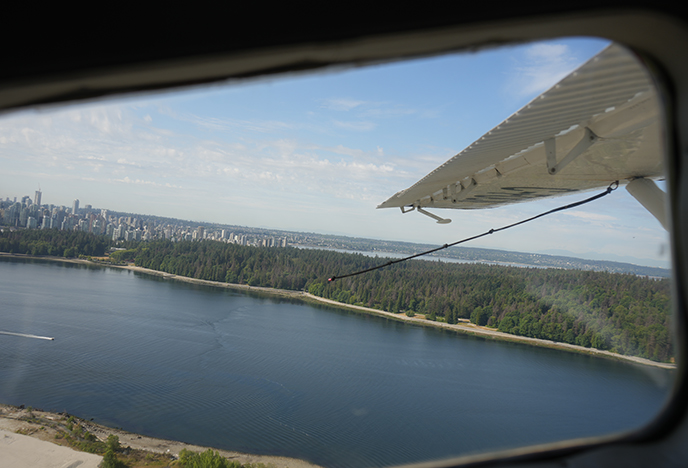 The sea plane takes off from the water… and there we were, up in the air and grinning at these ridiculous views.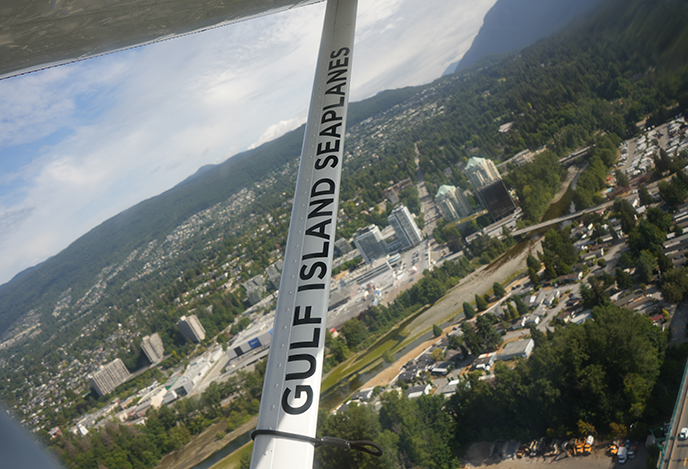 "Like an Eagle, in the city." These are the lyrics of the disco song I used as the background music to my Instagram reel about our seaplane experience — watch the video here!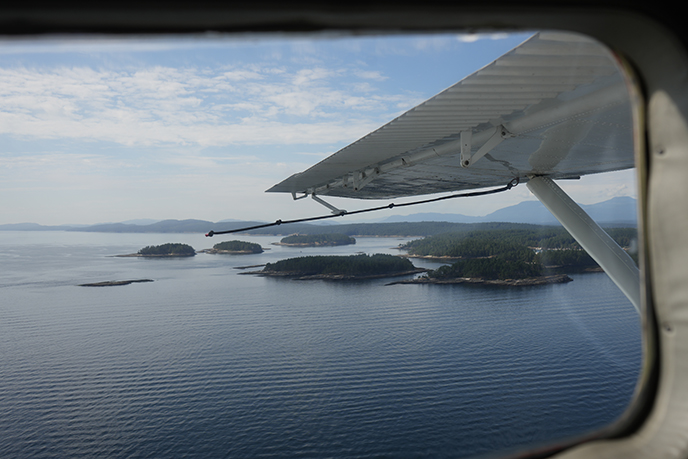 Our seaplane flew west over the Salish Sea (between the mainland and the Pacific Ocean). Still not over these window views of BC's tiny islands, blue mountains and waves.
All of the passengers wore earplugs or earphones (provided) to minimize the noise.
A gentle landing on the water — in less than 30 minutes, we had arrived at Gabriola Island! We can't thank Gulf Island Seaplanes enough for the smooth floatplane journey. The company also offers private charters throughout coastal BC, as well as short scenic tours from downtown Vancouver.
The seaplane landed at Silva Bay dock. We then called Gabriola Island Taxi for a pickup (there's only one service with several drivers, so plan ahead and be prepared to wait for taxi rides!)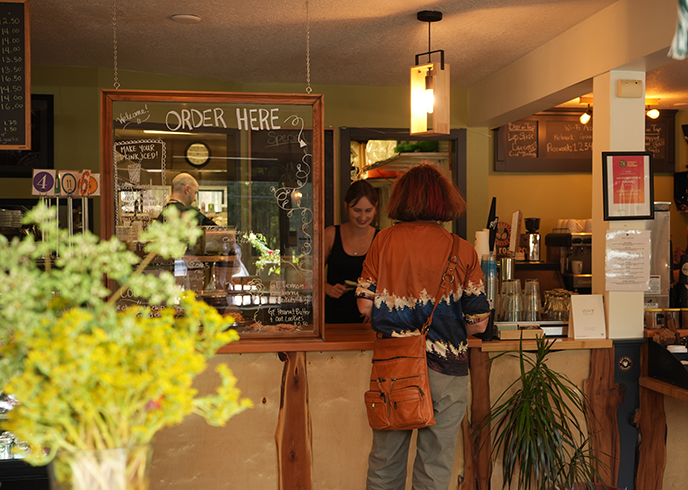 Ravenous as usual, we asked to be dropped off at Ground Up Cafe and Catering. I saw that this was one of the highest-rated restaurants on Gabriola Island — and we loved it so much that we came twice.
Ground Up has a laid-back, community vibe with a tree-shaded patio. Locals and their dogs love to stop by for fresh and healthy meals, such as a burrito bowl and peanut noodles with lots of vegetables.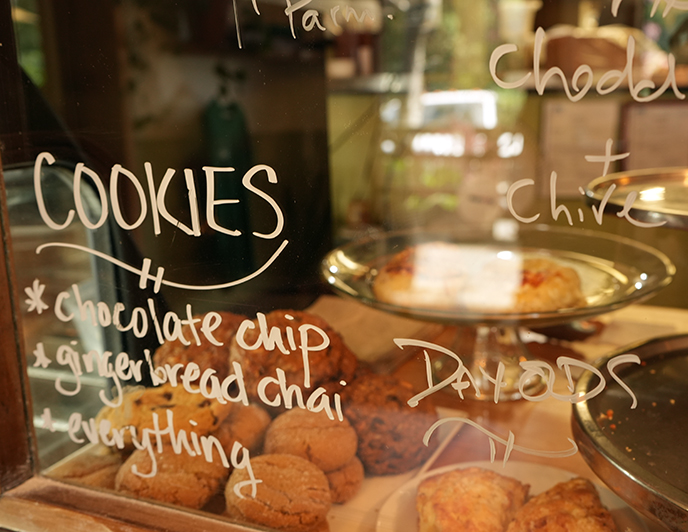 The home-baked goodies at the counter are a must. We devoured the apple cinnamon muffin, and ginger cookies.
But first, coffee! Perfectly brewed, with oat milk, by the friendly staff.
Ground Up Cafe serves breakfast and lunch — we're still thinking of this turkey avocado egg hash bowl, and gluten free pancakes with hand-whipped cream. Be sure to visit Ground Up for a delicious meal on the deck — and you can see more of our meals in our Gabriola Island travel tips video!
Time to check in at The Surf Lodge, a waterfront hotel dating back to the 1920s. While the interiors have been revamped, the hotel retains a quaint wood cabin vibe.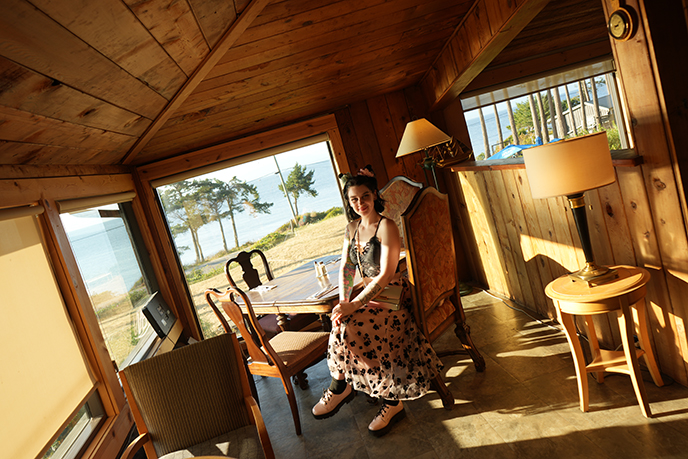 The Surf Lodge is also a popular spot to enjoy dinner with a view, either from the large patio or in the Sunset Lounge.
We started at The Surf Pub, a chill bar with a homey menu and weekly specials. Quite a few locals were gathered on the balcony overlooking the water.
Our room had two comfortable queen beds, and a large private balcony. The Surf Lodge was the perfect spot for our overnight stay on Gabriola Island. (Try to reserve well in advance, especially during the busy summer season).
A must-see on the island: Malaspina Galleries, a beach with remarkable geologic formations.
BC's Gulf Coast is known for its rocky sandstone beaches, which bring the drama.
I think you can see why Malaspina Galleries is the most photogenic / Instagrammable location on Gabriola Island.
The Malaspina Caves are a wave-like rock formation, which looks like a rip curl hugging the ocean. This natural sandstone curve formed over centuries through erosion by the wind and waves.
Aren't the Malaspina Galleries magnificent? This is where we shot the promo video for my game show appearance.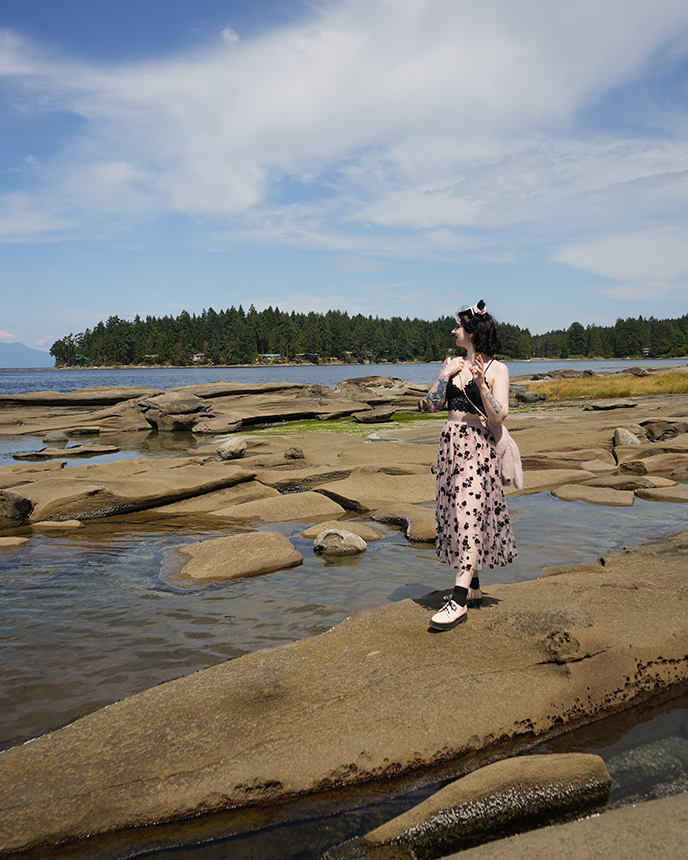 Then, we wandered the shores and said hello to the tiny crabs and barnacles in the shallows.
Love the dark energy of the Pacific Northwest: one of the best places to visit in the summertime, especially in this era of The Collapse (it's now way too hot to be in Japan and Europe in the summer months).
Goth on the beach, always. My top is part of a surf swim bikini from Towers Swimwear, and the skirt is vintage.
Later, we caught the sunset at the rocky beach in front of The Surf Lodge hotel.
This duck (or geese?) family joined us to watch the glowing skyfall.
Magic hour. Gabriola Island is small, and it isn't a tourist destination (unlike say Tofino) — so its natural attractions are easily accessible and uncluttered with people.
Travelers come here to hike, camp, get out in nature, or simply relax like we did.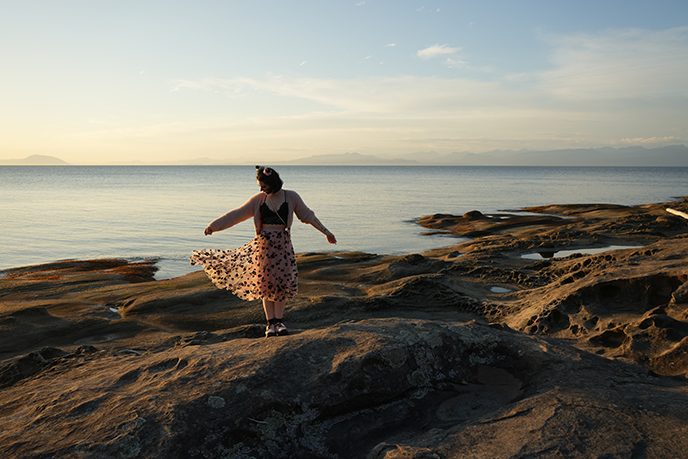 Gabriola also turned out to be a fab place for fashion photography.
Here's a shot simply taken on my iPhone. Love the cinematic feel.
There's more to do on a getaway — like shop for jewelry and crafts by local artisans, at Free Sprit and other shops.
And head to Paradise Alpaca Farm to pet and feed animals, including goats!
These wooly alpacas are smaller and gentler than…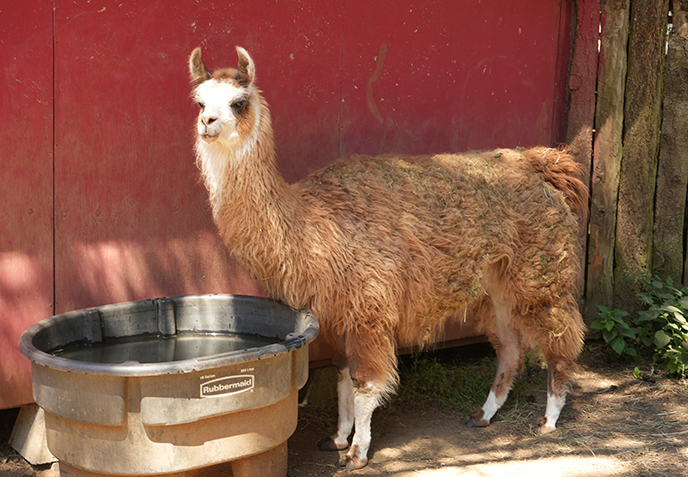 … llamas, which are larger and more "aggro," and might even spit! Their faces are also more elongated with banana-shaped ears, which differentiates them from alpacas.
Bindi gave some love to the miniature horses (they're bred to look like smaller horses, as opposed to ponies that are stockier with shorter legs).
Hail, Paradise Farm on Gabriola Island! Like everyone we met here, the owners are warm and welcoming.
Stop by their gift shop to pick up items made from llama and alpaca wool, and to make a donation.
So glad we took our first seaplane ride ever to Gabriola Island! Gulf Island Seaplanes lets you fly here in style in half a hour, from downtown Vancouver. Please take a minute to watch our  seaplane ride video for footage of the flight!
And enjoy our Gabriola Island travel guide video, which includes Surf Lodge, Ground Up cafe, and the alpaca farm. Of course, it's set to a Fun Fun disco song.
Have you ever gone on a girls getaway? If so, where?