Puerto Vallarta quirky, offbeat travel guide! Day of the Dead skeletons, LGBTQ Zona Romantica, Mezcal & Sal restaurant.
Ready for round two of my Puerto Vallarta travels? Read on for my offbeat, alternative guide to Zona Romantica — the LGBTQ district and best place to stay — including molecular mezcal cocktails, Day of the Dead skeletons, and a xenomorph alien!
I recommend staying in Zona Romantica as it's within walking distance of the beach and hippest restaurants, as well as LGBTQ clubs and bars. My daily protocols were a dream: get ice coffee, walk the Malecon (boardwalk) and dip my feet in the foam, eat 20 peso tacos, and watch the sunset. (You can see my fav Puerto Vallarta attractions at a glance in my @LaCarmina Instagram Guide.)
I took some photos to showcase my updated hair color — it has blue streaks in it now, along with dark purple and my natural black underneath. My stylist is Katya at Kore Salon in Vancouver.
Living the jungle life in Puerto Vallarta, Mexico. Wearing a halter bikini top by UK Swimwear — they have lots of chic swim styles, and I like how I can wear this as a crop top as well. My comfy animal print pants are from Medellin, Colombia.
I'm forever living in the 90s — that era is my makeup inspiration these days.
Digging the foreground blur. These images were shot on my Sony a7 IV mirrorless camera.
I also take images on the iPhone, as it brings out landscape and sky details nicely. I made it a habit to catch the sunset over the ocean every day.
Here's another beachwear look. My red bikini and long resort dress are by UK Swimwear.
I took these photos at the only uncrowded spot on Los Muertos beach, under the palapas. If you're looking for a quiet, deserted beach experience, go to Playa Conchas Chinas instead (all info and pics in my first PV post).
Speaking of living in the 1990s… I got these reissued Steve Madden Slinky sandals (I had the same ones in the late 90s!) The slight platform and "fwap fwap" noise bring me back. Get a pair below, in various colors:
Zona Romantica is Puerto Vallarta's rainbow district, as you can see from the pride flags and Tom of Finland murals. The streets are filled with LGBTQ clubs, bars, and shops with friendly vibes.
Always a fabulous time traveling with Trevor. (We met this local who was obsessed with my hair's realness!)
Long live the Queen in Puerto Vallarta (or the Queen Mother)…
I recommend getting a local Airbnb or booking a boutique hotel in the Romantic Zone, rather than staying in the distant resorts. Mine had a cute patio area. I'm wearing an Abysm Internal kimono that matches my hair and the turquoise door.
Abysm Internal has a wide selection of original, dark and fantastical designs — I was drawn to this Japanese horned hannya with a pentagram on its forehead. I chose it in the sheer fabric, and purple/blue color variation.
Leave it to us to find the most Gothic parts of Puerto Vallarta. We saw Day of the Dead skeleton figurines in a store near the Malecon.
This Mexican skeleton couple was looking out at the ocean from a patio by the boardwalk.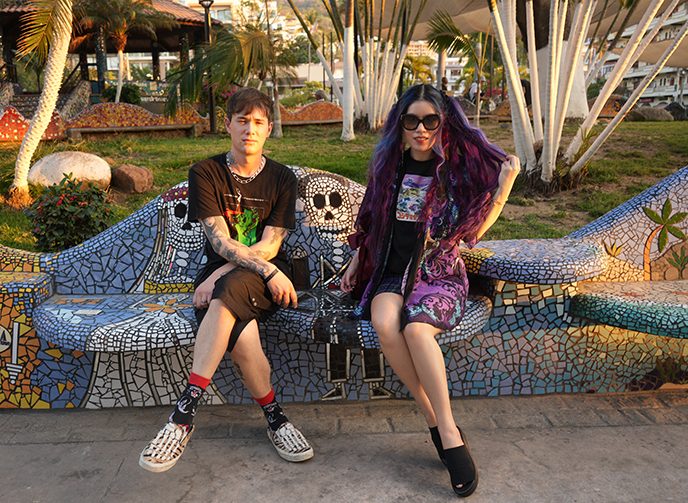 At Plaza Lázaro Cárdenas in Zona Romantica, there are a variety of colorful seats… including this Dia de los Muerto themed one. We had to take a photo here at Golden Hour.
Find my Steeeveee Maddennnn shoeesss below (if you've seen Wolf of Wall Street, you'll know what I mean).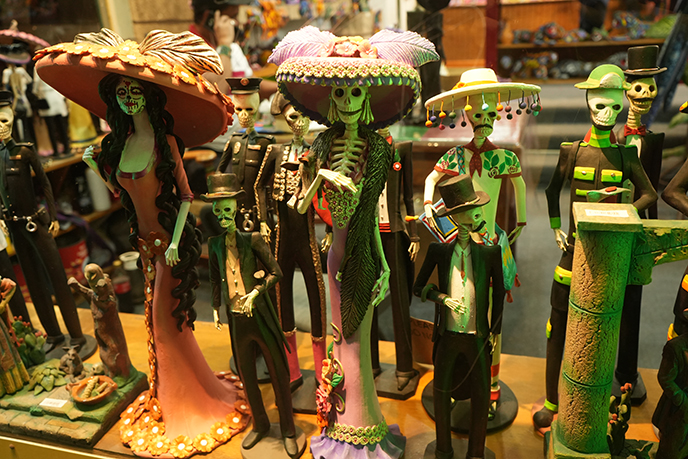 Puerto Vallarta has quite the party scene, and would be a thrilling spot for Day of the Dead. (You can see how I celebrated Dia de los Muertos and Halloween in Mexico City and Merida, in my past Mexico posts here.)
Although there weren't any Goth clubs or events in Puerto Vallarta when we were there, I loved visiting El Colibri bar, which serves mezcal craft cocktails and has an alt / Gothic atmosphere.
As The Collapse accelerates… Abysm Internal's Gothic / devilish kimonos are a stylish way to keep cool and covered from the sun.
Mexico's west coast has a dry heat and no mosquitoes (unlike in Riviera Maya / Tulum). It's easy and inexpensive to get here from the North American west coast, making it a perfect winter getaway.
Golden Hour at the beach by Zona Romantica. Take off your shoes, and have a "Gaywatch" moment.
My Japanese demon kimono is the perfect Goth summer beach coverup.
Been making it a habit to walk 10k steps a day and spend more time outdoors.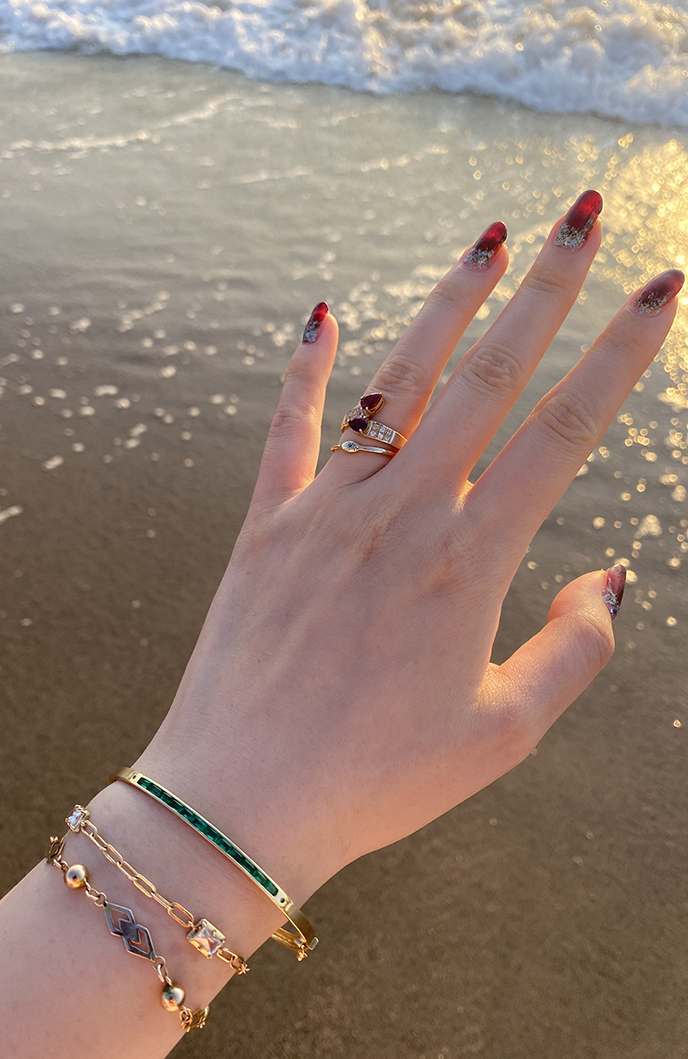 Here is a video of my jewelry at sunset. Wearing a gold and diamond ouroboros ring by Ingrid Valou (stacked with my mom's ruby/diamonds/gold1970s ring). The topaz and gold paper clip bracelet is from Anzie Jewelry (stacked with my mom's 70s gold chain bracelet, and a Colombian emerald and blue diamond gold bangle I got in Medellin.)
We were all about the witchy molecular cocktails at Mezcal & Sal, in Zona. The drinks came with magical presentations like bubbles, slides, and drops.
Mezcal y Sal also puts a creative take on Mexican dishes — such as watermelon tiradito (that tastes like marinated tuna), and cactus mousse for dessert.
I'm on a mezcal kick, as it's a pure alcohol. Visit Agave Liquors in Zona Romantica for a wide selection of artisanal mezcals. and also check out Vinos America (I got the Alipus San Andres there for 999 pesos). Stay out of the tourist stores, and make sure you purchase mezcal that is over 40% alcohol with no additives. I recommend getting a small-batch handcrafted Mexican mezcal for around 1000-1500 pesos.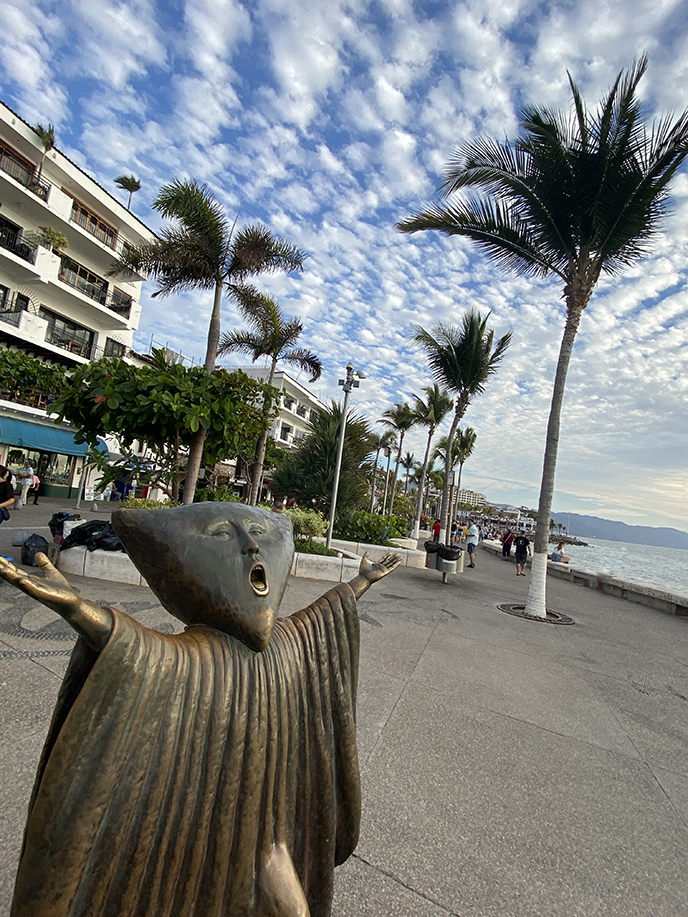 Ran into a Dorito-faced cult leader on the Malecon. While Puerto Vallarta is a popular tourist destination, it doesn't feel overly commercial or Americanized, especially if you avoid spring break and peak times.
As you walk the seawall, you'll come across weird sculptures, performance artists, and other inspiration.
We dared to approach this Alien xenomorph… What a costume! I passed by an Edward Scissorhands as well.
Loved being close to the water and birds in Mexico.
The skies turn dramatic after sunset. (See my first Puerto Vallarta post for more recommendations.)
Leave it to me to find Miffy wherever I go… next to a UFO!
The Tarzan life in Puerto Vallarta suited me well, and I'd jump at the chance to go back (especially in the coldest months)!
For more of my food / beach / attraction tips, see my Instagram Guide to Puerto Vallarta here. And if you'd like anything from my personal wardrobe, take a look at my Depop @LaCarmina (I ship worldwide, and can do bundle discounts).
Finally, a reminder that I've been ramping up my social media content… Add @LaCarmina on Instagram and other social networks (YouTube, X as it's now called) to see the latest updates, and learn where in the world I'll be next!